Whether you are looking for guidance and support for your training as you strive towards a new goal or you're looking to share your knowledge and coach others, you'll now be able to leverage coaching tools at the source of training data, movescount.com.
As a coach, or an athlete being coached, training data is key. Information coming from your activities can be commented on, descriptions and feedback can be shared. Updates to training plans can be made right away, whether it be adding mileage, scaling back, adding intervals, or even strength training. These adjustments can be made in the new weekly planner tool.
To begin as a Coach on Movescount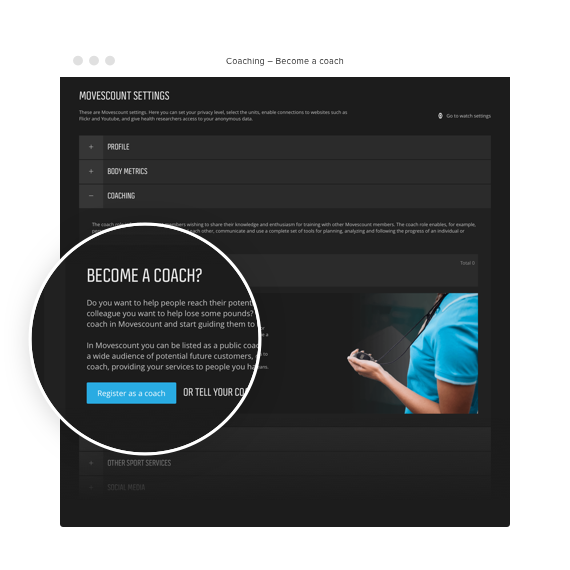 First setup you profile: Navigate to the 'ME' tab at the top your Movescount profile page. Hover over the tab and click on 'Coaching Profile'. In this section you'll be asked to share the sports you're interested in coaching.
You'll also have the opportunity to describe your background, and experience to give those who may be interested in you services as a coach some idea of who you are and why they might want you for a coach.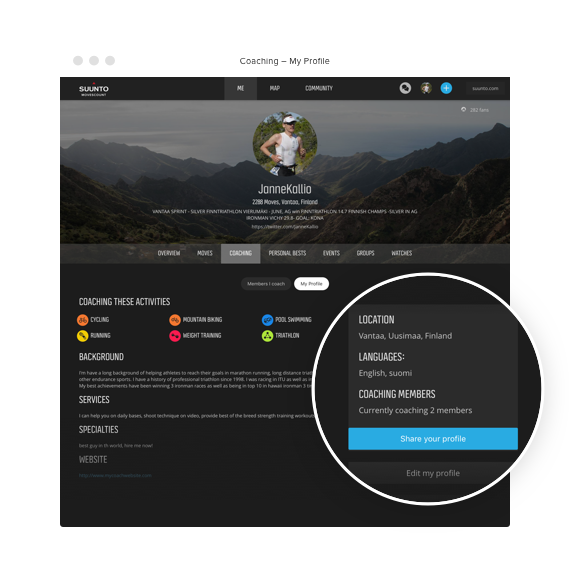 Next, fill in services, by this we mean specifically what you are able to provide (i.e. in-person meetings, online only, video analysis of mechanics, training plan creation, nutritional guidance, etc.).
Finally, what are your specialities? Are there certain sports or distances that you are most experienced in? Share them here.
As a coach: How does it work?
When your profile is complete, you can share the link to your coaching page (which is a part of your profile page). This will allow you to connect with potential athletes to coach.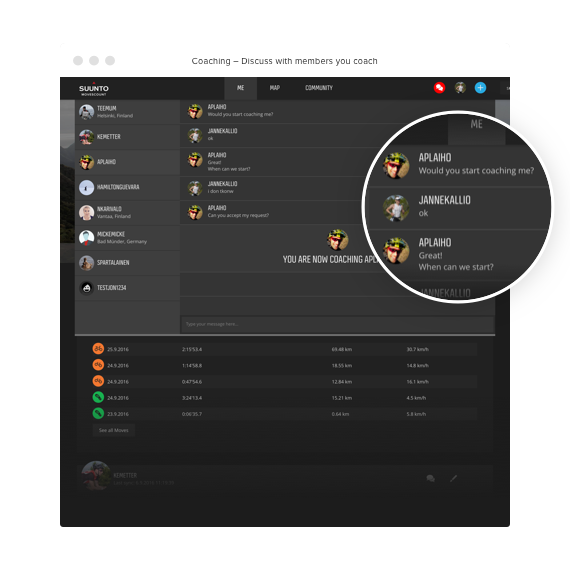 An athlete can reach out to you via the new 'chat' mechanism on your coaching page by requesting to be coached by you. From there the two of you can decide how to move forward.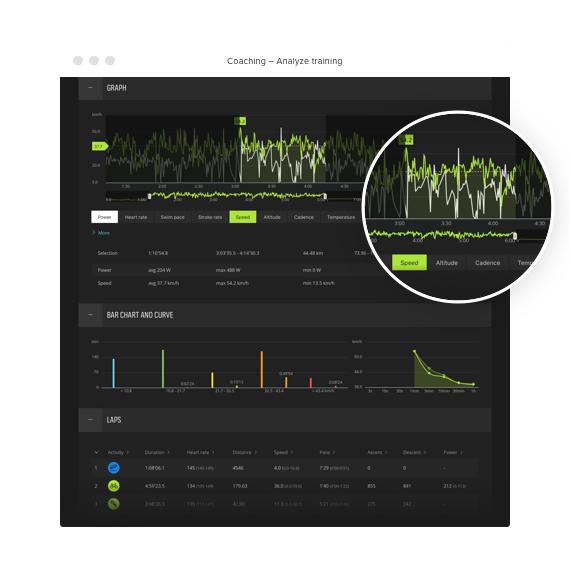 Once you have accepted a Movescount member as your athlete, you can view, analyze and plan their training, make notes and communicate with them in the chat.
To be coached: How does it work?
Invite your coach to join Movescount, or if they're already a part of the Suunto Community, simply go to their coaching profile page and contact them there to request coaching.
or;
If you've found someone who you'd like to be coached by on Movescount, begin by reviewing their background and the coaching services they offer to determine whether they might be the right fit.
You can contact them on their coaching profile page even if you're not sure, this will open you a chat with them and the two of you can connect and find out if you'll be a good team.
Key things to know
- You can have a private profile and still have a coach help you on movescount.com, as a coach your profile needs to be public.
- It is important to read the disclaimer about coaching, and responsibilities regarding training guidance on movescount.com
Read more: