Here's what you'll need to know when your new Suunto Spartan arrives. We want your experience to be a smooth one, so we've put together a couple of basic tips to help you get moving!
A little bit of homework
You can start preparing to meet your new training partner right away by getting the needed software installed and account created in advance. The software that you'll need on your computer is called SuuntoLink. SuuntoLink keeps your Suunto watch up to date and synced with your account on Suunto Movescount.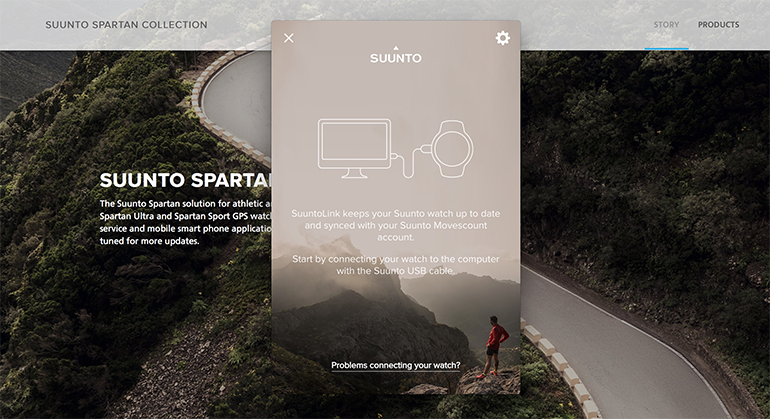 You can download SuuntoLink here. (Note that SuuntoLink is different from Moveslink that is used to sync Suunto Ambit and Suunto Traverse watches.)
Are you new to Suunto Movescount? This is where your Suunto experience deepens. Here you can track your training data, connect with other progress-minded sports enthusiasts, and share your stories of adventure. If you don't have an account yet, it's easy to set one up at movescount.com
In the Suunto Movescount settings you can connect your account to other sport services you use like Strava, Sports Tracker and Training Peaks.
Update your Spartan's software
We are committed to ensuring you have best possible experience with your new Suunto Spartan, and as such, we will be updating its software incrementally throughout the fall. When your watch arrives, before you take it for a spin, make sure it is updated.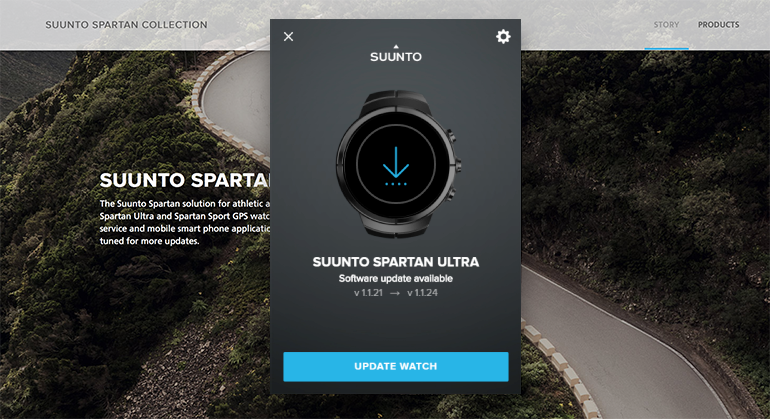 Keep your Spartan updated: Open SuuntoLink on your computer and connect it to your watch with the Suunto USB cable. SuuntoLink will prompt for a software update if that is available. When the watch is connected to your computer for software update, don't press any watch buttons or use the touch screen.

You can find details about the latest updates and additional instruction about updating your watch at suunto.com/explorewithsuuntospartan
Fill in the basic settings
When your watch is updated, it is time to put in your details, including language, location, gender, unit system and time zone. You'll also get to choose your watch face and select the tones and vibration alerts, as well as light settings. Through these steps you'll notice that you can navigate via the buttons on the side or the touch screen itself.
Have some fun and get to know the interface. Navigating this watch is going to be new, go through the menu, and settings, get a feel for how the touch screen responds and how to get in and out of different menus.
General navigational mechanics:
- Scrolling can be done by the touch screen (swiping up or down) or by the buttons on the side (top for up, bottom for down). Tapping the screen acts as "enter" or "select."
- Swiping left moves you deeper into the menu or towards starting the activity, as does the middle button. Swiping right moves you back a screen. You will also see a curved arrow on the screen pointing to the left, this will also move you "back" a screen.
Pair your Spartan with a heart rate sensor
To get heart rate displayed on your watch and data recorded, you'll need to pair your watch with your Suunto Smart Sensor (or other compatible Bluetooth Smart heart rate sensor). Simply navigate to Settings >> Connectivity >> Pair sensor >> Pair HR sensor and follow the instructions on your watch.
Pair your Spartan with Suunto Movescount App
The Suunto Movescount App is a living, mobile diary of your Moves. You can track and sync your Moves in real-time to movescount.com, as well as personalize them with photos, descriptions and feelings. After your Move, create a unique Suunto Movie which includes a rich topographical 3D map of your activity. You'll be inspired to discover new routes with the heatmaps function, that shows you the most popular tracks of the Suunto community around the world.
Suunto Movescount App for iOS is available at App Store and Suunto Movescount App for Android at Google Play.
From the main watch face navigate up to Settings >> Connectivity. Scroll down (or use the bottom button) and ensure the Discover slider is green (allowing mobile devices to pair).
Then log into the Suunto Movescount App on your phone and turn on Bluetooth if it is not on already. Tap the settings icon in the upper-right of the app screen and then tap "+" icon. Once your Spartan is found, tap "pair" in the bottom-right of the screen. The app will then ask you to enter a code that will show on your watch's screen. After entering the code your watch and phone are paired. The first sync with the app will start automatically and may take a few minutes.
Spartan gets stronger
Now that you have the basics, go out and play. Be sure to continue to sync your activities with Suunto Movescount and stay current with new features and updates via suunto.com/explorewithsuuntospartan


Here you can download the Spartan Ultra User Guide in English
To get in touch with Suunto Customer Support go to suunto.com/support