The idea of our ongoing Be Active campaign is simple: Track your runs with Suunto Movescount and you can win Plus award points from the Finnish airline, Finnair. The more you run, the more points you accrue, and the better chance you have of winning. During the campaign Finnair will give away 10 million Plus award points. The points can be used for award flights, travel class upgrades or for a variety of products and services.
Laura is one of the first lucky winners of the Be Active campaign. Her name was drawn from all the runners participating who had been tracking their runs with a Suunto watch or Suunto Movescount app, and syncing their runs with Suunto Movescount since the campaign started in July. During the first month of the Be Active campaign she ran more than any other winner: total of 291,7 kilometres. With the distance run she earned an incredible 291 681 Finnair Plus Points. In the first draw of the campaign total of 2,5 million Finnair Plus award points were given away.
Laura's basic amount of monthly running kilometres is 250 to 300 km, so these efforts were a part of her normal marathon training schedule. During the campaign she also visited the Alps, where she went – of course – for running purposes.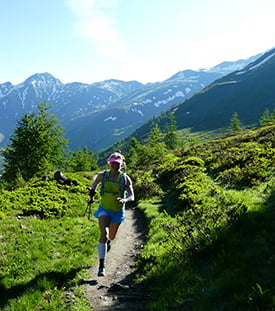 She will use her new travel points for running trips and travel class upgrades. "I got really inspired about winning the points, and started to plan new running trips right away.", Laura says and reveals her latest running idea: "I want to go run on the inclines of Mount Fuji in Japan." Laura's running to-do list this coming year already includes marathons around the world, including New York and Tokyo.
Laura will continue to collect the Finnair Plus award points until the end of campaign, though she doesn't think her luck will hold up for a second win. "The campaign was great and I will definitely take part on competitions like this in the future.", she concludes.
You can still participate to the Be Active campaign. Find the instructions how to link your Finnair Plus and Suunto Movescount accounts here. Registering to Suunto Movescount is free for everyone.
Start tracking your runs now, the campaign is valid till 31st of October.