Children's wear brand Reima® takes a stand against the current trend of kids not getting enough physical exercise. ReimaGO® is based on measuring movement and rewarding kids for being active. The wearable movement sensor, mobile app and clothing concept will be available to consumers in autumn 2016.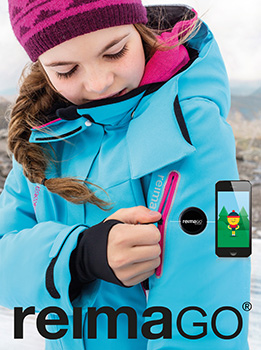 The Finnish company Reima Oy is known for its functional outerwear, which enables kids to stay outdoors as long as they like. The ReimaGO® movement sensor has been especially developed for kids using Suunto's Movesense® technology and expertise in tracking movement.
Suunto's Innovation Architect Kimmo Pernu comments the product development cooperation: "We are excited that our technology will inspire children to be active and delighted to partner with another leading Finnish outdoor brand, Reima".
ReimaGO® is not about monitoring heart rate or counting calories – it measures the intensity and duration of kids' physical activity during the day. It wakes up whenever kids start to move, and it can be used to track movement everywhere: at day care, at school, at activities and in free time.
The activity data recorded by the sensor is read into the ReimaGO® application that works on iOS and can be downloaded for free from the App store in autumn 2016. The app is simple but inspiring, fun and easy to use: The gameplay lets kids see their progress and gather rewards for activity. This won't take much time - and kids are free to go out again. Parents have their own view of the app where they can easily follow kids' activity levels, as well as set individual goals and rewards.
ReimaGO® sensors and the clothing collection will be offered to retailers globally, in all Reima's market areas. They can also be acquired in autumn 2016 through Reima® web stores in Finland, Sweden, Norway, Denmark, Germany, Poland, Russia and China. www.reima.com