Starting from today, Suunto is launching a major renewal of its online sports service Suunto Movescount.com. The key benefit brought in the first phase of the upgrade are sports-specific heatmaps based on millions of user generated moves, allowing anyone to benefit from the power of the Suunto community to find the best places to train and new areas to explore.
"Suunto Movescount is an essential piece of the Suunto offering. The service has today over 100 million Moves and counting. We want to give back to the community by introducing new community powered tools. In addition to the heatmaps launched today, we'll bring further improvements and other tools during this year," says Janne Kallio, performance business digital lead at Suunto. "We have worked quite intensively together with our customers on this project, and we would like to thank everyone who participated. Their knowledge and feedback have helped us to create what's going live today."
Discovering new routes made easy with heatmaps
If you train for a specific goal, you want to find the best places and routes for your workouts to optimize your training - whether you want to find the most popular places or avoid the crowds. You also want to keep up with your training during holidays and business travel. When you are training in an unfamiliar location, it helps to know where the locals go. The new sport-specific heatmaps in Suunto Movescount show you great tracks to use.
Heatmaps are available for anyone, without even signing in to Movescount.com. Just choose your preferred area on the map, select a sport and zoom in to the most popular tracks for trail running, cycling, open-water swimming, skiing and more. The variety of heatmaps for different sports will keep growing. Based on the heatmaps, you can plan your own routes in Movescount.com and transfer them to your Suunto GPS watch to get navigation guidance. Heatmaps will become available also in the Suunto Movescount App (iPhone and Android) later in June 2016.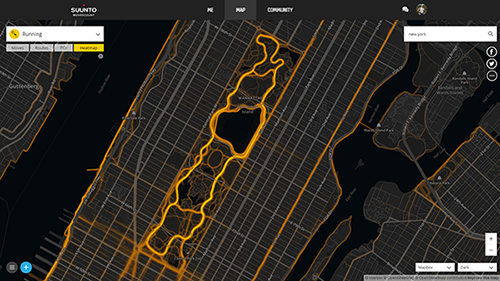 A heatmap from Central Park, New York revealing popular running spots on the area.
New, simplified user experience and Training Insights
The service renewal introduces a new, simplified yet enriched user interface with a responsive design optimized for mobile experience – allowing full use of the Suunto Movescount.com with any mobile device. Enjoy clear infographics, prominent visuals and your own activity feed to collect all your important content in one place. The activity colors have been refined based on customer feedback, making it much easier to separate your various workouts from each other.
Additionally, Suunto introduces a new way to look at your Moves through Training Insights. Use these rich and informative visualizations of, for example, your training load and your feeling trend to see if you are recovering adequately. The new insights help ensure you've got the right steps in place to progress towards your goals. Additional Training Insights will be added later this year.