Suunto has joined forces with the Finnish airline company Finnair's loyalty program Finnair Plus for a long-term strategic partnership to boost innovation, digitalization and to support healthy lifestyles.
With this partnership, Suunto, a leading wearable tech and sports watch company celebrating its 80th birthday this year, reaches new potential customers who are interested in wearable technology and sports solutions.
"Our customers are increasingly interested in an active lifestyle and comprehensive well-being. Together with Suunto, we are creating a new and unique way to encourage our customers to make physical activity an integral part of their lifestyle" says Johanna Jäkälä, VP Brand, Marketing & Customer Loyalty of Finnair.
The first result of the cooperation is the Be Active campaign, which was launched in July and encourages participants to earn Finnair Plus award points by running.


Run for frequent flyer points
The idea of the ongoing Be Active campaign is simple: track your runs with a Suunto GPS watch or Suunto Movescount app, sync them with sports community and service Suunto Movescount, and you can enter a chance to win Finnair Plus award points. The more you run, the more points you accrue, and the better chance you have of winning. During the campaign, Finnair will give away a total of 10 million Finnair Plus award points.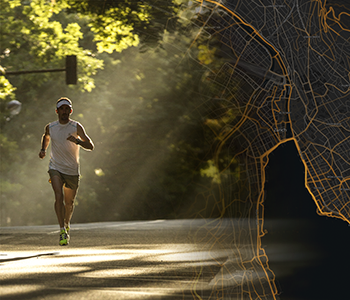 The campaign is being held globally, and and the winners are drawn randomly every month. The points can be used for Finnair flights, upgrades as well as purchasing a variety of products and services. The campaign lasts until the end of October 2016.
Since the beginning of the campaign, thousands of active people have run for points. So far, over 270,000 km of runs have been covered. The first winner won almost 300,000 Finnair Plus award points and is now planning on making her dream come true by using her points to fly to Japan and run on the inclines of Mount Fuji.


Appealing running and outdoor features for active travelers
Heatmaps at Suunto Movescount are a new and unique feature that show running and other sport tracks frequently used by Suunto Movescount members. They offer an easy way to explore and discover new places when traveling for holiday or business, as you can easily download ready-made routes and plan an activity in a new location. In addition, Suunto Movescount provides many other valuable features for active people, like tools for following and analyzing your running performance and progress.
Running enthusiasts traveling to big cities like London, New York, Shanghai or Tokyo can find interesting running spots when on holiday or during a business trip. In addition, Suunto Destination Run running events will be arranged in popular locations to give enthusiasts opportunities for group runs.
Finnair and Suunto will also promote interesting running spots through the airline's inflight entertainment system. Starting in the fall of 2016, the routes will be integrated into the inflight entertainment system (IFE) of Finnair's newest aircraft, the Airbus A350. Suunto will also have its own adventure channel on Finnair's IFE system, reaching millions of travelers from all over the world.


The partnership continues
The long-term partnership between Suunto and Finnair will continue to expand and develop, adding new sport activities and product testing, for example.
"We are proud to partner with Finnair, whose home airport in Helsinki is an international hub, connecting tens of thousands of people from Asia and Europe every day. Together we can inspire and guide people to live an active life and discover new places around the world by using Suunto Movescount's heatmaps." Mikko Moilanen, President of Suunto, sums up the fresh partnership.
You can still participate to the Be Active campaign. Find the instructions how to link your Finnair Plus and Suunto Movescount accounts here.
For more information

Suunto:
Partnership Manager Anna de Torres
+358 50 576 6015, Anna.de.Torres@suunto.com
Finnair:
Development Manager Karolina Baszarkiewicz
+358 40 506 7929, Karolina.Baszarkiewicz@finnair.com
First winners of the campaign are chosen
Be Active with Finnair Plus and Suunto campaign site
Suunto Movescount
Finnair Plus
Since 1936 Suunto has been at the forefront of design and innovation for sports watches, dive computers and sports instruments used by adventurers all over the globe. From the highest mountains to the deepest oceans, Suunto physically and mentally equips outdoor adventurers to conquer new territory.
Finnair flies between Asia, Europe and North America with an emphasis on fast connections via Helsinki, carrying more than ten million passengers annually and connecting 17 cities in Asia with more than 60 destinations in Europe. Finnair is a member of oneworld, the alliance of the world's leading airlines.