The 1.4 software update brings wireless connection to Suunto Movescount, language support and other improvements
Suunto adds new features and functions to the fully customizable dive computer EON Steel with the 1.4 software update, available from March.
Transfer your dives wirelessly with Suunto Movescount App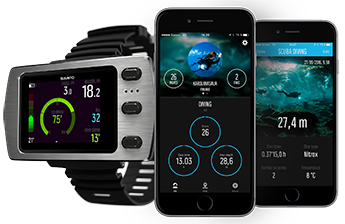 You can now transfer your dive logs from Suunto EON Steel to Suunto Movescount using the Suunto Movescount App, available for iOS and Android mobile devices. Logs are transferred automatically over Bluetooth and synced to Suunto Movescount via mobile data or Wi-Fi. (Note: Mobile data carrier fees may apply.)
In Suunto Movescount, you can explore your dive history and share your diving adventures, as well as enrich your dive logs with stories, photos and videos. In addition, you can customize your EON Steel settings straight from the app.
Useful enhancements for an enjoyable diving experience
With the latest software update, you can use the wide-angle Suunto BrightSee™ color screen in 14 languages.
Divers using multiple gas mixtures can now modify the gases during the dive. If something unexpected happens during the dive, with this feature you can make needed adjustments so you can continue the dive and get correct decompression information.
If you skip the decompression stops for longer than three minutes, the Suunto RGBM algorithm lock indicator shows LOCKED instead of ERROR to better communicate the dive computer status.
The software update brings also many other features improving EON Steel's customization, usability and battery life, to help you make your diving experience as enjoyable as possible.
Read a full description of the update:
www.suunto.com/eonsteelswupdatemarch2017
www.suunto.com/EONSteelstory