Display states and views
Suunto EON Steel has two main views in surface and dive states: time/no deco and compass. Change the view by pressing the middle button.
The lower right field shows multiple information including max. depth, tank pressure, timer, and while diving, also no deco and stops. You can change what is shown by pressing the lower button.
Suunto EON Steel automatically switches between surface and dive state. If you are more than 1.2 m (4 ft) below the water level, the dive state is activated.
The following display shows Suunto EON Steel when tank pressure screen is in use: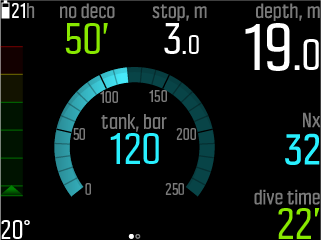 Present depth is 19.0 m
Active gas is Nitrox 32%
Dive time is 22 minutes
Tank pressure left is 120 bar
No decompression time is 50 minutes
Safety stop is ahead at 3.0 meters
21 hours of diving time left before need to recharge