The sleep data of your Suunto 3 Fitness includes two different aspects:
Sleep duration
Sleep quality and average HR during sleep
Sleep duration is measured via an accelerometer, a motion-sensor which detects movement from your wrist. Based on your bedtime and your movements within that timeframe, the watch detects if you are sleeping. Your bedtime consists of two values – the earliest time you usually go to sleep and the latest time you usually wake up.
Learn in the user guide article Sleep tracking how to activate sleep tracking and set your bedtime.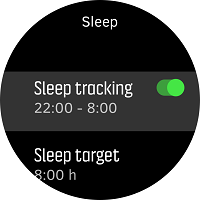 Based on your movement, the watch also determines when you are in deep sleep (time with no movement) and when you are awake during the night (time with significant movement). The deep sleep and time awake durations can be viewed from your sleep summary.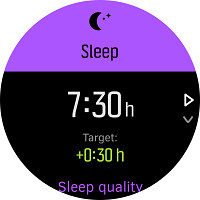 Note: The sleep duration is an estimation, and movement while sleeping may affect the accuracy of the measurement. The accuracy may vary from person to person also based on how much you normally move while sleeping.
Sleep quality is an estimation how well your body was able to regenerate and restore itself while sleeping. This estimation is based on duration of your sleep and analysis of your heart rate while sleeping. Learn more about sleep quality in the user guide article Sleep tracking.

Note: As your heart rate data is measured from your wrist, the way you wear your watch may influence the wrist heart rate readings. The following tips may help:
Wear your watch directly against your skin. No clothing, however thin, can be between the sensor and your skin.
Don't wear the watch too tight to make sure that the blood flow is not affected. If worn too tight, less blood flows through tissue which may affect the measurement accuracy.
Wear the watch higher on your arm than where watches are normally worn. The sensor reads blood flow through tissue. The more tissue it can read, the better.
Arm movements and flexing muscles can change the accuracy of the sensor readings.
When your heart rate is very low, the sensor may not be able to provide stable readings.
Darker skin pigmentation and tattoos can block light and prevent reliable readings from the optical sensor.
Learn more about how wrist heart rate measurement works in the user guide article Optical heart rate and in the following article: What should you know about wrist heart rate?
FIND MORE SUPPORT FOR:
Suunto 3 Fitness