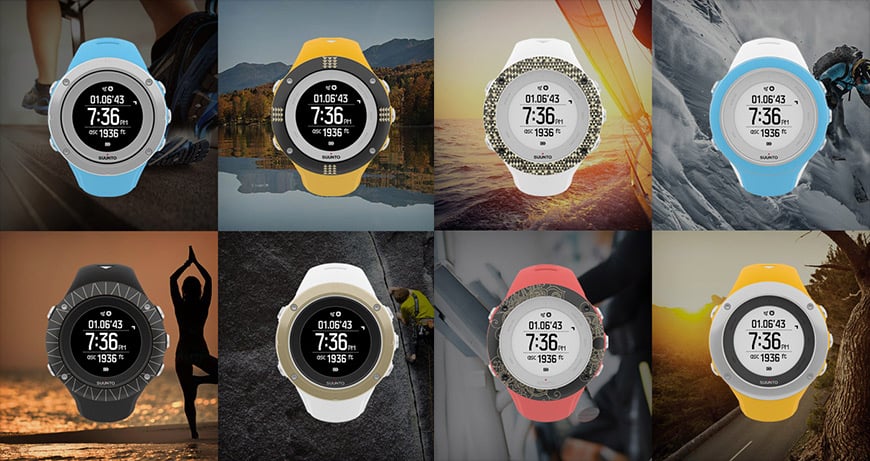 Suunto introduces today the Customizer, a new online tool that allows users to create unique, personalized sports watches. The Customizer is launched with Ambit3 Peak and Ambit3 Sport and users can choose their favorite colors and materials for practically every part visible on the watch. The array of design elements selectable enables thousands of unique combinations. Adding your own name to the watch means it feels like a piece of yourself as soon as it's in your hands.
"Some people prefer trail running and mountaineering, others like busting it out with triathlon and cycling – athletes come in all stripes and now their sport watches can too. For a long while now, our Ambit collection users have been able to modify watch features according to their personal requirements. Our users also create content, develop Apps and share their workout programs on movescount.com, so the Customization tool is really a natural continuation for us," says Janne Kallio, Performance Business Digital Lead at Suunto.
Get inspiration from your favorite athletes and create designs that inspire others
Designs created and saved by users are showcased in the Design Gallery, generating a rich database of unique designs for anyone to view and purchase. Users will also be able to vote for their favorite design and each month the design with the most votes will be highlighted as "Design of the Month".
From the design gallery you can also find inspiring designs made by Suunto ambassadors, available for everyone to order. The ambassador collections are kicked-off with designs made by the Spanish trail runner and ski mountaineer Kilian Jornet and by Swedish triathlete Åsa Lundström.
Customize a sports watch for your team
Suunto Customizer also allows teams to create their own designs. Choose the colors and details that reflect your team's spirit and finalize the design with the team's name. Save the design to the design gallery, supplement it with a team description and imagery and share it with your team members to purchase.
Each custom watch is hand build according to customer's design in the Suunto production facility in Vantaa Finland, and the delivery time is two weeks from order to your home door. Enter the Suunto Customizer tool here www.suunto.com/customize or view ready-made designs from the Design Gallery www.suunto.com/designgallery.