Zátěž a regenerace
Vaše fyzické zdroje umožňují určit, kolik energie má vaše tělo k dispozici, jak bude schopné zvládat zátěž a výzvy, na které narazíte.
Při zátěži a fyzické aktivitě se fyzické zdroje spotřebovávají, při odpočinku a regeneraci se obnovují. Dobrý spánek tvoří zásadně důležitou součást zabezpečení potřebných fyzických zdrojů pro vaše tělo.
Když máte fyzických zdrojů dostatek, budete se nejspíš cítit odpočatí a plní energie. Půjdete-li si zaběhat v době, kdy máte hojnost fyzických zdrojů, nejspíš vám to půjde výborně, protože vaše tělo má energii potřebnou k tomu, aby se přizpůsobilo, což v důsledku povede k dalšímu zlepšování.
Když budete schopni své fyzické zdroje měřit, pomůže vám to s nimi nakládat a využívat je rozumně. Množství fyzických zdrojů můžete využívat také jako vodítko k určení stresových faktorů, osobně účinných strategií regenerace nebo vlivu kvalitní výživy.
Zátěž a doba zotavení využívá naměřených hodnot optického snímače srdce a abyste tyto hodnoty získali, musíte zapnout denní tepovou frekvenci, viz Denní TF.
Pomocí pravého spodního tlačítka přejděte na displej zátěže a regenerace.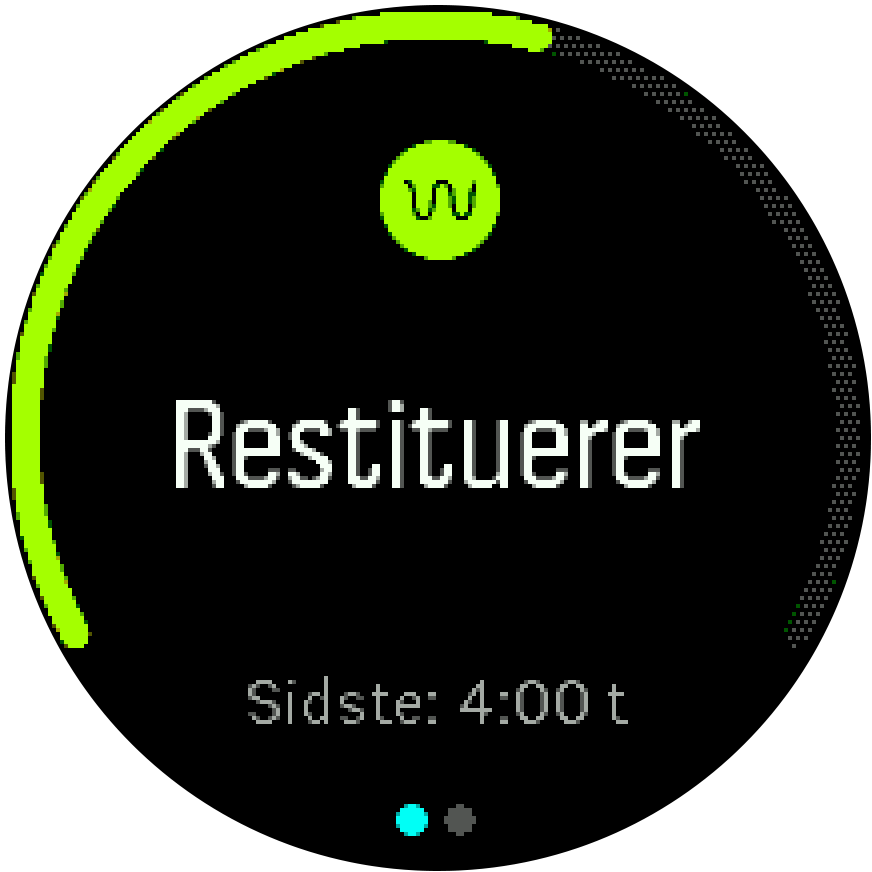 Měřítko kolem displeje indikuje celkovou hladinu fyzických zdrojů. Je-li zelená, znamená to, že regenerujete. Ze stavového a časového indikátoru můžete vyčíst, v jakém stavu se aktuálně nacházíte (aktivní, neaktivní, v regeneraci či pod zátěží) a jak dlouho. Na tomto snímku je například vidět, že již čtyři hodiny regenerujete.
Když stisknete prostřední tlačítko, zobrazí se sloupcový graf zachycující fyzické zdroje za posledních 16 hodin.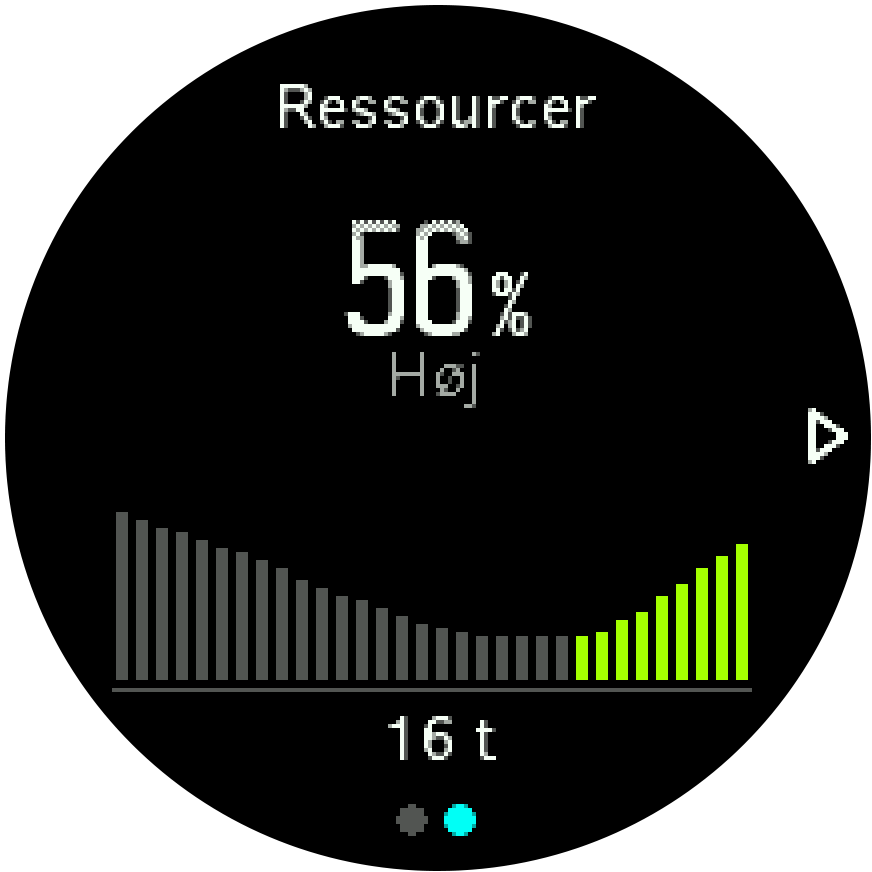 Zelené sloupce označují období, kdy probíhala regenerace. Procentuální hodnota je odhad aktuální hladiny fyzických zdrojů.