Ultrarunners Patrick Sweeney and Alex Ramsey did something very special this week. Aside from taking the Torch of Humanity to the United Nations, they also wore shoes.
Barefoot runners Patrick Sweeney and Alex Ramsey are not accustomed to wearing shoes.

Their footwear of choice are ultra minimalist Luna Sandals, which they ran 1368 km from Chicago to New York in over the last weeks for the Champion's Walk for Peace, an initiative to raise $250,000 to build a peace education school in Kenya's troubled North Rift Valley.

Click here to read more about the Champion's Walk of Peace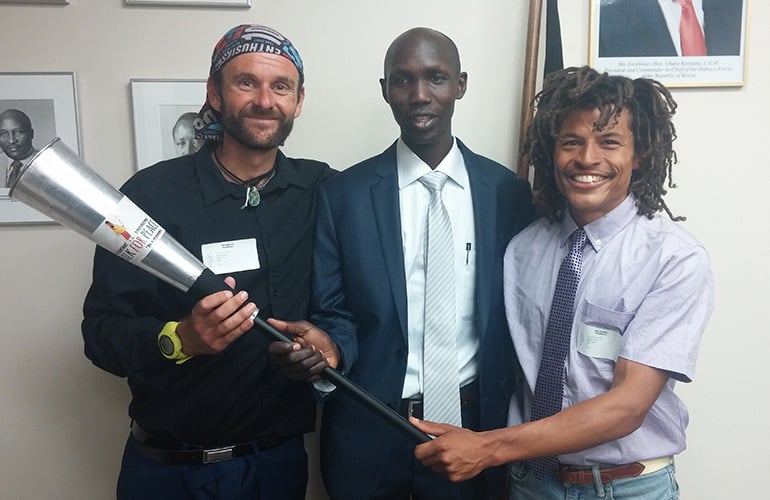 Patrick (left) and Alex stand next to Wilson Kipsang at the United Nations.

But this week they decided to dress up for a change. The two friends put on collared shirts and normal shoes to pass on the Torch of Humanity at the United Nations. They passed it over to Kenyan runner Wilson Kipsang Kiprotich, the former world record holder for the fastest marathon time and the 2014 winner of the New York Marathon.

"It was a pretty special moment," Patrick says. "Wilson Kipsang is one the world's greatest runners. Not only that he is a great humanitarian and it was our honor to pass the torch over to him."

So far the initiative has raised just over $100,000 of the total funds required to build the school. People can still donate here.

Get inspired with Patrick's running motivation tips!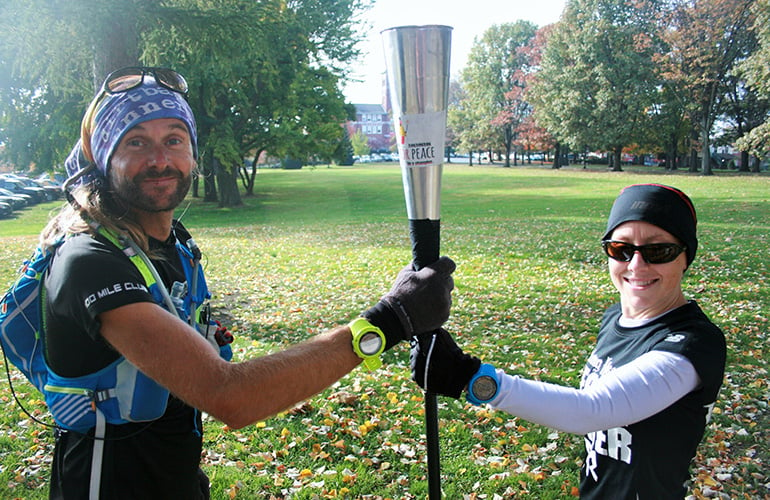 Patrick with multisport athlete Laura Kline.
After handing over the torch, Patrick and Alex aren't returning to office jobs and the usual urban lifestyles.
They're both real deal dirtbag runners so there's only one thing on the cards for them and that's more running in beautiful places.

Patrick, a Suunto supported athlete, is heading to the Copper Canyons in Mexico to visit his friends among the Tarahumara, a Native American people renowned for their long distance running ability. Then, before the year is out, he's running in a 50 km, a 50 mile, 100 mile and a 72 hour race.

"To me a dirtbag runner is someone whose passion for running and the running community goes beyond the clock and the finisher buckle," he says. "Being a dirtbag runner is about sharing good times with good people through the sport of running and, at least in my case, it usually involves sharing a few ales, too."