The Suunto EON Steel was created with the feedback of active divers from all over the world. Among them was our own ambassador Jill Heinerth. In case you don't know Jill, she's a renowned underwater explorer and 2013 recipient of the Sir Christopher Ondaatje Medal for exploration from the Royal Canadian Geographical Society. She's dived inside caves, underneath icebergs and in some deep waters all over the world – the ideal person to put the Suunto EON Steel through its paces. Here's what she had to say about Suunto's new launch:

We're guessing you gave it a good testing!
I first took the EON Steel to Christmas Island on a unique cave and deep ocean exploration project sponsored by National Geographic. The device was in its earliest form, but I could already understand the potential of the product. I wasn't really supposed to show it to anyone, so I had to quietly hide it in my pocket until we could snap a few photos! I finally had the chance to dive a fully functional device in France when other Suunto Global Distributors got to see it for the first time. The boat was buzzing with excitement form everyone that used it.

And you also used in the Arctic right?
Later, I took a unit to Newfoundland and on the Sedna Epic Expedition to the Arctic this summer. It was on these trips that I had the full opportunity to appreciate its full potential and functionality. I realize now that I have taken it from the warmest to the coldest conditions on the planet in the last year. I'm never very kind to my gear but it doesn't need to be handled with kid gloves. It is well built and simply works!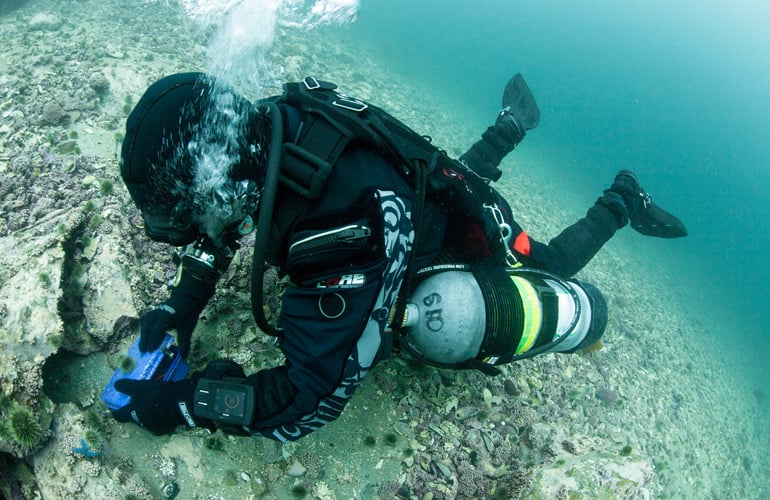 Jill Heinerth tested the Suunto EON Steel in both warm and cold climates. ©Jill Heinerth

What was the feedback you gave Suunto?
What I saw in the Suunto EON was far beyond a typical diving computer. The EON is capable of taking a diver from their first dives, through technical and eventually CCR diving. The beauty is that the diver can customize their display and won't be mired in unnecessary features that they are not ready to use. As they progress, they can move to new modes of diving and use additional features. Furthermore, I envision the EON as more of a platform than a singular device that will need to be replaced.

How do you like the product?
I love the quality build and easy readability of the EON. I also love being able to plug it in for recharge or downloading.

How is it different to previous dive computers you've used.
The EON feels fully modern and fresh – more like my iPhone than a tired old diving computer display that looks like a relic of Windows 98. The EON interface is simple and intuitive and although it came with excellent instructions, there was no need to refer to them. The three button operation was obvious and features were easily found and activated. The audible alerts are also intuitive with unique, well designed sounds that make sense. The alarms alone can guide the diver to correct their behavior.

Anything else?
I was using the EON with a cave survey class recently and should add that the compass feature on the computer is extremely easy to access, very accurate and quick to respond. This feature can be used easily without losing other critical display information.
Jill Heinerth is a Suunto ambassador. Discover more about her exploits and photography here.
All images ©Jill Heinerth