Major updates announced for the Suunto Connected Family
Launched last fall, the Suunto Connected Family with Ambit3 offers a complete package to keep track of your sports and adventures and share them on the go. Today, the family grows with the launch of the Suunto Ambit3 Run GPS watch and new colors for the Ambit3 Sport and Smart Sensor belt. All Ambit3 watches will receive updates this spring with additional features, complementing the functionality with workout planning and recovery analysis.

Suunto Ambit3 Run
The Ambit3 Run is a Bluetooth® Smart enabled GPS watch for runners for whom style, fit and functionality are of equal importance. It is a running partner, coach and guide, letting you plan, progress and recover more efficiently.
Plan your workouts and discover how well you have recovered
The Suunto Ambit3 Run lets you create and follow detailed interval workouts with the Suunto Movescount App, even guiding you by voice. Set the duration and intensity you want, activate your workout and when used with the Movescount App, the voice coach will guide you through the workout. The workout planner will be made available through software updates to the Ambit3 watches and App during March 2015.
Additionally, the 2.0 software update later in the spring brings the possibility to compare your running performance to your last 30 day average and analyze your recovery using a quick recovery or sleep recovery test.
Ambit3 Run has full GPS navigation meaning you can plan your route online, download and then run without fear of making a wrong turn.
Follow your friends using the Suunto Movescount App
Using the watch together with the popular Suunto Movescount App brings additional benefits. A new feature of the App, available via a software update this spring, will be an activity feed which lets you follow your friends' activities – and lets them see what you've been up to. With the App, you can customize your Ambit3 watch and share your Moves while on the go as well as receive call and text notifications on the watch so you don't need to stop to see who's calling. Or you can make a Suunto Movie, which turns your route into a playable video file. The App is currently available for iPhone/iPad users and becomes compatible with Android in April, supporting Android 5.0, 4.4 and 4.3.
Suunto has also teamed up with TrainingPeaks. Moves can now be seamlessly synced to TrainingPeaks after uploading to Movescount. The online service offers advanced training advice for endurance athletes.

New colors for the Suunto Ambit3 Sport and Smart Sensor belt
The Suunto Ambit3 Sport GPS watch is now available in a new color – Coral. The Suunto Ambit3 Sport packs all the features needed for running, swimming, cycling and multisport training.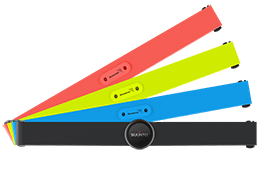 The Suunto Smart Sensor belt gets fresh colors as well – Lime, Blue and Coral. The black version is now available in three sizes. The Smart Sensor records and stores your heart rate (HR), transferring the data wirelessly to your Ambit3 watch or the Suunto Movescount App on your smartphone.
If you do a sport in which it's inconvenient to wear a watch, you can still record your HR. Put the belt on, leave your watch or smartphone aside and when you return after workout your HR data transfers wirelessly to your watch or (with March update) your smartphone. The Smart Sensor is fully compatible for swimming. It can be attached to compatible sports apparel, such as Salomon MovesenseTM Tee and Bra.
The Suunto Ambit3 Run has a RRP of 249 € / 300 $ (without the Smart Sensor) and is globally available from March 3rd. New color variants for Suunto Ambit3 Sport and Suunto Smart Sensor belt are also available from March 3rd.
The Suunto Movescount App is available for Android from April.