Conditie
Een goede aerobe conditie is belangrijk voor uw algehele gezondheid, welzijn en sportprestaties.
Uw aerobe conditie wordt gedefinieerd als VO2max (maximaal zuurstofverbruik), een algemeen erkende maatstaf voor het aerobe uithoudingsvermogen. Met andere woorden, de VO2max laat zien hoe goed uw lichaam zuurstof kan gebruiken. Hoe hoger uw VO2max, hoe beter u zuurstof kunt gebruiken.
De schatting van uw conditie is gebaseerd op het detecteren van uw hartslagrespons tijdens elke geregistreerde hardloop- of looptraining. Om een schatting van uw conditie te krijgen, legt u een hardloop- of loopsessie met een duur van minstens 15 minuten vast, terwijl u uw Suunto 3 Fitness draagt met gekoppelde gps of gekalibreerde snelheid.
Als gekoppelde gps niet beschikbaar is, moet u uw horloge handmatig kalibreren voordat u 15 minuten kunt hardlopen/lopen en een schatting van uw conditie kunt maken; zie Snelheids- en afstandskalibratie.
Na een geslaagde kalibratie kan uw horloge een schatting geven van uw conditie voor alle hardloop-en looptrainingen.
Uw huidige geschatte conditie wordt weergegeven in de weergave van de conditie. Druk vanuit de horlogeweergave op de rechteronderknop om naar het display met de conditie te bladeren.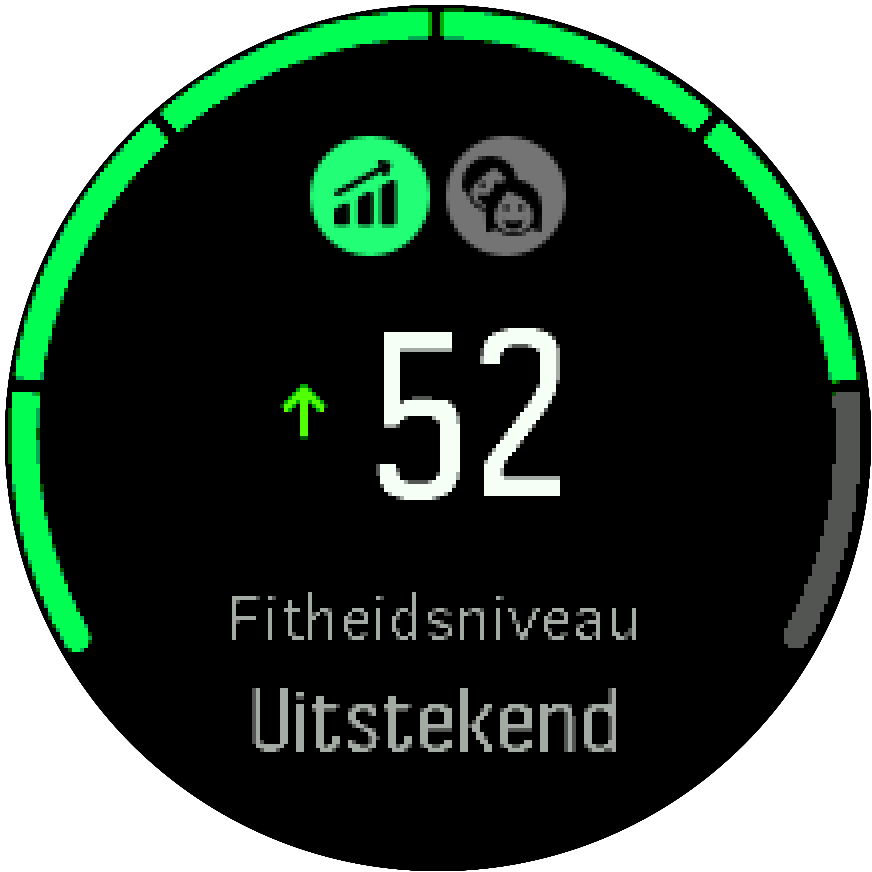 OPMERKING:
Als het horloge uw conditie nog niet heeft ingeschat, zullen er verdere instructies verschijnen op het scherm.
Historische gegevens, van vastgelegde loop- en hardlooptrainingen, dragen bij aan de nauwkeurigheid van de schatting van uw VO2max. Hoe meer activiteiten u vastlegt met uw Suunto 3 Fitness, hoe nauwkeuriger de schatting van uw VO2max wordt.
Er zijn zes conditieniveaus, van laag tot hoog: zeer slecht, slecht, redelijk, goed, uitstekend en superieur. De waarden zijn afhankelijk van uw leeftijd en geslacht en hoe hoger uw waarde is, hoe beter uw conditie.
De verbetering van VO2max is zeer individueel en hangt af van factoren zoals leeftijd, geslacht, genetica en traininggeschiedenis. Als u al zeer fit bent, zal uw het verbeteren van uw conditie trager verlopen. Als u daarentegen nog maar net begint met regelmatig te sporten, ziet u mogelijk een snelle toename van uw conditie.