Gasblandinger
Hvis der er valgt Nitrox- eller Trimix-dykketilstand, skal du definere gassen/gasserne, for at dekompressionsalgoritmen kan fungere korrekt. Gasserne defineres under Gas(es) (Gas(ser)). I Nitrox-tilstand vil gas kun have oxygen (O2%). Hvis helium tændes i dykkeindstillingerne, er He% tilgængelig.
Trimix-dykketilstand er som standard deaktiveret, så helium er ikke tilgængelig. Aktivér Trimix i DM5, så kan du vælge flere gasser ved at aktivere flere gasser i dykkerindstillingerne.
BEMÆRK:
Når du har analyseret din gas, skal du afrunde resultatet, når du indtaster det i Suunto EON Core. Hvis den analyserede gas f.eks. er 31,8 % ilt, skal gassen defineres som 31 %. Dette gør dekompressionsberegningerne sikrere. Iltberegninger (pO2, OTU, CNS%) holdes også konservative, idet iltprocenten, der anvendes til disse, er O2% + 1.
ADVARSEL:
DYKKERCOMPUTEREN ACCEPTERER IKKE GRÆNSEPROCENTVÆRDIER AF ILTKONCENTRATION. GRÆNSEPROCENTVÆRDIER MÅ IKKE RUNDES OP! Afrunding vil medføre, at nitrogenprocenter bliver undervurderet og vil påvirke beregning af dekompression.
Det er vigtigt at forstå, hvordan menuen Gas(ser) fungerer i Trimix-tilstand, hvor du kan benytte flere gasser. Du kan for eksempel have følgende gasser ved et dyk til 55 m (180,5 fod):
tx18/45, MOD 58 m
tx50/10, MOD 21 m
oxygen, MOD 6 m
I eksemplet nedenfor har menuen tre gasser, og tx18/45 er valgt som den aktive gas. Selvom der kun er én aktiv gas, beregner dekompressionsalgoritmen opstigningstiden (under dykket) vha. alle disse tre gasser.
Sådan vælger du en anden aktiv gas:
Åbn menuen

Gas(es)

(Gas(ser)), og tryk på den midterste knap for at få vist gasindstillingerne.
Rul med den øverste eller nederste knap for at fremhæve Select (Vælg).
Tryk på den midterste knap igen for at bekræfte.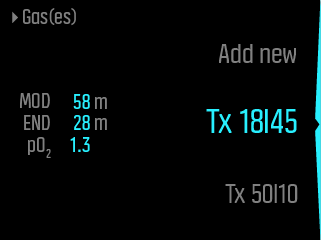 Hvis du kun dykker med én gas, skal du kontrollere, at der kun vises én gas i menuen Gas(es) (Gas(ser)). Er dette ikke tilfældet, forventer Suunto EON Core, at du bruger alle gasser på listen og giver dig besked om at skifte gas under dykket.