Overvågning af aktiviteter
Dit ur registrerer dit samlede aktivitetsniveau i løbet af dagen. Dette er en vigtig faktor, uanset om du blot ønsker at være sund og rask eller træner til en kommende konkurrence.
Det er godt at være aktiv, men når du træner hårdt, skal du have gode hviledage med lav aktivitet.
Aktivitetsmåleren nulstilles automatisk hvert døgn ved midnat. I slutningen af ugen (søndag) giver uret et resumé af din aktivitet, der viser dit gennemsnit for ugen og daglige totaler.
Fra displayet på urets overflade skal du stryge op eller trykke på den nederste knap for at få vist dagens samlede antal skridt.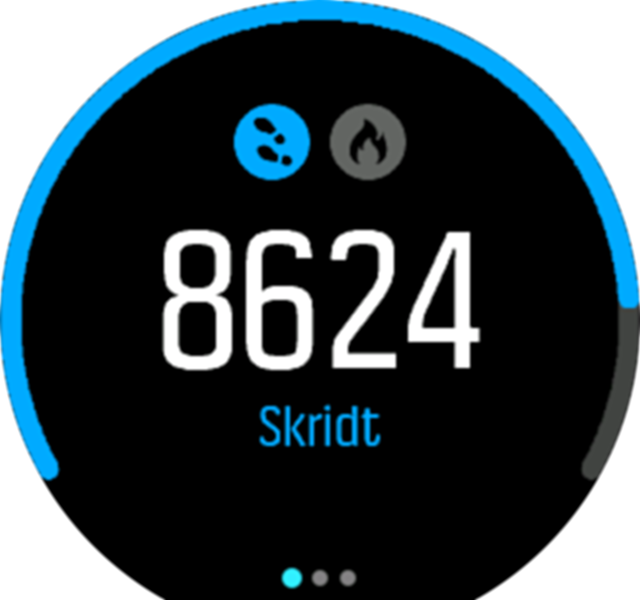 Dit ur tæller skridt ved brug af et accelerometer. Det samlede antal skridt akkumuleres 24/7, også under registrering af træningssessioner og andre aktiviteter. For nogle specifikke sportsgrene, såsom svømning og cykling, tælles skridt dog ikke.
Ud over skridtene kan du trykke på displayet for at få vist dagens forventede antal kalorier.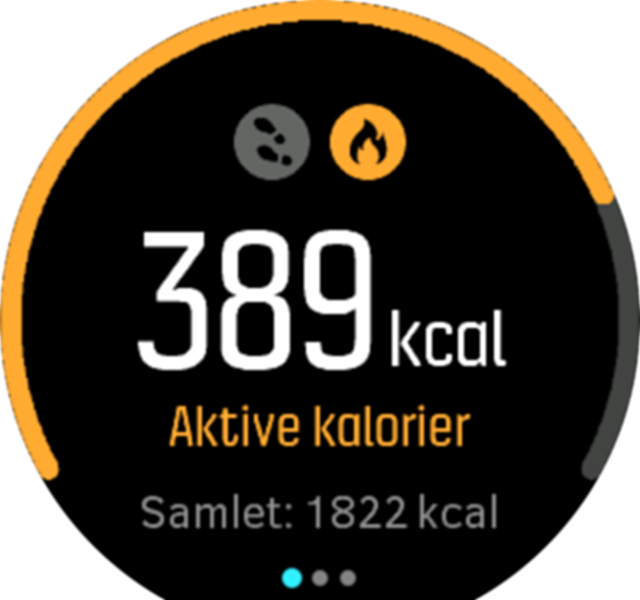 Det store tal i midten af displayet er den anslåede mængde aktive kalorier, du har forbrændt i løbet af dagen indtil nu. Nedenfor dette ses de samlede antal kalorier, der er forbrændt. Den samlede mængde omfatter både aktive kalorier og din grundlæggende metaboliske forbrænding (se nedenfor).
Ringen på begge displays angiver, hvor tæt du er på dine daglige aktivitetsmål. Disse mål kan tilpasses dine personlige præferencer (se nedenfor).
Du kan også se dine skridt over de sidste syv dage ved at stryge til venstre. Stryg til venstre, eller tryk på den midterste knap igen for at få vist kalorieforbruget.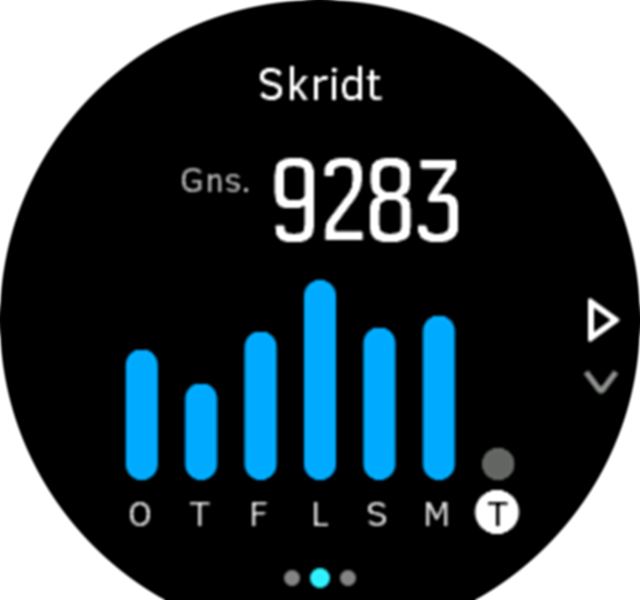 Stryg op for at se din aktivitet over de sidste syv dage vha. tal i stedet for en graf.
Aktivitetsmål
Du kan justere dine daglige mål for både skridt og kalorier. Når aktivitetsdisplayet er åbent, kan du trykke og holde fingeren på skærmen eller holde den midterste knap nede for at åbne indstillingerne for aktivitetsmål.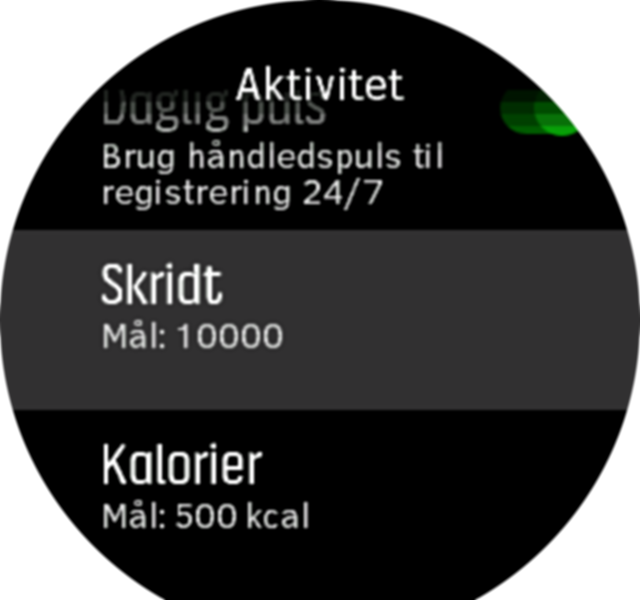 Når du angiver dit mål for skridt, definerer du det samlede antal skridt for dagen.
Det samlede antal kalorier, du forbrænder per dag, er baseret på to faktorer: dit basale stofskiftetal (BMR) og din fysiske aktivitet.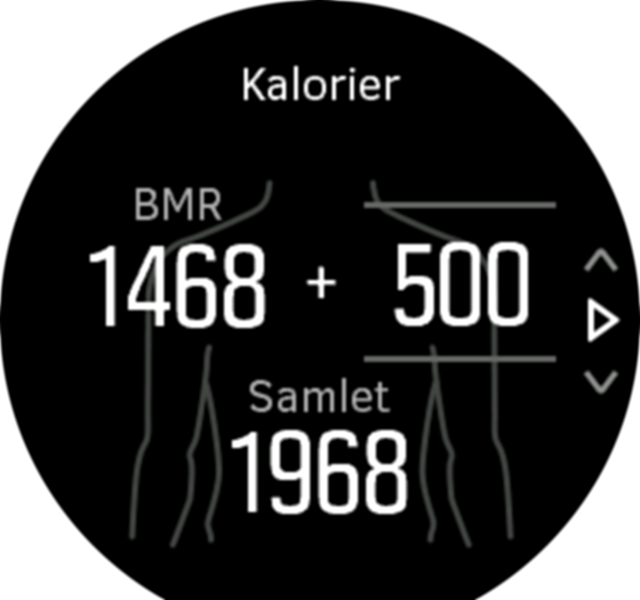 Din BMR er mængden af kalorier, som din krop forbrænder i hvile. Det er de kalorier, din krop har brug for til at holde dig varm og udføre grundlæggende funktioner, som f.eks. at blinke med øjnene eller slå et hjerteslag. Dette tal er baseret på din personlige profil, herunder faktorer som f.eks. alder og køn.
Når du indstiller et kaloriemål, definerer du, hvor mange kalorier du ønsker at forbrænde ud over din BMR. Dette er dine såkaldte aktive kalorier. Ringen rundt om aktivitetsdisplayet viser, hvor mange aktive kalorier du forbrænder i løbet af dagen i forhold til dit mål.