Like any successful diving trip, the moment you get home it suddenly feels a long time ago. But the memories from Suunto's exploratory trip to Ayada Maldives look set to remain for a while yet for the lucky winners who joined us on our photoshoot earlier this month.

The trip explored diving sites that have yet to be dived in the beautifully warm and clear waters of the Indian Ocean island chain. Five Suunto fans were able to join after winning our #Paradise contest. They were not disappointed...

Says Jen Weston: "The trip really was a dream come true – exquisite, easy-going diving with professionals in a gorgeous underwater environment.

"The diving locations had great visibility, lots of beautiful coral, countless tropical fish all contributing to an environment bursting with color. The dive sites near Ayada were clean and well cared for. And the night dive was truly amazing. We saw a nurse shark, a sleeping pufferfish, crabs, and lobster."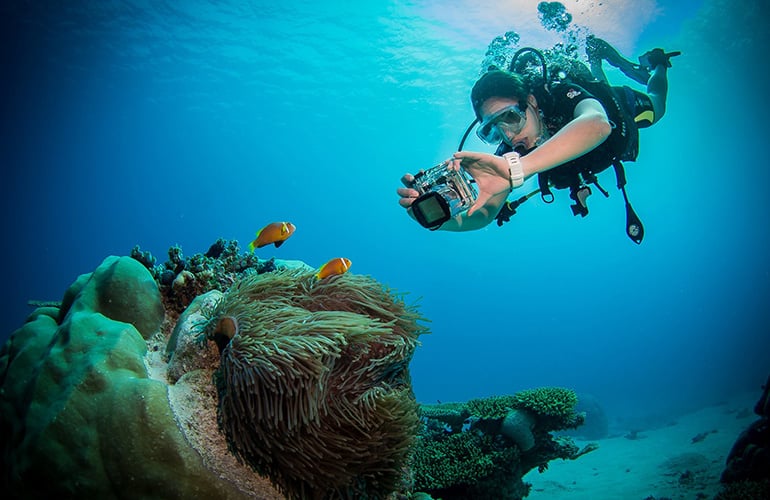 Jen Weston taking a shot © Phil Davison

"It was described as a trip to paradise," adds fellow contest winner Mark Harris, "and I really don't think I can describe it any better than that. "The diving was beautiful – there were large expanses of pristine hard coral reefs at most of the dive sites and most of the reefs we visited had very mild currents. Sightings of Eagle Rays were a daily occurrence with regular sightings of reef sharks, large rays and turtles."

Also on the trip were the Scuba Diver Girls. "There is something for everyone in the Maldives, from big animals to small macro life. You constantly find yourself not knowing what to look at first," says Margo Sanchez.

"Every divesite was teaming with fish, eels, and wonderful anenomies!...and then a spotted eagle ray or black tip reef shark swims by..."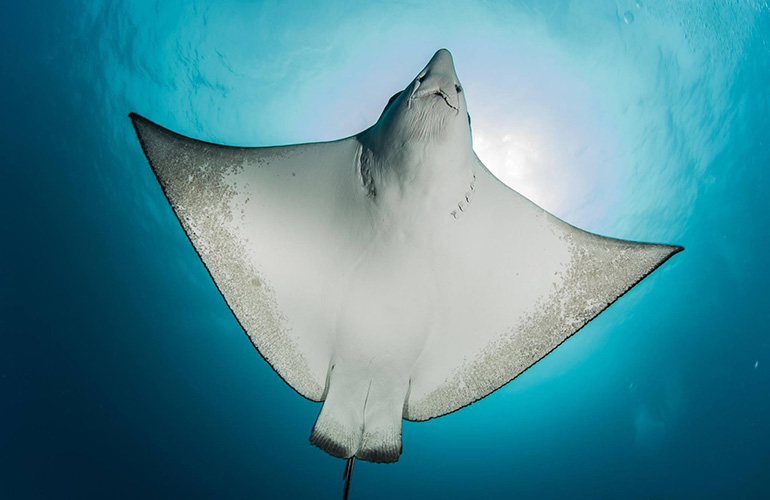 Flying in the ocean: ©Dapeng Juan

She adds: "It was so amazing to wake up early, throw on a bikini, enter the water right from the deck of our bungalow, and snorkel the spectacular house reef."

There was one particularly memorable diving moment, she says:

"Stephanie and I were on a dive over a pretty reef that dropped off in a sheer wall of coral to the deep. There was the perfect amount of current to where you floated along just fast enough to be able to stop and take pictures if you wished. We found the cutest turtle that really seemed to like us and swam with us for quite sometime.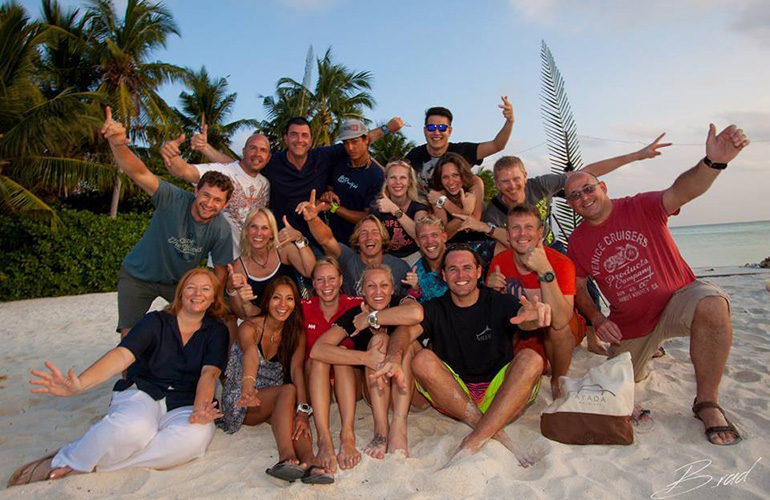 The team on the beach of Ayada Maldives resort. ©Brad Holland

"Then we came upon a very large nurse shark under a ledge of coral that was obviously very pregnant. She turned her head and regarded us as if to say hello but was very comfortable in her bed. Although that dive was quite amazing, the most stand-out moment for us was the baby blacktip sharks that were 30 feet from our bungalow. We snorkeled with them daily and I could always hear Stephanie squeeling through her snorkel...CUUUUUUTE!!! I, of course, was making the same noises. Some days the larger sharks would come in to check us out as well and all of this was in 3 feet of water!!!"

Everyone got the chance to dive with Suunto's new dive computer, Suunto EON Steel and photographers George Karbus and Predrag Vuckovic were on hand to capture some great images for our forthcoming campaigns and we look forward to sharing those images in the coming weeks. Thanks to everyone for making it such a memorable trip.
Main image ©Steve Woods