PLAN AND CREATE ROUTES WITH MOVESCOUNT
Watch this quick tutorial about creating routes with Movescount.
You can create routes in Movescount's Route Planner. Simply navigate to Plan & Create and select Route Planner. Fill in the basic settings and start drawing the route on the map.
Please note that you have three different maps you can use. The newest addition is the Mapbox map. If you are creating a route that follows roads, the Follow roads tab is very useful. This will make creating the route quicker.

A great tool for planning your routes in Movescount is the new Altitude graph. It updates as you draw the route on the Mapbox map and helps you plan your route.
The Waypoints tool is another useful feature. You can give them custom names and appropriate types (like parking, camp, food etc) to make them more descriptive and easier to understand.
Once you are ready with your route planning, check "Use this route in my Suunto" box and save the route. Next time you sync your watch the route will appear under Navigation -> Routes. (If your watch was already plugged to the computer, unplug and plug again to start the sync immediately.)
You can find your routes during training under your Traverse's or Ambit3's Navigation menu.
CREATE A ROUTE FROM EXISTING MOVE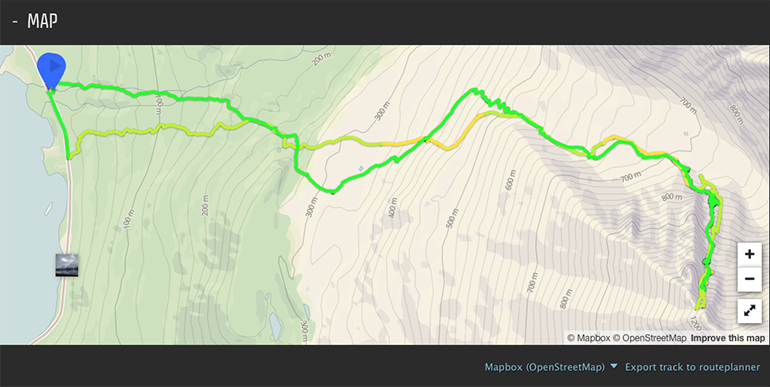 Creating routes from your own moves (as well as other public moves) is simple: Navigate to the desired move and choose "Export track to route planner" under the map. The route then opens in the Route planner.
Edit the route in the Route planner, fill in the route info, choose its privacy setting and save it. Already at this point you can choose if you want to use this new route in your watch. You can find your routes and edit them later under Plan & Create –> Routes.
IMPORT A ROUTE
You can import routes to Movescount from external sources. Go to Route Planner (under Plan & Create) and choose "Import route". The supported file formats are kml and gpx.
After importing the route you are at the same steps as after creating a route based on an existing move. Next edit the route if needed, fill in the route info, choose its privacy setting and save it.
READ MORE
TUTORIAL TUESDAY: NAVIGATING TO POINTS OF INTEREST WITH YOUR SUUNTO AMBIT
TUTORIAL TUESDAY: TRACKING BACK WITH AN AMBIT
Get support for your Suunto product at www.suunto.com/support