It's the trend that has captured the imagination of runners the world over – setting FKTs, or Fastest Known Times – and ultra runner Ryan Sandes may have just created one of the most scenically spectacular routes. Continuing our series of athletes sharing their best moves, here, the South African athlete goes behind the scenes on his most recent feat – an FKT across Cape Town's iconic Table Mountain.

It's fair to say that Ryan Sandes is most at home on long distance trails and ultras. A year ago he and Ryno Griesel set an FKT of 41h 49m crossing the 220km Drakensberg mountains.
Now, on familiar terrain but an unfamiliar distance the Suunto ambassador has just blasted a 15.1 km trail across the rocky spine of the Cape Peninsula in 2h 2m 13s. Check out the Suunto Movie of the FKT below:
"The run starts with a massive climb up Llandudno Ravine to warm your lungs and legs up," Ryan tells us. "This is a super technical climb to the top of Table Mountain with lots of rock stairs and scrambling. The views on top of Table Mountain are amazing and makes every drop of sweat getting up to the top worth while."
Looking at his Movescount page, Ryan covers the 700 m ascent in 32 minutes, but the vertical isn't the only thing to worry about on the route.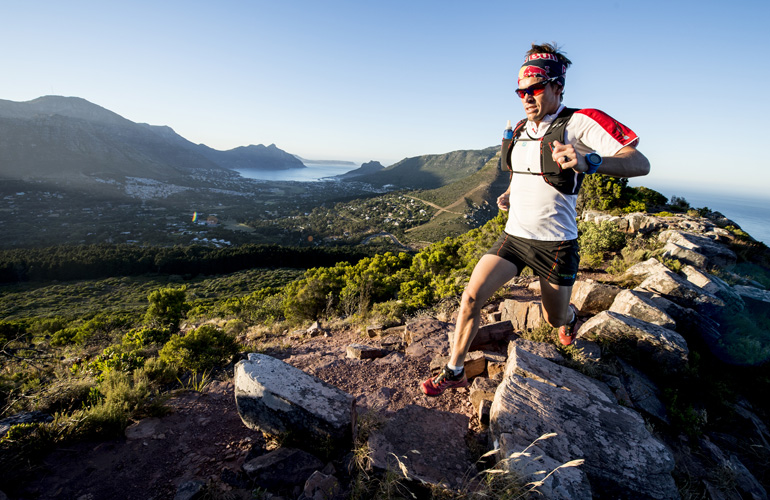 "Once on top of Table Mountain the route is a little flatter but it is not completely flat. It is very technical running along a single track which can be quite overgrown and seeing large snakes is a common occurrence. Once you get to the Valley of the Red Gods you have a few small ladders to negotiate before descending Platteklip Gorge.
This is the hardest part of the run for me, as you have big rock stairs leading down Platteklip which kill your legs and you also have to constantly dodge tourists hiking up the mountain! Once on the contour path, the running is fairly fast to the finish but your legs will be feeling tired after the big descent off Table Mountain.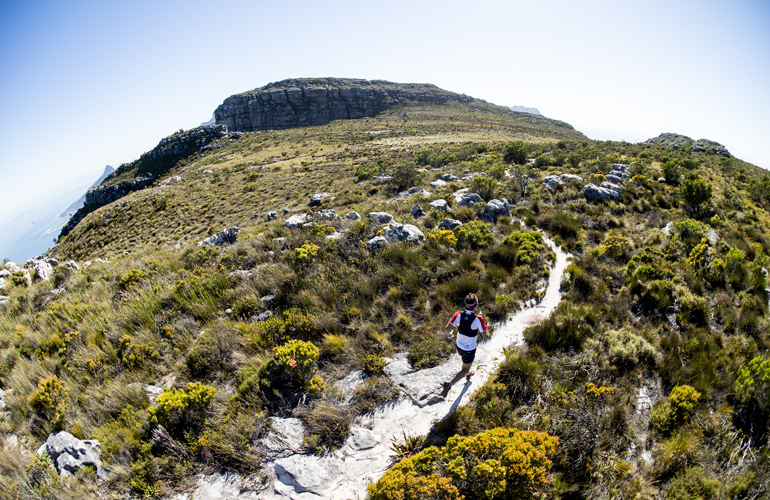 The route is just under 16km, but is very slow moving and you can never get into any rhythm. But I love it as it is in my 'back garden' and I feel right at home."
Anyone who wants to have a crack at the route should head over to redbull.co.za/FKT. You can use a Suunto Ambit to pit yourself against Sandes' time so long as your moves are automatically synced with Strava. The best one will get to join Sandes in Reunion Island as his support crew for the Grand Raid Reunion race.
All images ©Craig Kolesky/ Red Bull Content Pool