If you enjoy a mix of adventure sports, then check out Matthias Scherer's top 5 training routes and be inspired!
Ice-climber, alpinist and allround outdoor adventure junky Matthias Scherer lives for training and the mountains. He's at it just about every day, whether that's climbing and skiing in local mountains where he lives in northern Italy, cycling non-stop around Mont Blanc or taking on perilous frozen waterfalls deep in the Canadian Rockies.
"What's most important for me is that I am in the mountains!" Matthias says. "I love to be in remote and exposed places with a good dose of solitude. Sharing these places and moments with my partner and friends is the best thing that can happen to me."
Get inspired by Matthias's top 5 training routes below and click through to each one's Movescount page for a closer view of the stats and terrain.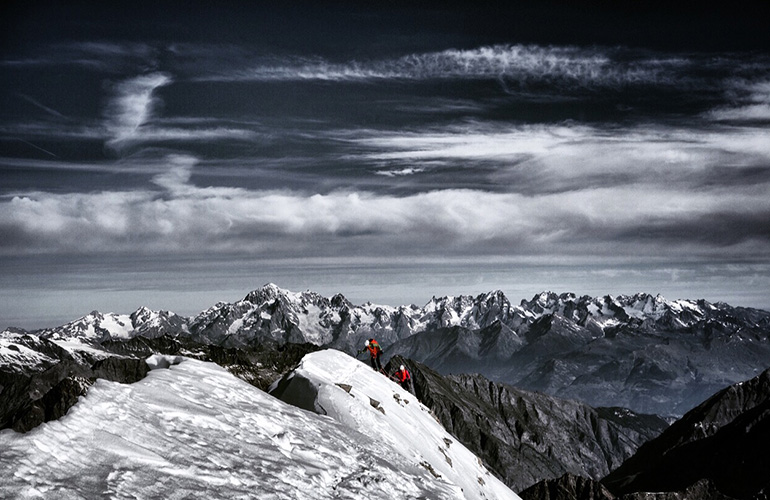 © Matthias Scherer
Climbing the Scorcerer, Ghost River, Canadian Rockies
Distance: 6.76 km
Time: 02h32m
Ascent: 400 m
Decent: 65 m
Highest point: 1938 m
Climbing grade: 5
The route: Movescount page here
Why: Ice climbing in the Ghost in the Canadian Rockies is always an adventure. The drive in at night is already a challenge and a good SUV is obligatory. Finding the climbs is often the crux when you go ice climbing in the Ghost and many parties get lost in the forests bushwacking, turning back to their cars without seeing their objective of the day. GPS is a real help to get to the base of the ice lines quickly. Sorcerer is a great climb and should be not underestimated. Four huge pitches in a breathtaking place won't let you forget that day. No radio and mobile phone reception means you and your partners have all the responsibility for your actions.
Ski Alpinism, Gran Serra, Italy
Distance: 7.08 km
Time: 02h29m
Ascent: 1868 m
Decent: 7 m
Highest point: 3553 m
The route: Movescount page here
Why: Gran Serra is the first summit of the famous five day ski alpinism traverse, Tour del Gran Paradiso. I love this route because, besides being a good workout for the legs and lungs, there is also some fun climbing on perfect rock in the last meters to the summit involved. The views of Herbetet, Gran Paradiso, Roccia Viva and Becca di Gay from the summit are just awesome.
Vertical K, Gran Paradiso, Italy
Distance: 3.21 km
Time: 0h49m
Ascent: 1007 m
Highest point: 2498 m
The route: Movescount page here
Why: I love to run this vertical kilometer at home in Cogne. Starting from Cretaz, Cogne, you are into another beautiful area of the Gran Paradiso National Park. I often encounter Ibexes and Chamois on the rocky ridges that lead up to the Punta Rossa. Especially in autumn, when the trees change their colors, it's a magic moment to be there.
Gran Paradiso, north-northwest face, Italy
Distance: 7.87 km
Time: 04h19m
Ascent: 2229 m
Decent: 9 m
Highest point: 4061 m
The route: Movescount page here
Why: Classic ice faces like the north-northwest face of Gran Paradiso are the base for all bigger ice or mixed routes in the Alps. On faces like this you train aerobic endurance and resistance in your legs, especially your calves when the face is in an icy condition. From the parking place of the Chabod Hut in the valley you have 2230 vertical meters to the summit. The place is of a rare beauty and for me, my partner Tanja and her sister Heike, it always makes an excellent day in the mountains. But an important thing to remember is there are sometimes a lot people on the route, which can give a false feeling of security. Never forget that there are big crevasses on the glaciers when approaching the face and coming down on one of the normal routes. So roping up for all travel on glaciers is obligatory.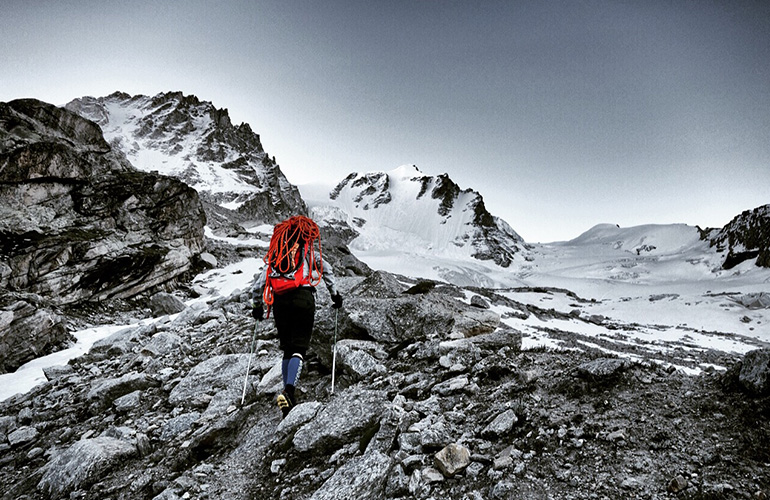 © Matthias Scherer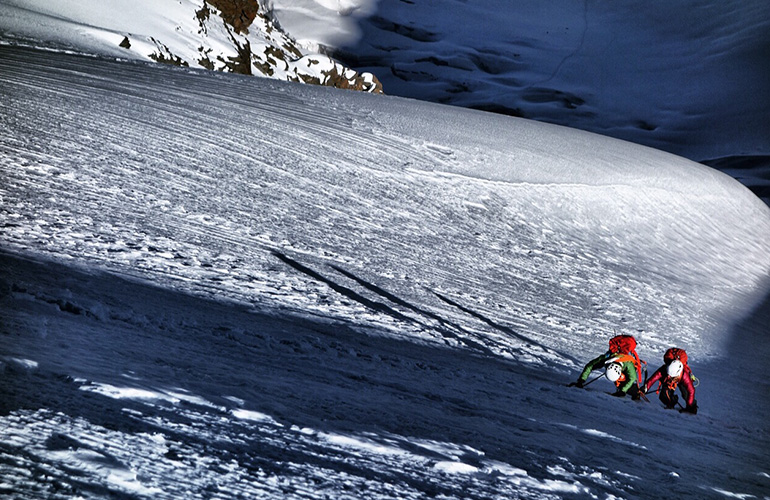 © Matthias Scherer
Cycling to Lago Ponton, Italy
Distance: 52.83 km
Time: 03h49m
Ascent: 2152 m
Decent: 2113 m
Highest point: 2639 m
The route: Movescount page here
Why: This is my regular training ride and starts from my doorstep. It involves a bit more than 1000 vertical meters on the rough, but beautiful alpine roads up to the Lago Ponton. I do it in all kind of weather and temperatures. Biking in cold and wet weather is perfect preparation for the harsh environment of ice climbing. Often I ride laps on this ascent. Last year in October I cycled for 24 hours on the roads of the Urtier Valley, gaining over 8400 vertical meters over 200 km. During the night the temperature dropped to below 0°C, plus cold rain fell for the last hours. See the Movescount Move here.