Suunto is committed to ensuring that this website achieves Level AA conformance with the Web Content Accessibility Guidelines (WCAG) 2.0 and achieving compliance with other accessibility standards. Please contact Customer Service at USA +1 855 258 0900 (toll free), if you have any issues accessing information on this website.
EUROPE
NORTH AMERICA
ASIA PACIFIC
Including Suunto webshop
I synced my watch with Movescount – where do I see my activities?
When you sign in to Movescount, the first page is the Overview, where you can see a timeline summary of your latest Moves and, below that, Training Insights. Each Move in the timeline has a color and icon for the type of activity and a bar showing the duration of the Move.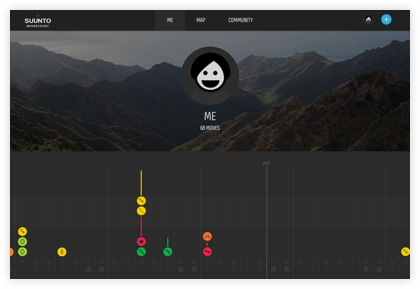 Click the Move to see all the details and to add your notes about what you did.

FIND MORE SUPPORT FOR: