Gediminas Grinius has just finished up the 2015 Ultra Trail World Tour (UTWT) in second place. It's a gruelling tour in which he took part in 11 ultras of which he won two and placed 4th in another. "I'm still human," he says. We're not so sure: his efforts are truly super-human.
Many congratulations
Thank you very much!
You must be feeling like a champ?
Well, my expectations were a bit high this season, which were to compete well in all UTWT 100 milers. My body and mind betrayed me and I wasn't able to finish the UTMB and Grand Raid Reunion.
The lesson there?
I learnt that I am still a human like everyone else. One more lesson is that I must dream responsibly, but ambition and adventurism make me move forward.
"I also get to suffer in various ways, which is what I like!"
Was any race particularly special?
All races are kind of beautiful in their own way. I know that probably sounds a bit of a politically correct answer but it is totally true. I really enjoy the diversity of the races. The Western States 100-mile Endurance Run [where he placed 4th] for example was extremely hot while during the Ultra Trail of Mt Fuji [which he won] it was raining all the time. I was very happy and excited to finish first during the Transgrancanaria, but absolutely disappointed with my Ultra Trail de Mont Blanc performance. The Grand Raid Reunion was very technical. So, all these things and the diversity makes the races attractive to me, because I have to train and improve different skills as a runner. I also get to suffer in various ways, which is what I like!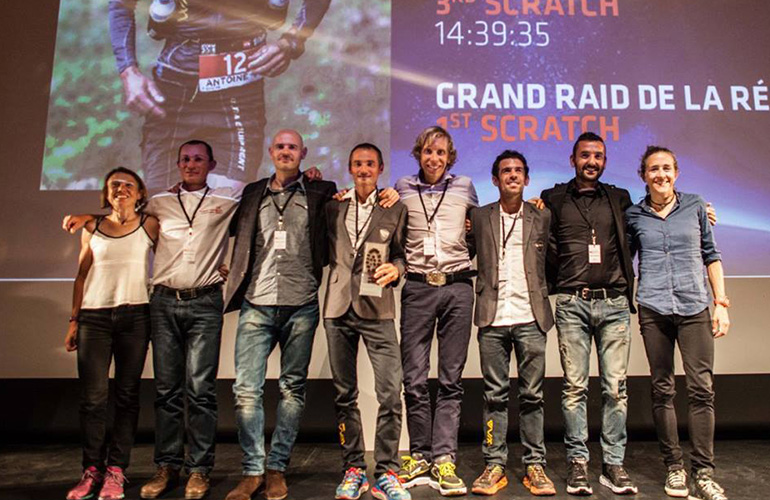 Gediminas (third from left) at the Ultra-Trail World Tour award ceremony. © Ultra-Trail World Tour
What was the hardest race?
The most painful was the UTMB, as I ran about 100 km with these huge blisters on the soles of my feet and then had killer quads for another 30 km, but it wasn't the hardest. The most challenging was Grand Raid Reunion (GRR) which is the last race of the series and I was pretty much drained after all the season. In addition to that the GRR is the most technical race, my weakest point in trail running. Also, the first place of Ultra Trail World Tour was at stake and that put some additional psychological pressure on me, which it seems I wasn't ready to take!
Same again for next year?
Absolutely. I will be back for the 2016 world tour events. My goals will not differ from the last year, because I believe that I was on the right course, so my training cycle will remain the same. I will focus on proper recovery, building up strength to prepare for the upcoming season.