Set up
To make the most of your Suunto Ambit3 Vertical, we recommend downloading the Suunto Movescount App and creating a free Suunto Movescount account before starting up your watch. Alternatively, you can visit movescount.com to create a user account.
To start using your watch:
Keep
pressed to wake up the device.
Press
or to scroll to the desired language and press to select.
Follow the startup wizard to complete initial settings. Set values with
or and press to accept and go to the next step.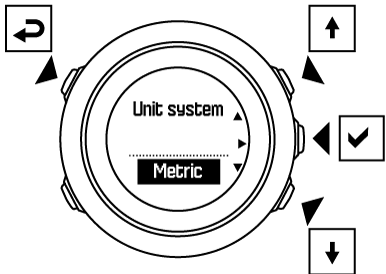 After completing the setup wizard, charge the watch with the supplied USB cable until the battery is fully charged.

NOTE:
If a blinking battery symbol is displayed, Suunto Ambit3 Vertical needs to be charged before starting.