Story
Emelie Forsberg burst onto the trail running scene like a breath of fresh air. It's not just her extraordinary talent that got her noticed — and there's plenty of that — but her attitude, her joy for life and her love of nature. The mountains however, weren't her first love.
"I grew up on the east coast of Sweden," she says. "There are just small hills there so I'm more of a forest girl really. But nature has been my playground since I was a kid."
The move to the mountains happened later. "I feel at home in the mountains. They give me a sense of freedom and I love being out there exploring."
She is now based in the city of Tromso, deep inside the Arctic circle.
Although the Swede has always loved running, she only started to take it more seriously from the age of 20. Amazingly, one of her first wins in 2010 occured after she'd already been on a long mountain run in Norway's Yotunheimen national park, which is home to the country's highest mountains.
"Since I was free that day I decided to go for a run. It ended up being the longest run I'd ever done — about 50km with 4,000m. And then I came back and did the uphill race — and won!"
"Running doesn't have to be hard," she adds. "Just go out and explore and have a good time."
She adds that she's a big fan of the Suunto Ambit2 S White. "It's super cool to see where you've been, especially when you don't know yourself!"
Forsberg has since been crowned the 2012 Skyrunning world champion and won a string of races including Transvulcania, Ice Trail, Pikes Peak, Zegama... At the 2013 skyrunning championships in Italy she left with three individual medals — two gold and one silver. She took gold again at Matterhorn Ultraks and the future surely promises more.
"She's very talented," says her Salomon team-mate and fellow Suunto ambassador Kilian Jornet.
Running and the mountains aren't Forsberg's only loves. She also lists baking among her hobbies and her website is full of recipes for home-made energy food such as almond and banana pancakes.
"It's also a big pleasure," she adds.
FACTS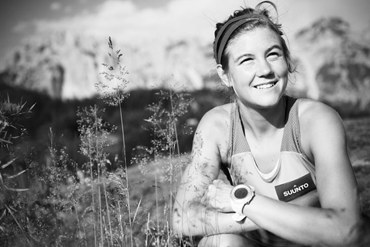 Name: Emelie Forsberg
Hobbies: Running, climbing, knitting, reading, baking
Home Town: Härnösand
Website: http://emelieforsberg.com/