Logboek bekijken na de training
U kunt het overzicht van uw training bekijken nadat u bent gestopt met de opname.
Hoe de opname te stoppen en de overzichtsinformatie te bekijken:
Houd
ingedrukt om de training te stoppen en deze op te slaan. U kunt ook op drukken om de opname te onderbreken. Als u de opname hebt gepauzeerd, kunt u bevestigen dat u de opname wilt stoppen door in te drukken of de opname hervatten door in te drukken. Nadat u de training hebt gestopt, slaat u het logboek op door op te drukken. Als u het logboek niet wilt opslaan, drukt u op .
Druk op
om het overzicht van de training te bekijken.

U kunt ook de overzichten van al uw opgeslagen trainingen in het logboek bekijken. In het logboek zijn de trainingen op volgorde van tijd opgenomen en de laatste training wordt eerst weergegeven. U kunt in het logboek ongeveer 15 uur aan training opslaan met de beste GPS-nauwkeurigheid en een opname-interval van 1 seconde.
Hoe het overzicht van uw training in het logboek te bekijken:
Druk op
om het startmenu te openen.
Blader verder naar

Logboek

met en open met . Uw huidige hersteltijd wordt weergegeven.
Blader met
of naar de trainingslogboeken en selecteer het gewenste logboek met .
Blader door de overzichtsweergaven van het logboek met
.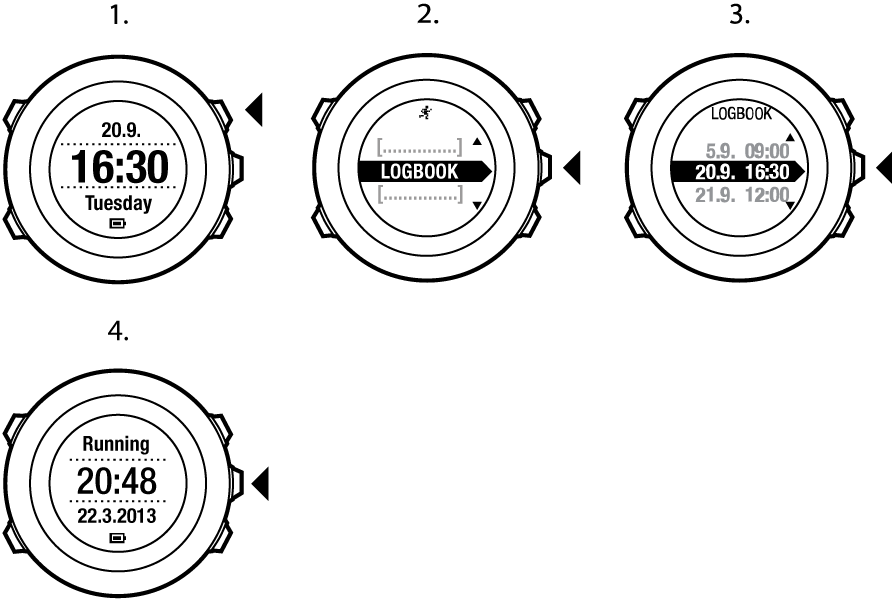 Indicatie voor resterend geheugen
Als meer dan 50% van het apparaatgeheugen niet is gesynchroniseerd, wordt in Suunto Ambit2 R een herinnering weergegeven wanneer u het logboek opent.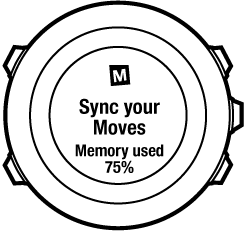 De herinnering wordt niet weergegeven nadat het niet-gesynchroniseerde geheugen vol is en oude logboeken in Suunto Ambit2 R worden overschreven.
Overzicht dynamische training
Het overzicht dynamische training presenteert de actieve velden uit uw training in een overzicht. U kunt door de overzichtdetails bladeren met Next.
De gegevens die in het overzicht worden weergegeven, zijn afhankelijk van de door u gebruikte sportmodus en of u een hartslagband of GPS hebt gebruikt.
Standaard wordt voor alle sportmodi de volgende informatie gegeven:
naam sportmodus
tijd
datum
duur
rondes
OPMERKING:
Als u cumulatieve hoogteverschillen als weergaveoptie selecteert, worden de gegevens alleen weergegeven wanneer u ook beste GPS-nauwkeurigheid hebt geselecteerd. Zie GPS-nauwkeurigheid en energiebesparing voor meer informatie over GPS-nauwkeurigheid.
TIP:
In Movescount zijn gedetailleerdere gegevens beschikbaar.
Hersteltijd
De Suunto Ambit2 R laat altijd uw huidige cumulatieve hersteltijd van al uw opgeslagen trainingen zien. De hersteltijd geeft aan hoe lang het duurt voordat u weer volledig bent hersteld van uw inspanningen en weer klaar bent om op volle kracht te trainen. Als uw hersteltijd verlaagt of verhoogt, wordt het horloge in real-time bijgewerkt.
Hoe uw huidige hersteltijd te bekijken:
Druk op
om het startmenu te openen.
Blader verder naar

Logboek

met en selecteer met .
De hersteltijd verschijnt op het scherm.

OPMERKING:
De hersteltijd wordt alleen getoond als deze langer is dan 30 minuten.