GPS data analyzes are a vital part of making progress as a competitive orienteer. With the data you can see the route choices you have made and compare your performance with the competition. In this article we will focus on using Movescount to improve your orienteering.
"Just saving and seeing your own route choices is not very interesting," says Jarkko Ryyppö, an avid orienteer, cartographer and developer of online service Route Gadget.
Jarkko explains that you should know your chosen route anyway. If you don't, seeing it afterwards does not help you improve. In that case you have just run a random route out there.
The interesting topics according to Jarkko Ryyppö are your route choices and the pace you are moving. Basically there are two types of time-losses: the sections where you were moving fast, but not following the optimum route, and moments when you simply weren't moving fast enough.
The first problem area you can identify by looking at your route in Movescount, the latter by looking at some of the other data your watch has saved.
4 WAYS TO ANALYZE AN ORIENTEERING MOVE IN MOVESCOUNT
Here are Jarkko Ryyppö's four tips for analyzing an orienteering Move on Suunto Movescount.
1. Time spent at the control
How long did it take from 30 meters before the control to 30 meters after the control? Compare that to a normal 60-meter section in similar terrain. If the time difference is big, your plan for the next leg was not clear enough when approaching the control.
"If you have run the route yourself, you will be able to identify the control points in Movescount," says Ryyppö. "Just hoover the cursor over the route and calculate the time spent at the control."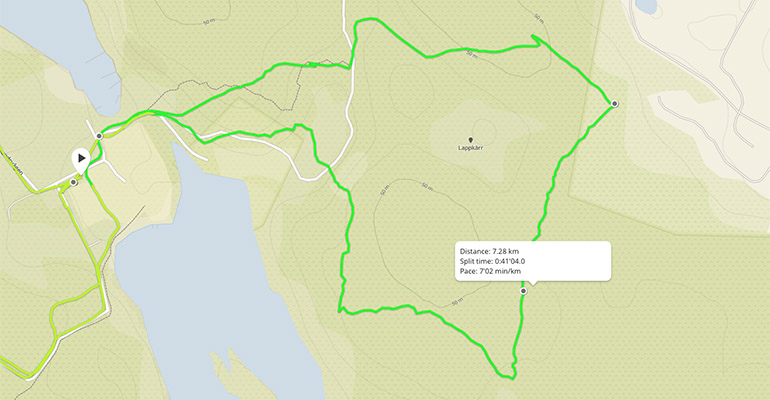 Hoover over the route to see your split time, distance etc.


2. The direction from the control
Look at the control points in Movescount and the directions you have left them. Have you left the control in the right direction and started running straight towards the next control?
3. Extra distance
Look at your route on a specific leg and see if you could run that in a straighter line. Did you cover extra distance? Did you run straight or curve to either left or right? Is drifting in one direction typical to you?
4. Heart rate, running cadence and pace
Look at your heart rate, pace and running cadence graphs. Are the figures unusually low at some point? This may reveal sections when you have been hesitant. Usually these are moments when you have not had a clear plan or you have not had a distinctive terrain feature to aim for.

The pace graph may reveal moments when you have been going slow or stopped.

"Movescount can't reveal the root causes for these slow sections but when you look at the identified area also on your map, you can find reasons for your slower pace."
After analyzing your run in Movescount, you are not done yet. Now you should find ways not to make the same mistakes again. So keep on checking your routes and get to know what you should work on to be faster, to be better.
Stay tuned for the second article in the series that will introduce you to other analyzing tools for orienteers.
Read more