Thanks to everyone who has submitted images, videos and shared their favorite diving moments with us. Wow...! It's safe to say we've been overwhelmed by the incredible response. We received over 1,700 submissions – many great diving experiences.
It's been a difficult judging process but the three winners who will get to join our exclusive trip to Ayada Maldives in January have now been selected by the Scuba Diver Girls. Congratulations to Mark Harris, Stephen Woods and Phil Davison.
You weren't chosen but would love to visit the Maldives? You can still get a special deal with Ayada Maldives. Full details at the bottom.
Below we share their moments but stay tuned – in the coming days we'll be following up with more news about the winners and their diving experiences. And there could be another surprise announcement... Here are the three winners. Enjoy:
Diving with a Manta Ray, Bali

Winner: Stephen Woods
"The image was taken in Nusa Penida, Bali," says Stephen. "Mantas aggregate there to be cleaned and to feed on the plankton that is moved and kept there by the back eddies on one side the island. This happens because of the very strong currents between Bali and Lombok."
"This is just beautiful composition," say the Scuba Diver Girls. "It's engaging and you can feel the connection between diver and ray. The diver is so relaxed…it says 'peace'."
Seal attacking octopus, Australia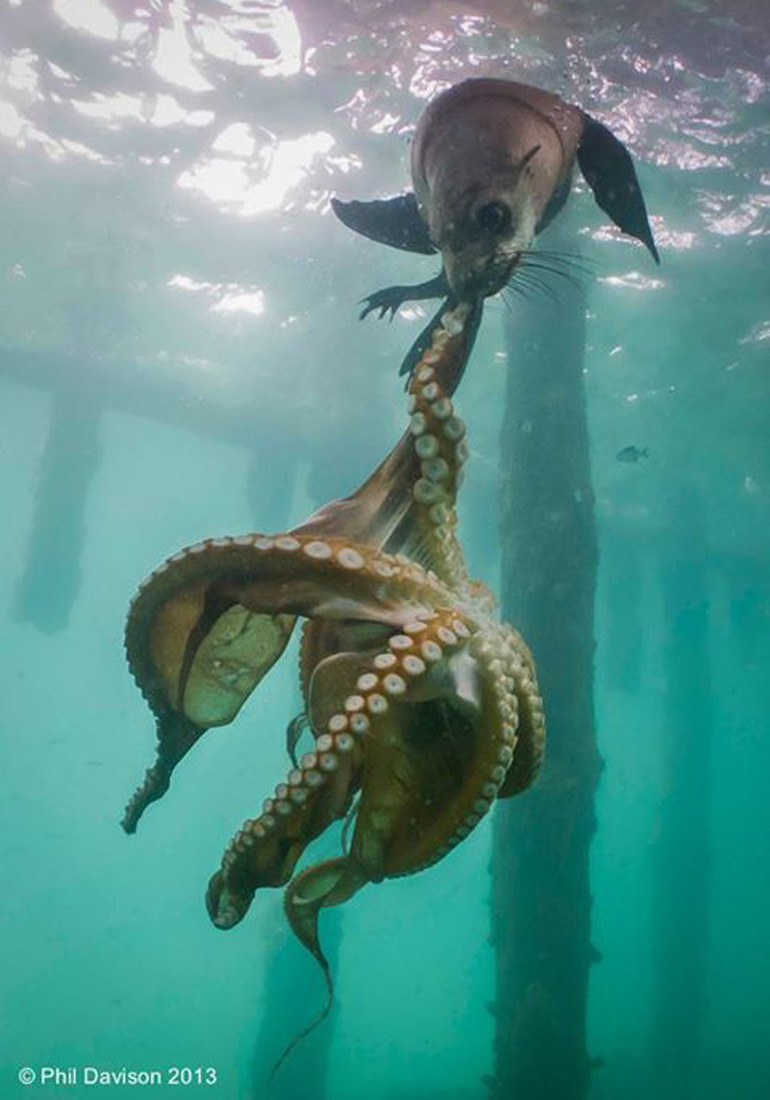 Winner: Phil Davison
"I was out photographing a group of open water student divers my dive club underneath Rye pier near Melbourne in Australia," says Phil. "I went for a swim to the end of the pier and came across the seal attacking the octopus. I knew immediately that this was something very special and not the kind of thing that you get to see every day. The seal was swimming circles around me dragging the octopus by one tentacle and trying to tear pieces off it to eat. It was all happening very fast and within about 20 minutes the octopus was almost completely gone."
"This is such a cool shot!" say the Scuba Diver Girls. "Most people would not realize what a lucky moment this is – it's a glimpse into the natural ocean. "
Hawksbill turtle, Red Sea

Winner: Mark Harris
"This photo is of a Hawksbill turtle taken during a recent liveaboard trip in October with a group of good friends," says Mark. "We were exploring the Northern Wrecks and Reefs of the Red Sea and the photo was taken at a dive site called Small Crack in the Strait of Gubal. It was my first liveaboard and also the first time that I have managed to photograph a turtle that appeared totally relaxed with having divers in close proximity. He appeared to be looking at his reflection in my wide angle lens!"
"This is a great photo," say the Scuba Diver Girls. "Simple, unique – and incredibly cute."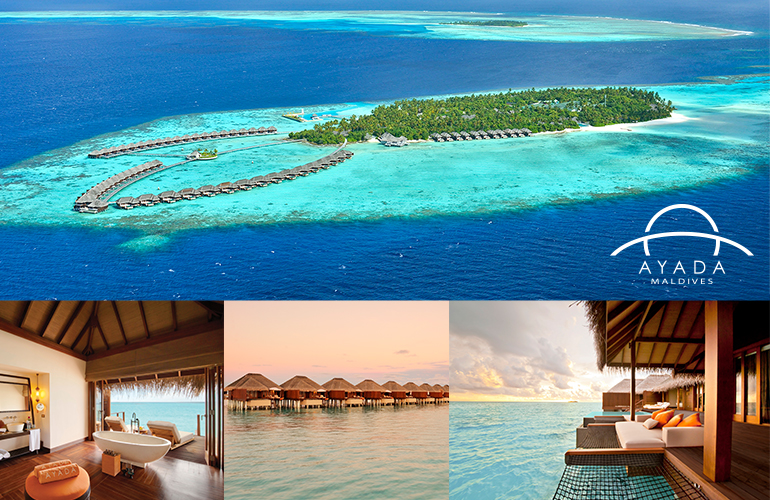 AYADA MALDIVES DIVE PACKAGE:
Valid for stays from 1 January until 30 April 2015
- Six nights' accommodation in a Beach Villa.
- Half board (breakfast and dinner) buffet at Magu restaurant.
- Meet and greet service at Male International Airport.
- Private Lounge at Male domestic terminal.
- Round trip domestic flight with Maldivian Airlines: Male – Kaadhedhoo – Male.
- Speedboat transfer to resort: Kaadhedhoo – Ayada – Kaadhedhoo.
Package Price for 1 Person:
Package A: USD 5,999 including 6 dives
Package B: USD 6,399 including 10 dives
Additional person (2nd person) supplement if staying in the same villa: USD 385
The above package rates include 10% service charge where applicable and 12% T-GST. Dive equipment hire is included. The additional person supplement doesn't include any dives.
Booking contacts: reservations@ayadamaldives.com
Booking code: "SUUNTO-AYADA dive special" (must be mentioned at time of booking)