Suunto Ambit3 is a triathlete's training partner and a trustworthy companion on a race day. It gives up-to-date training data, like speed, pace, cadence and power, during your effort and saves it for further analyzes in Movescount.com. You can also plan your training with Movescount's training program planner and use guided workouts that have been created with Movescount App's Workout planner. You can track your progress in running with Running Performance Level and use the Ambit3's recovery features to optimize your training.
SPECIFIC SPORT MODES FOR EACH DISCIPLINE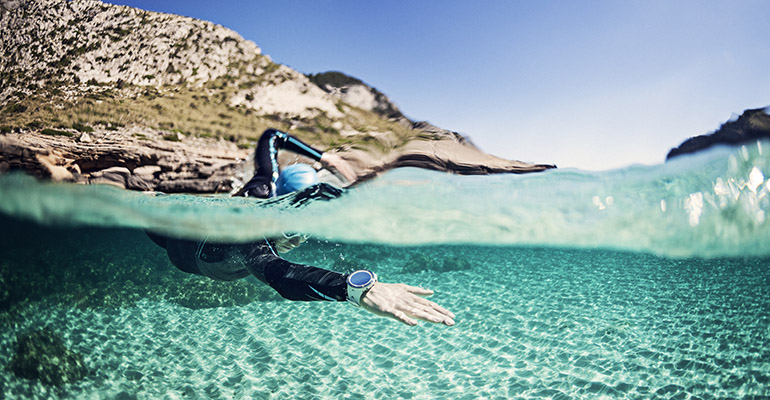 Together with Suunto Smart Belt your Ambit3 can record heart rate data also in swimming

Suunto Ambit3 has specific sport modes for each of the triathlon disciplines pre-installed and also a triathlon mode ready with transitions. Once you have gotten the hang of the sport modes with factory settings, you can customize them to show you exactly the data you need.
Different information is shown on the displays during exercise depending on the sport mode. The selected sport mode also affects settings, such as heart rate limits, GPS accuracy and use of peripheral devices like cycling power meters.
Multisport modes allow you to combine different sports into a single sport mode. For example, your Triathlon mode could include Swimming, Transition, Cycling, Transition and Running sport modes. When exercising in Multisport mode, you change to the next sport mode by keeping the BACK LAP button pressed on your watch.
In a training session that combines several sports, you can switch from one sport mode to another also without creating a specific multisport mode: just keep the BACK LAP button pressed and select another sport mode from the list. This is especially useful in sessions when you switch several times between two sports like cycling and running.
CUSTOMIZE THE SPORT MODES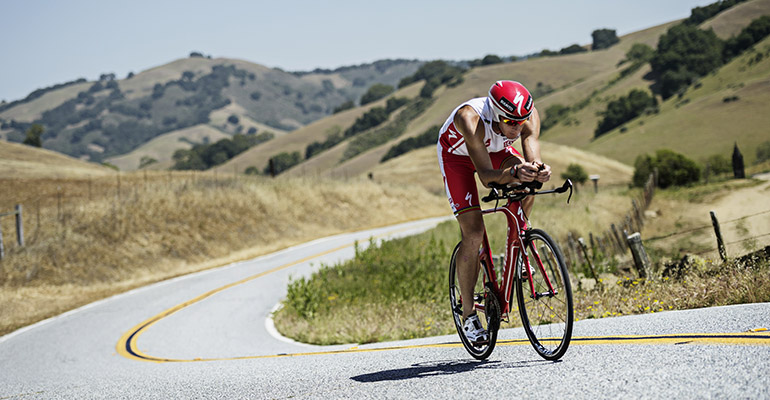 If you use a power meter in cycling, your Ambit3 will start searching for it as soon as you switch to your cycling sport mode. Ambit3 is compatible with BLE power meters, Ambit2 talks to ANT+ ones.

You can customize your sport modes in Movescount: Choose your watch under Watches & devices and adjust the settings as desired. Save the changes and sync Movescount with your watch. If your watch is already attached to your computer unplug it and plug it again to quickly start the sync again.

You can adjust the sport mode settings on the go with Movescount App

When creating a multisport mode for your triathlon competition use, you do not necessarily need to use the same swimming, cycling and running sport modes you use for training. Many times the data you want to see during competition is not the same you need for training.
Simply create new sport modes for race use for each sport. You can title them something like TriSwim, TriBike and TriRun to keep them distinctive. You don't even need to show these triathlon competition specific sport modes alone in your Ambit's sport mode menu (select "don't show in watch menu" when creating them in Movescount). They can be used only as part of a multisport mode, if you wish so.
MORE POSSIBILITIES WITH SUUNTO APPS
Suunto Apps are small applications that run on your Ambit in a specific sport mode. With the apps you can add new features to your watch.
There are already thousands of user-generated apps in Movescount. And if you do not find what you are looking for, you can create your own.
Here are a few interesting ones:
Finish Time Estimator
Normalized Power
Gel alert
Beats/km
OPTIMIZE THE BATTERY SETTINGS
Suunto Ambit3 Peak has an ample battery life of 20 hours with the best GPS accuracy. Suunto Ambit3 Sport's battery will last 10 hours with the best GPS setting. If you want to optimize your watch's battery life for a really long event like an Ironman triathlon, you can change the GPS accuracy for cycling and running from best to good and extend the watch's battery life by 50 %.
COMPATIBLE WITH TRAINING PEAKS, STRAVA AND PREVA
Suunto Ambit3 is fully compatible with Training Peaks, Strava and Preva. After you have connected your Movescount account with the service of your choice, the data will be transferred automatically.
To make the connection, go to Movescount and choose SETTINGS and OTHER SPORT SERVICES. Remember to save the changes.
READ ALSO THESE TUTORIALS
TUTORIAL TUESDAY: HOW TO USE AMBIT3'S RECOVERY FEATURES
TUTORIAL TUESDAY: HOW TO USE AMBIT3'S RUNNING PERFORMANCE LEVEL
TUTORIAL TUESDAY: THREE WAYS TO EXTEND YOUR AMBIT'S BATTERY LIFE
READ MORE TRIATHLON ARTICLES
8 TIPS FOR OPEN WATER SWIMMING