Instant HR
The instant HR display provides a quick snapshot of your heart rate. The display shows your current heart rate.
To view instant HR:
From the watch face view, press the bottom right button to scroll to the instant HR display.

Press the lower left button to exit the display and return to the watch face view.
Daily HR
The daily HR display provides a 12-hour view of your heart rate. This is a helpful source of information about, for example, your recovery after a hard training session.
The display shows your heart rate over 12 hours as a graph. The graph is plotted using your average heart rate based on 24-minute time slots. In addition, you get your lowest heart rate during the 12-hour period.
Your minimum heart rate from the last 12 hours is a good indicator of your recovery state. If it is higher than normal, you probably are not yet fully recovered from your last exercise.
If you record an exercise, the daily HR values reflect the elevated heart rate from your training. But keep in mind that the graph rates are averages. If your heart rate peaks at 200 bpm while exercising, the graph does not show that maximum value, but rather the average from the 24 minutes during which you hit that peak rate.
Before you can see your daily HR graph, you need to activate the daily HR feature. You can toggle the feature on or off from the settings under Activity. If you are in the heart rate display, you can also access the activity settings by keeping the middle button pressed.
With the daily HR feature on, your watch activates the optical heart rate sensor on a regular basis to check your heart rate. This slightly increases battery power consumption.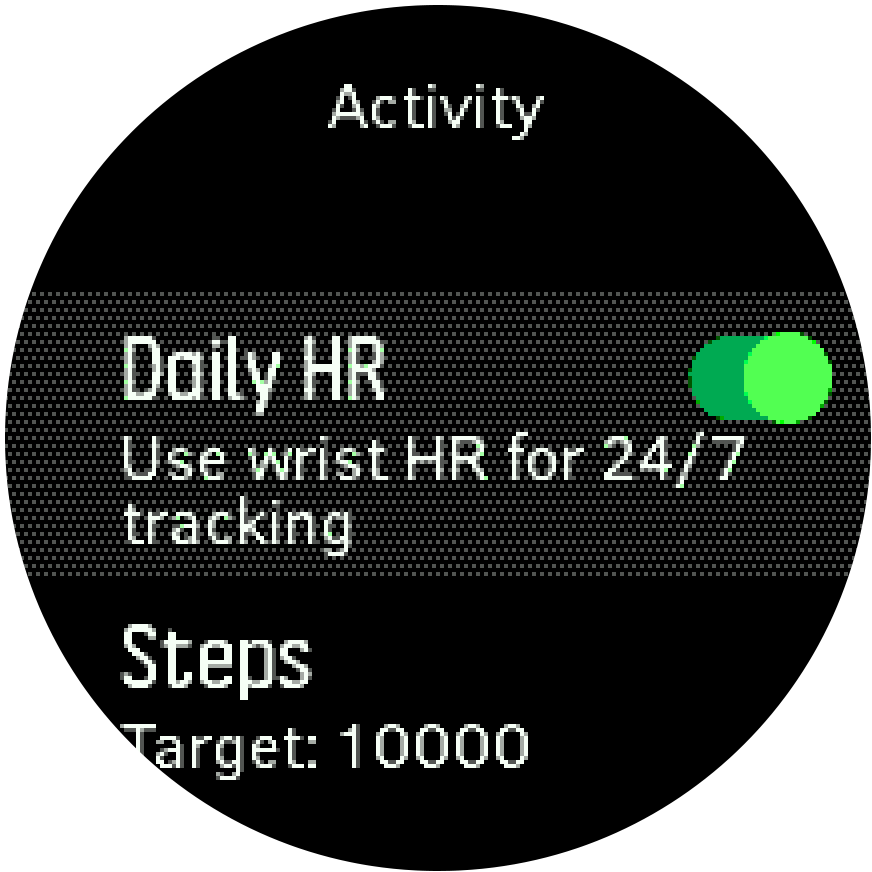 Once activated, your watch needs 24 minutes before it can start displaying daily HR information.
To view daily HR:
From the watch face view, press the lower right button to scroll to the instant HR display.
Press the middle button to switch to the daily HR display.
Pressing the the lower right button in the Daily HR display will show how much energy you consume every hour, based on you heart rate.