Always get cold hands while skiing or running in winter? Do you find it a real struggle to find the right level of comfort with your clothing? Follow these 7 tips to avoid suffering in the cold again…
Understand there's no magic solution
Breathable, waterproof, windproof – remember there's no magic gear solution that works for everything. It's possible to go cross-country skiing in -15ºC in just a base layer and shell. Wear that while ice climbing and you'll start turning blue pretty quickly. Equally, you may need all the layers you can wear in +5ºC if it's wet and windy. Remember there are always compromises – and you'll never get it totally right.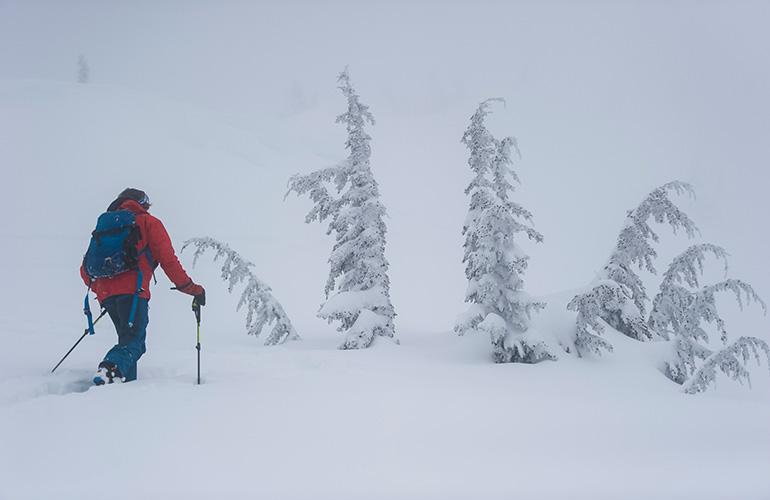 Greg Hill pushes through an icy day. © Bruno Long
Experiment with what works
No two people are the same – a big guy with a lot of mass may be quite happy in little more than a t-shirt while if you have the figure of an ironman athlete, you may need an insulated jacket and mittens to enjoy the same level of warmth. Experiment between synthetic and wool base layers. If you're a copious sweater, you may lean towards the former. If you need the warmth, go for wool. 
Bring spares - of everything!
There's nothing better after a strenuous hike to a summit peak than ripping off a sweat-soaked base layer and putting on a fresh one. OK, the stripping-off part is not so fun – especially if it's windy! – but we promise it's worth it. On longer days, taking your boots off and swopping socks will also make your smiles last longer. Change your gloves regularly, see below…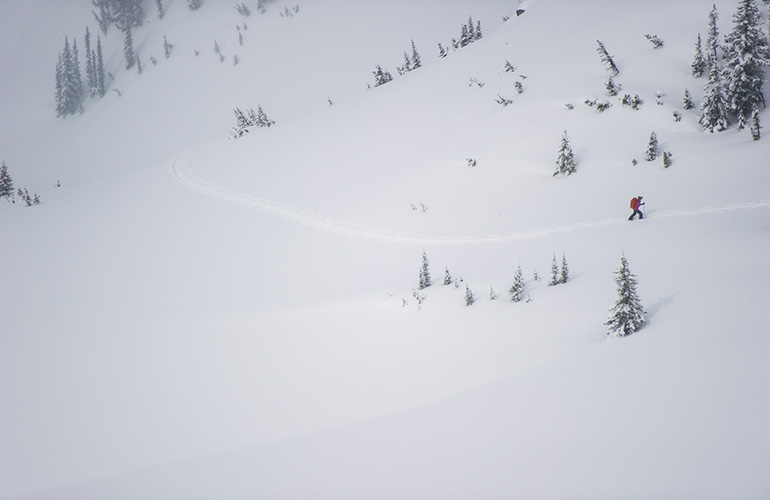 © Bruno Long
How many gloves is ok?
How many pairs of heels is it ok for a girl to have – probably not as many as the number of gloves it's ok for the winter sports athlete to have. Have a look in any winter climber's closet and you will find dozens and dozens of pairs. Take two to three with you on the hill. Cheap fleece gloves are awesome for when you're moving and in between technical sections. Switch gloves between stages, depending on your activity. Keep the spare pair inside your jacket to keep warm. Still have cold hands? See #6 & #7. 
Dress for 15 minutes into your activity
Remember that overheating and sweat in particular is the #1 enemy. The best way to chill a bottle of white wine is to stick it in a bucket of iced water and let the breeze do the rest. Dress for how you'll be in 15 minutes time not how you'll start. Better to begin a bit chilled and then warm up, than start pouring with sweat after a few minutes and have to stop and shed layers. 
Put a hat (or anything) on
Since scientists debunked the myth that 70% of your body heat is lost through your head, the old adage that 'if you've got cold hands you should put a hat on' seems out of date. But it's still a valid reminder that you should think 'big picture' when it comes to cold hands. Hands and feet get cold because the rest of your body's cold; so putting on a warm layer, wearing a hat and pulling up your hood is still a case of old school is best. Remember also there's no magic pair of gloves out there. 
Cure your cold hands for good!
Always get cold hands or feet? If you've suffered from a cold weather injury (such as frostnip) chances are you'll battle cold hands the next time the mercury drops, but contrary to conventional wisdom, there is something you can do about it (provided it's not something else like Raynaud's disease, in which case check with your physician). Doctors at Britain's Institute of Naval Medicine discovered that rewarming your hands or feet in a warm bath over a course of several weeks can completely reverse the effects of a cold weather injury. Fill a foot bath with water at 40ºC, have a slug of your favorite tipple (alcohol opens up the blood vessels) then soak your feet or hands for 20 minutes. Repeat every night for several weeks. 
MAIN IMAGE: © Bruno Long