As a safety precaution, this critical recall notice is being sent to all Suunto customer contacts. If you do not use a Suunto Dive product, please disregard this notice.
A limited batch of the high pressure rubber hoses used with Suunto air integrated dive computers, dive computer combos and analog combos has unfortunately been identified to have defective hose material which may impact the durability of the hose.
This defect may cause the high pressure rubber hose to leak or rupture leading to loss of breathing gas at higher than anticipated rate which may result in severe injury or death.
---
Identification of the affected high pressure rubber hoses:
_Black rubber outer covering on hose
_Marked with text 5000 PSIG PRESSURE TESTED – MADE IN USA
_Hose diameter approx 12,5 mm (1/2 inch) and length approx 84 cm (33 inch)
_Manufacturing batch code 1812 printed
This recall applies only to the specific 1812 batch of the high pressure rubber hoses. Other high pressure rubber hoses are not impacted and need not to be replaced.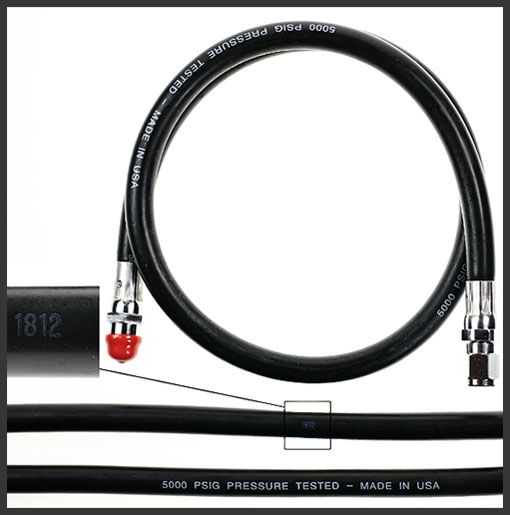 The following products may be affected:
Cobra, Cobra 3, SM-36 pressure gauge and gauge combos, as well as Vyper and Zoop when purchased as combo products. More information and a complete list of product codes can be found at www.suunto.com/recall.
To date, there have been no known injuries related to this issue. It is, however, mandatory that all affected products are returned for a hose change.
IF YOU HAVE BOUGHT A SUUNTO PRODUCT WITH THE ABOVE MENTIONED HOSE AFTER 11/2012:
Investigate your product immediately.
If the hose of your product has the above mentioned code 1812 in it, use of the product is prohibited until the hose has been replaced.
Return the product to your nearest Suunto Dive Authorized Dealer or Suunto Authorized Service Center for a hose change at no cost. In US and EU countries you can also use Suunto Online Service Request (www.suunto.com/servicerequest) to get your product picked up for the hose change.
Suunto apologizes for the inconvenience and thanks you for your co-operation.
---
For further information, please contact:
Suunto Support by email:
support@suunto.com
Suunto Support by phone:
Support in English available 24/7:
Australia +61 1800 240 498 (toll free)
New Zealand +64 988 75 223
United Kingdom +44 20 360 805 34
USA +1 855 258 0900 (toll free)
Support available from 9 am to 5 pm local time:
Austria +43 72 088 3104
Canada +1 800 267 7506 (toll free) - press 3 and then 1 for technical support (in English and French)
Finland +358 94 245 0127
France +33 48 168 0926
Germany +49 893 803 8778
Italy +39 029 475 1965
Japan +81 34 520 9417
Netherlands +31 10 713 7269 (in English)
Russia +7 499 918 7148
Spain +34 911 143 175
Sweden +46 85 250 0730
Switzerland +41 44 580 9988