SuuntoPlus™ brings new tools and insights to your watch to give you inspiration and improved ways to enjoy your active lifestyle. 
Getting started: 
Ensure you have the latest software version for your Suunto 3, 5 or Suunto 9 watch. 
Make sure you have the latest software version for the Suunto app. 
Some SuuntoPlus features require specific watch models to work, for example, Weather (available for baro models).
How to use a SuuntoPlus feature: 
After you have paired and connected your watch to the Suunto app, you will have the SuntoPlus features available in the sync view. Tap the option and check out the features available in the list. Tap the "Use in watch" switch to add or remove a feature to and from your watch.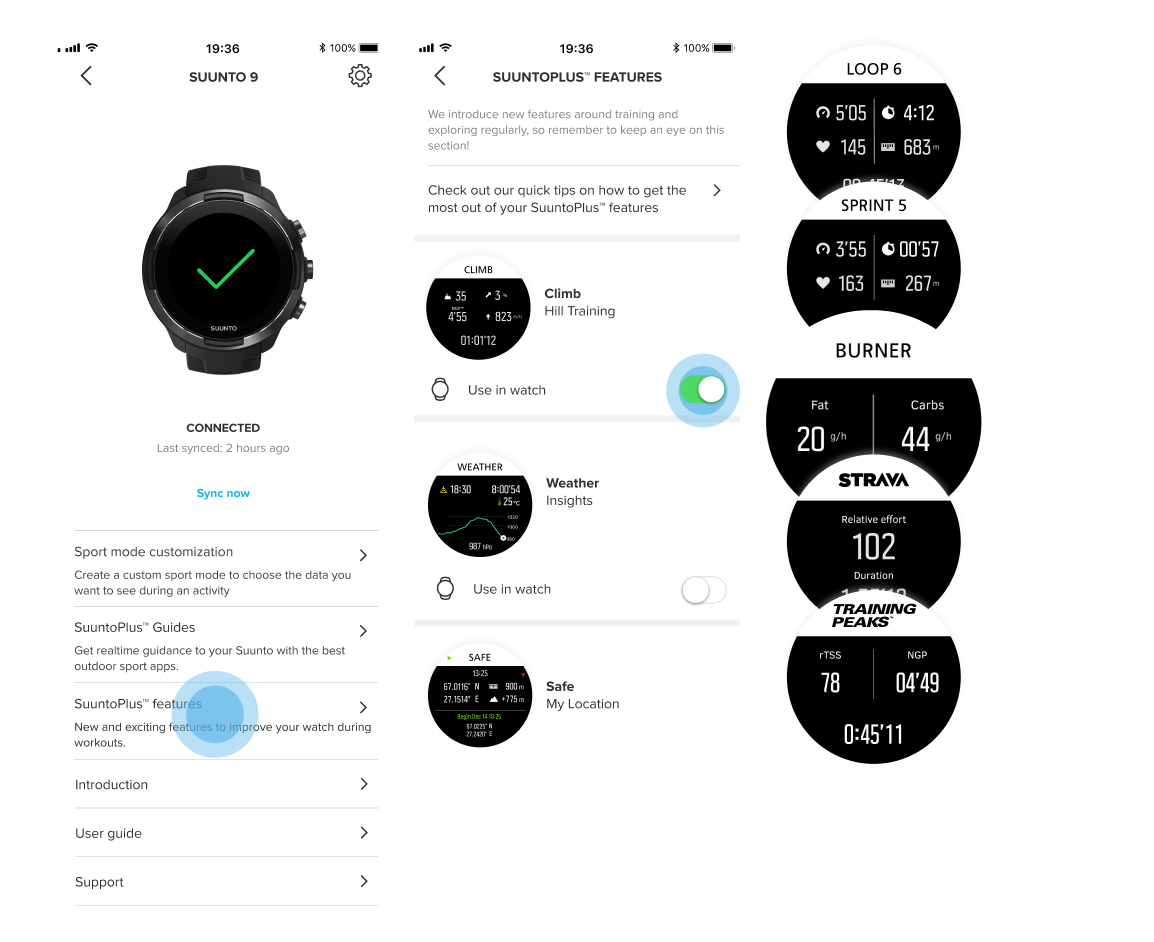 Note: for more information on the features and what type of information they can record, check this video. Additionally, we have created a separate page for you to keep up with all the features we add and what they do. 
After you have selected/deselected the features, the changes will automatically be synced to your watch so you can go out for your next adventure. Before you start your next training and recording: 
Go to Exercise, select the sport mode and before you start the recording, swipe up or press the lower right button to access the options.
Scroll down to SuuntoPlus™

and select the option by tapping it or pressing the middle button.

Scroll down to select the SuuntoPlus feature you are interested in. You can only use one feature at a time during your exercise recording. 
Scroll back up and start recording your exercise.
A new SuuntoPlus screen will automatically be generated inside your sports recording. Check out the live stats as you progress, or use the information provided by the feature to plan your trail or adventure. 
Note: while recording an exercise, you can either use a SuuntoPlus feature or a SuuntoPlus guide. You cannot use the two simultaneously.
READ MORE: