If its your first time in Singapore, you will be pleasantly surprised at just how diverse the city's running opportunities are. The city hosted more than 100 running events in 2015, from road marathons, trail races and vertical marathons to fun runs, with distances ranging from 5 km to 100 km. This tiny island-city also has plenty of parks and running trails that literally wrap around and connect the island together.Despite its small size, it has one of the most active populations in mass participation running events. Trails and paths along on the water and in the forest are well maintained, well-lit and safe, you'll love running here, regardless of your route!
The routes we put together in Singapore are a feast for the senses. The shortest run, a flat and scenic walk/run route will treat you to the best views and entertainment in under 5 km. The locals route is nearby, but with a couple nuances that will inspire you to spend more time in this unique city-state. Finally, a long run in the forest, that you could also call a jungle, full of wildness and wildlife.
A SCENIC WALK/RUN (4,1 KM)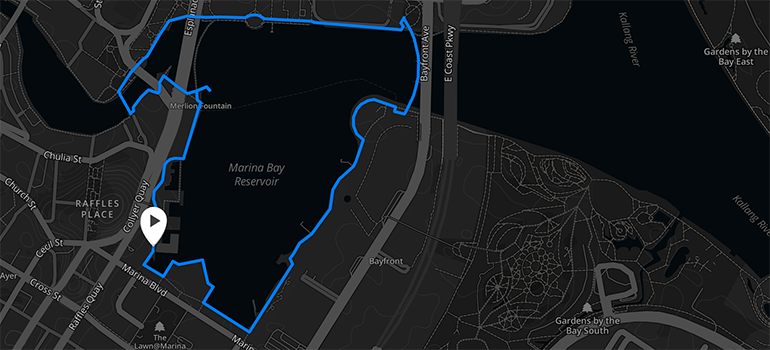 Link to Movescount route here
Description:
If you only have one day to spare, this is the route to collect wonder in short amount of time. You'll enjoy great views of some of the most iconic landmarks in Singapore.
Starting off at the Old Clifford pier, you will move along the coastline and catch the old Fullerton hotel to your left and further down, the sight of the majestic Merlion awaits you. Continuing on, the journey brings you across Sir Stamford Raffles Statue (Founder of Singapore) the Esplanade and Youth Olympic Park. You will then cross the visually stunning Helix Bridge which connects you to Marina Bay Sands and the Art Science Museum. We recommend running this route in the evening to catch a light and wondrous light show at the Marina Bay Sands.
If you need a drink to quench your thirst, or just want to lie back and take in the majestic view of the city, you can grab a traditional Vietnamese coffee at Trung Nguyen or a pint of beer at Bazin.
Start point note:
The easiest way is to take the MRT (Train) and exit at Raffles Place Station. Take exit J and old Clifford Pier is less than 150 m away.
Finish point note:
The free light show at Marina Bay Sands happens daily at 8pm and there is also a water show at 9.30 pm, so do plan your run accordingly.
Run extensions and alternatives:
You can extend the route after crossing the Helix bridge by turning left when you see the Art Science Museum, which you will continue on to view Garden by the Bay and Marina Barrage. Stop at Satay by the Bay where they serve one of the best satays for the money in Singapore
GARDENS BY THE BAY, THE LOCALS' GO-TO ROUTE (8.4 KM)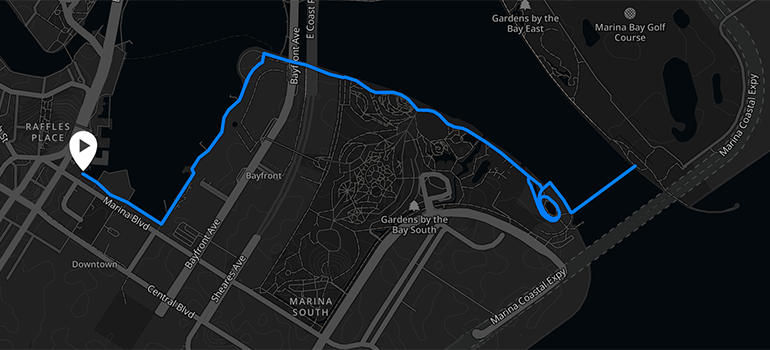 Link to Movescount route here
Description:
When the work (or play) is done for the day and you want to let it out a little, this is the route for you in Central Singapore. Gardens by the Bay is a newly created nature park built on reclaimed land in 2012. The park was designed to be the nation's premier outdoor recreation space. This route is popular with local running groups throughout the week, and has nice smooth, flat terrain, if some fartleks or tempo work is in your plans. Public facilities and drinking fountains are available throughout the run, so you can travel light, even if you want to make your run longer or more intense.
Start at Marina Barrage and run along Marina Bay, through the park over the winding Helix Bridge. Take in the iconic Marina Bay Sands and you'll feel like you have experienced the heart of Singapore in a mere 5 km! One of the most fascinating parts of the park are its 'supertrees' which reach up to 50 metres. These amalgams of exotic plants work as engines for the gardens and host a light and music show in the evenings.
Start point note:
Starting point is right at the foot of NTUC building, a 3 mins walking distance from Raffles City (MRT train: exit J)
Finish point note:
The route is a loop and finishes where you began.
Run extensions and alternatives:
Runners who wish to extend their running distance can proceed on after crossing the bridge to Gardens by the bay east. If you want to do a full 10 km loop, you will need to make a u-turn once at the bottom of the expressway flyover.
FOREST ADVENTURE RUN (13,3 KM)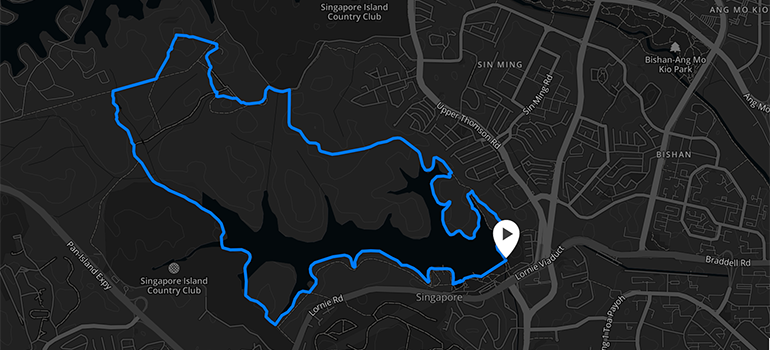 Link to Movescount route here
Description:
You're running in the wild on this one! Frequented by seasoned ultra distance marathoners, MacRitchie reservoir is a great training ground for trail runners and for people who want to escape from Singapore's urban jungle. The route is a 13 km loop, circling around the reservoir.
Some parts of the route are amongst by deep forest and it is recommended to do this route in the morning or early afternoon with the light. Along the route, You may come across macaques can along the trail path, waiting for runners to offer food to them, but this is highly discouraged as they may become aggressive and potentially dangerous.
There are two ranger stations within the reserve along the route, equipped with restrooms and drinking fountains, but it is highly recommended that you prepare your own hydration as they are quite far apart.
Start point note:
If you are located centrally, bus 855 and 961 will drop you off at the MacRitchie Reservoir main entrance.
Finish point note:
You can drop over to Vava bistro for their great brunches with a great panoramic view of the reservoir.


Discover new routes with heatmaps. Heatmaps show the tracks frequently used by the Suunto Movescount community all over the globe, based on millions of Moves. You can plan your own route with the help of rich, topographic maps, transfer it to your compatible Suunto watch and start exploring. See how it looks here.

With Suunto Ambit3, Suunto Traverse or Suunto Spartan watches, you can add these routes directly to your device and track your progress.

Did you know that you can earn Finnair Plus points by running this summer? 10 million points are available. Learn more at finnair.com/beactive

Main image: RunSociety