The ski season is on! Heavy snowfalls have recently greeted skiers in many resorts in the northern hemisphere. Now is definitely ski time!
Did you know that Suunto Ambit3 is the perfect ski watch? Track your vertical and number of runs, find out your top-speed and relive your adventures with Suunto Movies.
Here's how to transform your Suunto Ambit into the perfect ski watch.
SYNC YOUR MOVES
Before travelling to your dream destination, make sure you are ready to go. Using either Movescount or Suunto Movescount App sync all your old moves and update the satellite orbit data. This is especially important if you are going to be away from the internet and can't sync on the go.
If you want to track a week-long ski trip without uploading the Moves during the trip, it is wise to tweak the settings a bit to make sure you don't miss a beat. Once the log capacity is full, the watch will start over-writing the oldest logs.
Before this happens, however, you can ski quite a bit. For example an Ambit3 has the log capacity of over 120 hours when you use the best GPS accuracy and 10-second recording interval without heart rate. The capacity of an Ambit2 with the same settings is about 80 hours.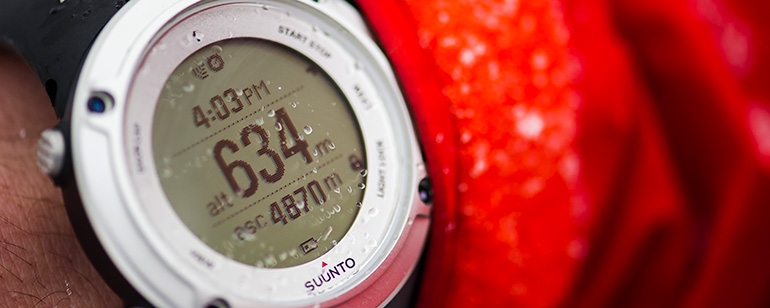 ADD MORE FEATURES WITH SUUNTO APPS
With the Suunto Apps you can add and create new features for your Ambit. Go to Movescount's App Zone and find an App that suits your needs.
One multifunctional App is Downhill Stats. It counts the number of runs you have skied as well as shows the distance skied, your maximum speed and elevation gain.
Downhill Stats App is focused on resort and slack-country skiing. For serious backcountry missions Apps like Ascent/Hour or Lap Average Steepness can be more interesting and useful.
And there are special Apps for cross-country skiers, too. If you are taking part in a long distance race, like Vasa Loppet or Birkebeiner, an App that estimates your finish time might be useful.
To get started with the Apps, this Tutorial Tuesday article can be helpful.
Images by: Bruno Long