In this week's Tutorial Tuesday you will learn how to use training plans and planned moves on Movescount – and how to modify them to suit your needs.
A goal without a plan is just a wish, has someone said. Same goes for training: a plan based on your goals, strengths, weaknesses and other personal variables definitely helps you reach your goals.
"A good training program keeps you focused on your key workouts and stress free. You don't need to worry if you do enough or what's coming up next month. Just follow the program and it will prepare you for your goal!" says Janne Kallio, an experienced ironman and a digital marketing guy at Suunto.
"However there lies the problem as well: no training program can know how you feel," Kallio continues.
Kallio himself follows a key workout principle: he chooses some must-do workouts and trains the remaining time based on an overall idea.
"When I am ready both physically and mentally, I make sure I do at least the must-do exercises."
He also reminds that training is just one part of life.
"On a 12-hour workday it may not be wise to do a long, hard run if you can postpone it for tomorrow. So listen to your body and adapt the plan as needed."
USING TRAINING PROGRAMS ON MOVESCOUNT
Movescount is a great source of training programs. Actually the community has created thousands of them. To make it easier to find the one that might suit your needs, you can filter the listings based on your activity level, sport and the program's popularity. You can find training programs on Movescount under Plan & create drop-down menu.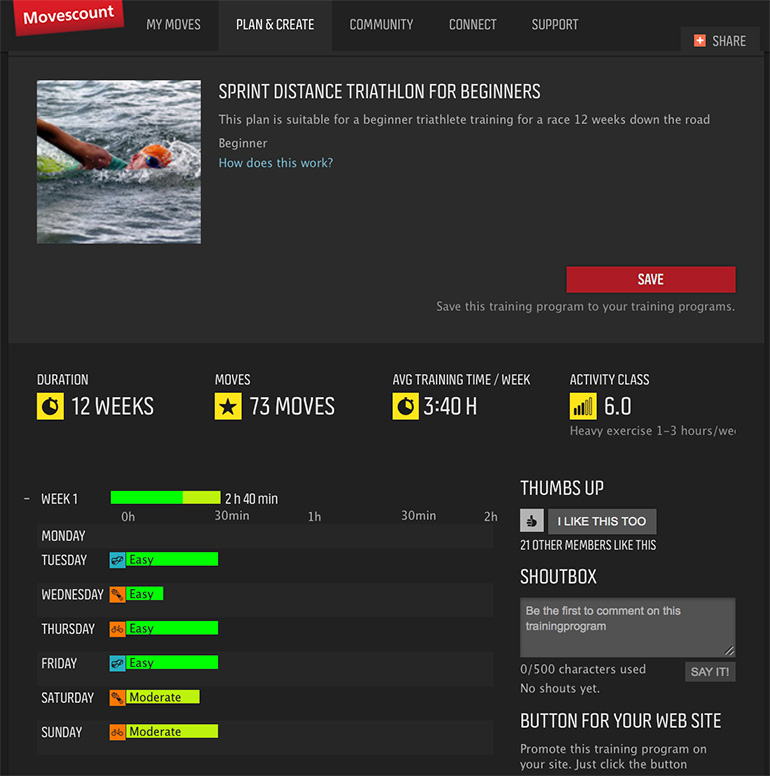 Training programs are sets of defined Moves with activity type, duration, intensity and weekday. A program can last several weeks.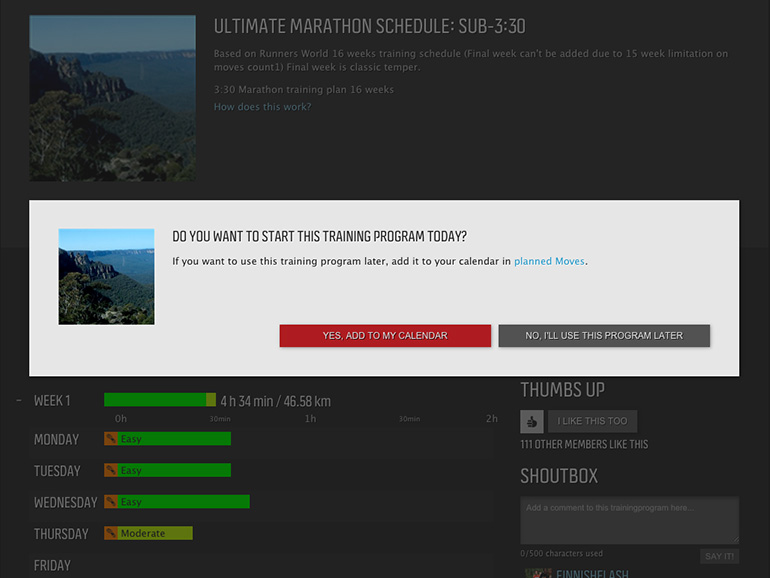 Once you have found a training program you like, save it to your library. If you wish to start following it right away, just add it to your calendar. If you prefer to start using it later, that's possible as well.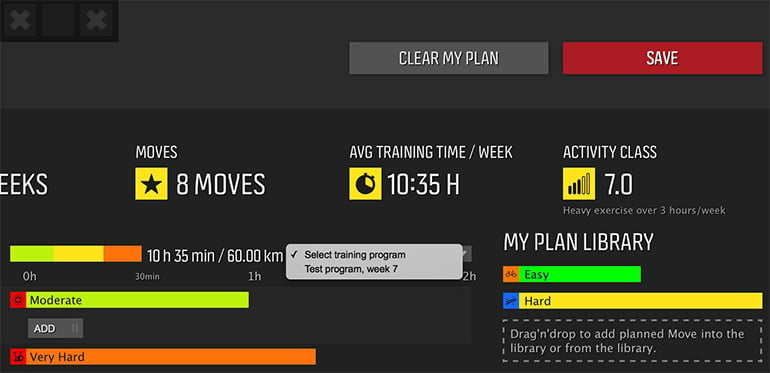 If you saved a training program in your library but did not choose to start using it right away, you will find it under a drop down menu in Planned moves. The dates for the Moves in a training program are determined by the week you start the program.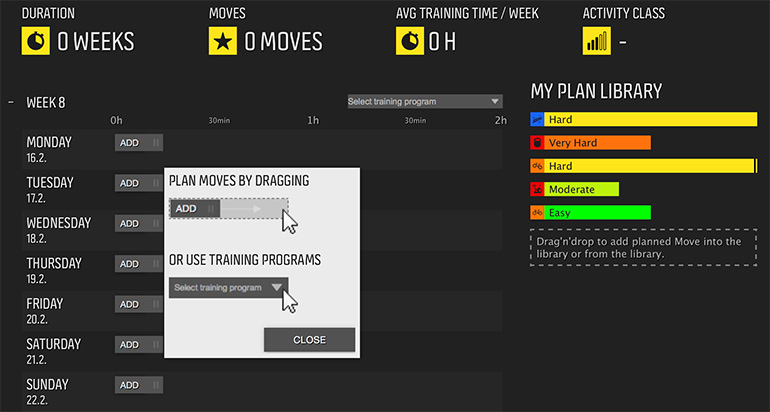 In addition to following an existing program you can create your own with Training program planner or just plan your training day by day by adding Planned moves to your calendar.
A Planned move is a training session with a set date, activity type, duration, and intensity. If you make the same Move regularly, such as a weekly group ride or an indoor training session, drag and drop it to My plan library. Then you can add ready-made moves to multiple days or use them when creating your own training program. (Your Plan Library is available both in Planned moves and Training program planner.)
Dragging and dropping works also if you want to edit a Training program or move Planned moves from one day to another: choose the Move you want to move and drag it to the library. From the library you can add the move to another day.
Creating your own training program is useful, if you want to repeat the same block or training week more than once. When saved as a Training program you can add your "Endurance base 15-hour week" or "Race week" to your calendar whenever you need.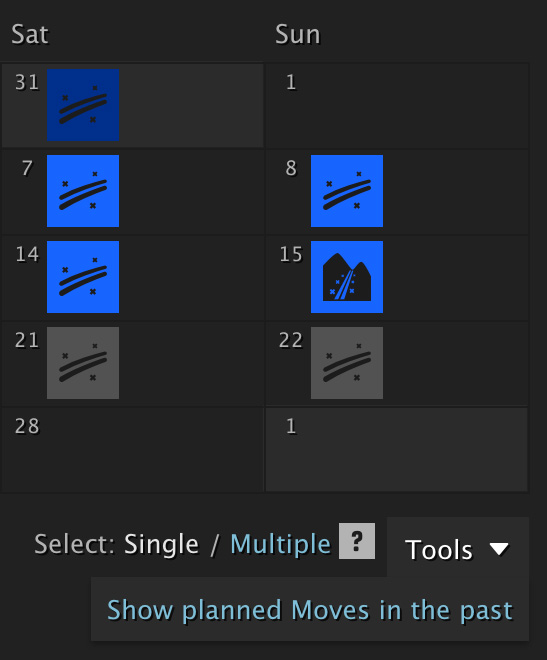 Once you have added moves to certain days, the moves will be visible as grey symbols on Movescount's calendar. After the planned move has passed, the symbol will disappear and only the moves you really made, will remain visible.
If you want to see the old planned moves again, choose Tools and Show planned moves from the past from the drop down menu on the bottom right of the calendar.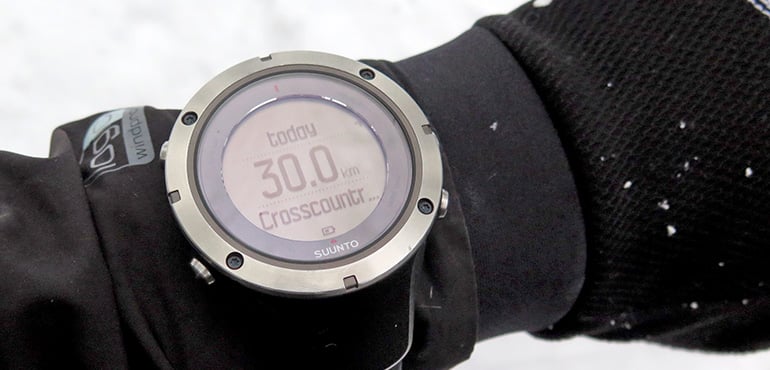 Your plans will be synced to your Suunto Ambit for day-to-day use. On training days you will see a reminder on the watch. One of the Ambit screens will also show the details of the day's activity (activity, duration, distance).
To start the day's planned training session, simply push the start/stop button on the top right corner of the watch and go!
You can get support for your Suunto product at www.suunto.com/support