WHAT ARE THE HEART RATE ZONES USED IN SUUNTO SPARTAN WATCHES?
The five different heart rate zones, numbered 1 (lowest) to 5 (highest), are:
Zone 1: Easy
Gets your body ready for exercise and accelerates your recovery. Typically used for warm-up, cool-down and recovery sessions. Also everyday activities like walking, climbing stairs, cycling to work, etc. are usually within this intensity zone.
Zone 2: Moderate
Develops aerobic endurance and increases fat metabolism. Long endurance sessions in zone 2 are used for building a strong aerobic base. Improving basic fitness builds a foundation for more exercise and prepares your body for higher intensity activity. Long duration workouts in this zone consume a lot of energy, especially from your body's stored fat.
Zone 3: Hard
Enhances aerobic fitness and cardiovascular performance. In this zone, lactic acid begins to form in your system, but your body is still able to completely flush it out. You should train at this intensity a couple of times per week, at most, as it puts your body under a lot of stress.
Zone 4: Very hard
Develops your anaerobic, high intensity performance. Lactate starts to build but the efforts are still sustainable. Interval training in zone 4, just below anaerobic threshold, improves lactate tolerance, decreases lactate accumulation and prepares you for race pace efforts. High-intensity training develops your fitness level quickly and effectively, but done too often or at too high intensity may lead to overtraining.
Zone 5: Maximal
Improves your short, high intensity anaerobic performance. These efforts are very hard and should be short. Lactic acid will build up in your system much faster than it can be removed. Athletes include these maximum-intensity workouts in their training program in a very controlled manner. If you are exercising to improve your fitness and stay healthy, you do not need to train this zone at all.
HOW ARE THE ZONES CALCULATED?
Heart rate zones are defined as percentage ranges based on your maximum heart rate (max HR). If you don't set your own max HR, your max HR is calculated using the standard equation: 220 - your age.
The default zones, based on percentages of your maximum heart rate, are:
Suunto HR zones
Zone 5: 87–100%
Zone 4: 82–86%
Zone 3: 77–81%
Zone 2: 72–76%
Zone 1: < 71%
In these default zones, the anaerobic threshold falls between zones four and five at 87% of max HR and the aerobic threshold between zones two and three at 77% of max HR.
If you know your exact zones, you can enter them manually and customize for your needs. In addition to the generic HR zones, it is also possible to set activity specific zones for running and cycling.
HOW TO ADJUST THE SETTINGS IN YOUR SPARTAN WATCH?
All of the heart rate zone settings are done in your Spartan watch.
Set max HR

Set your maximum HR from the settings under Training » Intensity zones » Default zones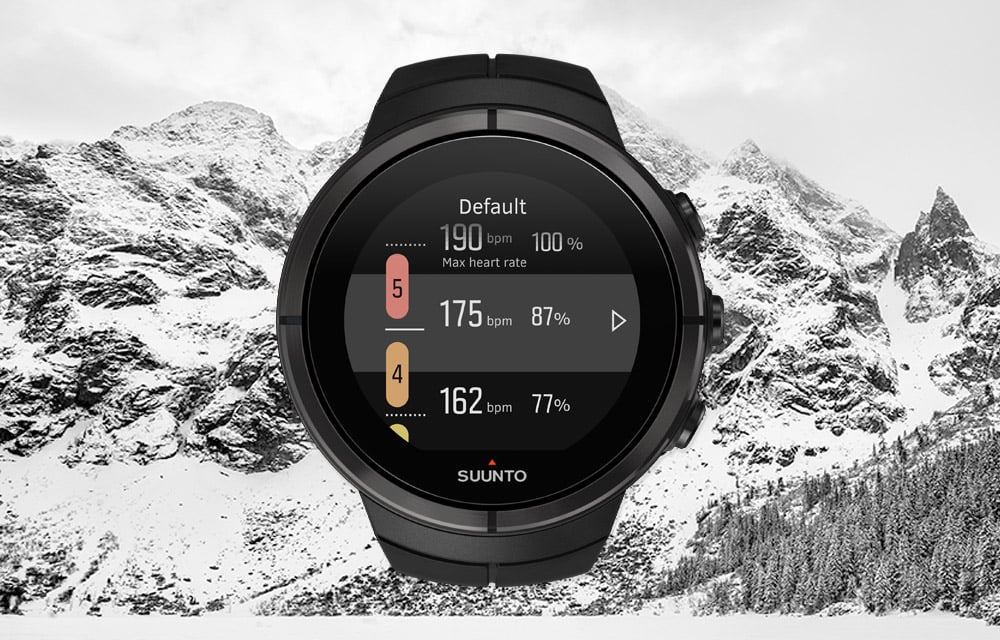 You can enter your HR zones also manually and customize them for your needs.
Set default HR zones
The default HR Zones are used in all activities, unless you have defined activity specific zones for running and/or cycling. Set your default HR zones from the settings under Training » Intensity zones » Default zones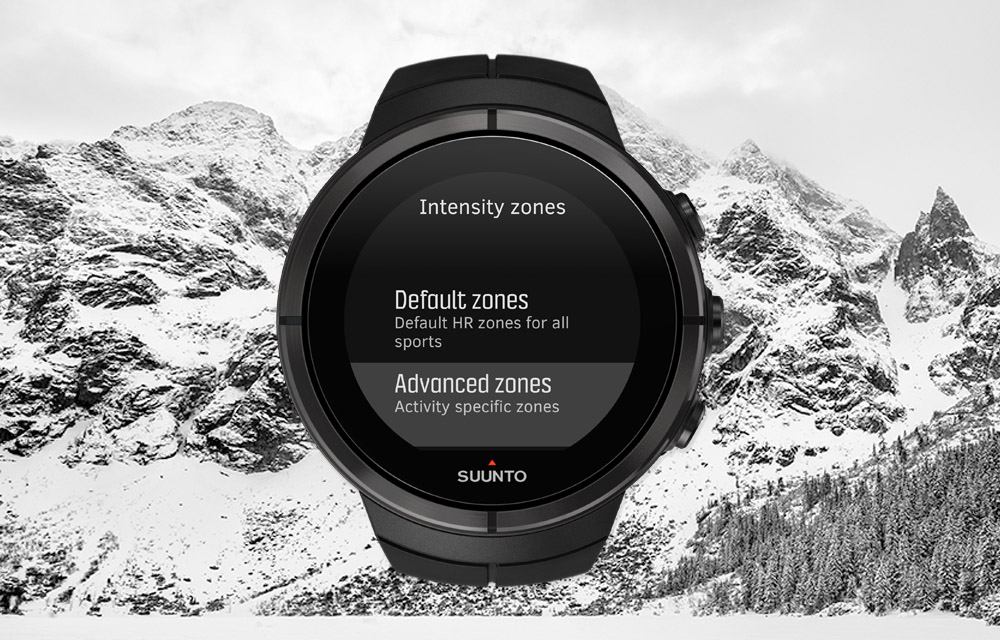 You can have three different sets of HR zones: cycling specific, running specific and default for all other sports.
Set activity specific HR zones
You can set activity specific heart rate zones for running and cycling. Running HR zones are used in running, trail running and treadmill activities, cycling HR zones in cycling, mountain biking and indoor cycling.
Set your activity specific HR zones from the settings under Training » Intensity zones » Advanced zones
For step by step guidance, see the user guide of your Suunto Spartan watch here
HOW TO USE HEART RATE ZONES DURING TRAINING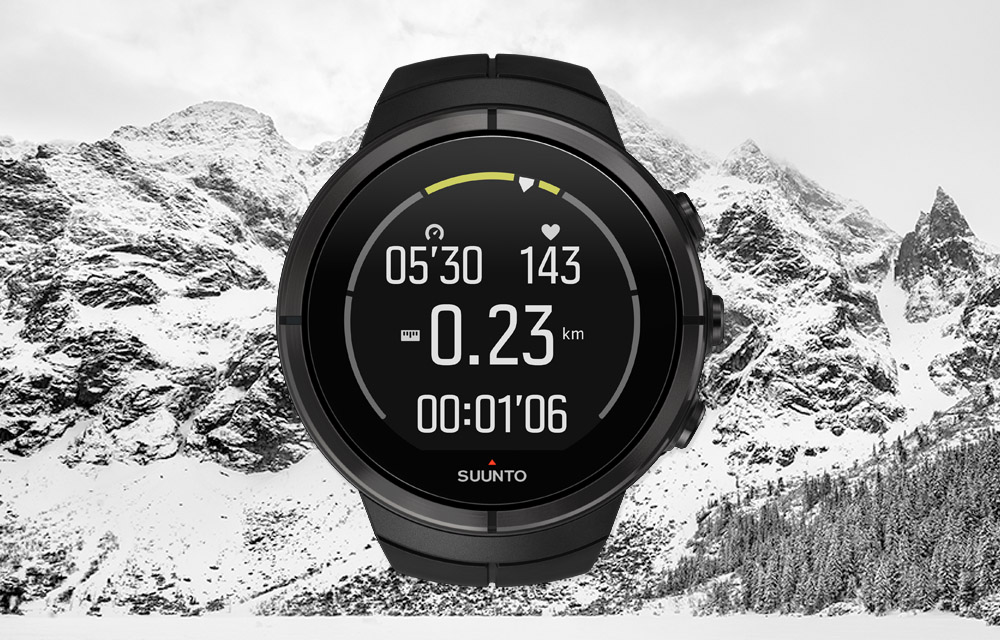 Heart rate zones are used in all sport modes that track heart rate. The heart rate zone gauge (around the outer edge of the display, as shown above) is visible on all sport mode displays making it easy to monitor the current intensity of your activity.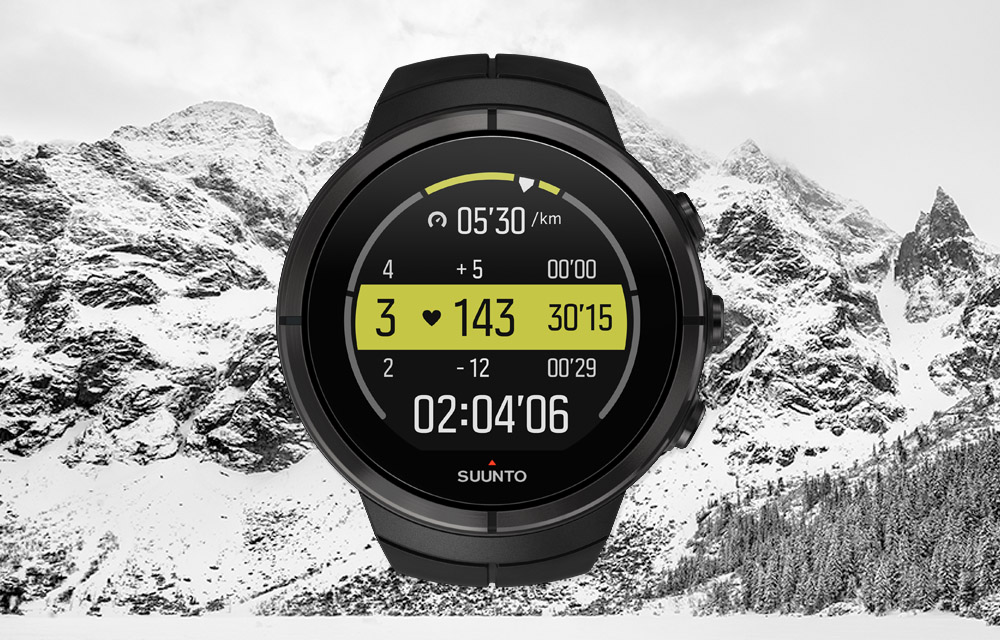 A dedicated HR zone display can be viewed in factory (default) sport modes showing cumulative time in different HR zones during the activity.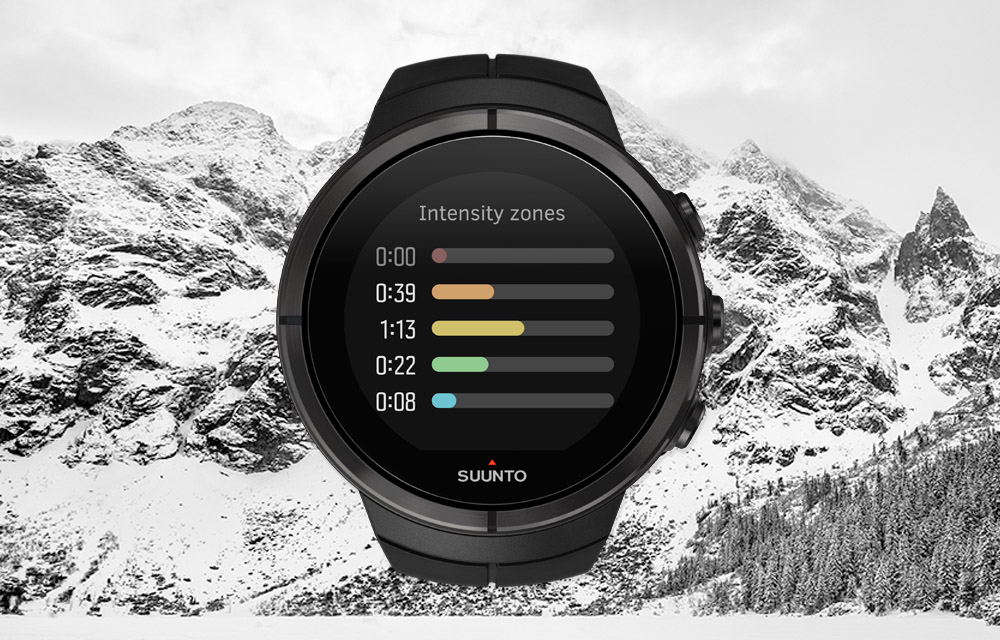 After the session you can view the duration of your activity in different HR zones in the exercise summary.
To use Suunto Spartan's heart rate zones, your watch needs to have software version 1.12.36 or later. Read more about Spartan updates here