Here are 12 tips to help you to get the most out of your Ambit3 Peak and become a stronger, smarter climber.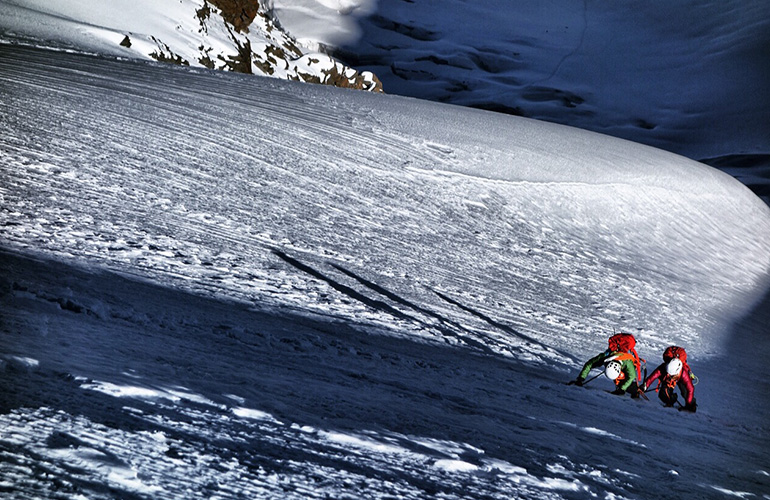 © Matthias Scherer
Choose your sport
First things first, login to movescount.com, select your watch and then create new sport modes like climbing, mountaineering and ski mountaineering or make sure the existing sport modes are tagged so they're added to your watch.
Customize your display
Every sport mode comes with a default display but you can customize it by going to movescount.com, selecting your watch, clicking the relevant sport mode and hitting 'edit'. Ice climber and alpinist Matthias Scherer has one screen with meters ascended and the time beneath so he knows how fast he's moving vertically. "I also have a second screen with distance, temperature, and altitude," he says.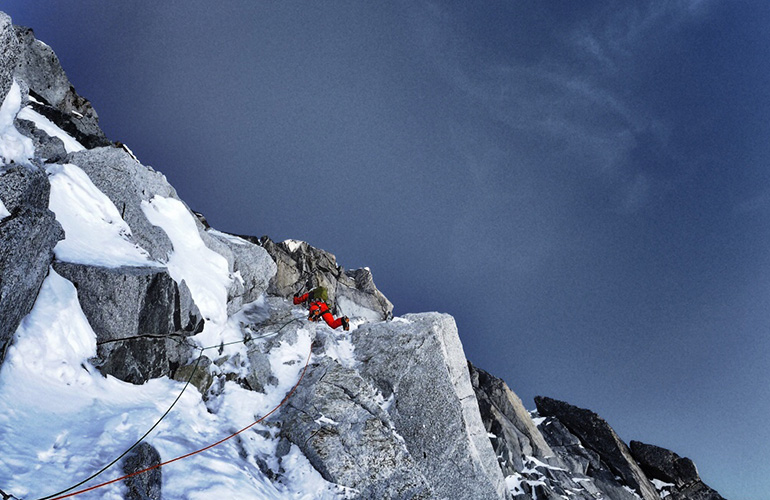 © Matthias Scherer
Plot and navigate
Matthias says in some climbing spots it's not impossible to go off-track due to poorly marked trails. This can be avoided by using Movescount's Route Planner mapping tool to create a route, adding it to your watch and then navigating with it when you're there (watch the video below to learn how). "The back track function can be very helpful too and you can also save points of interests like a bivy, the place where you left your skis, or a stream to collect water," Matthias says. Click here to learn how to add a POI.
Add apps
The Movescount App Zone has thousands of user generated apps that you can download to your watch to display information differently. There are many climbing and mountaineering related apps to choose from such as a time to summit app, a storm alarm app, an oxygen level app, vertical speed and many more.
Listen to your heart
Pairing a heart rate monitor with your Ambit is one of the best ways to listen to your body. "Wearing one on your approach helps to keep your heart rate low so you're strong for the climb or the later stages of an expedition," Matthias says.
Master recovery
The recovery features on an Ambit3 help you to get enough rest and to avoid overdoing it. The recovery time statistic gives you a good indication of how long you need to rest before your next effort. "Getting a feel for this is very important," Matthias says. "I recommend users become familiar with this functionality by running, training, walking, or cycling to see how it works and how long they need to recovery after a variety of workout intensities."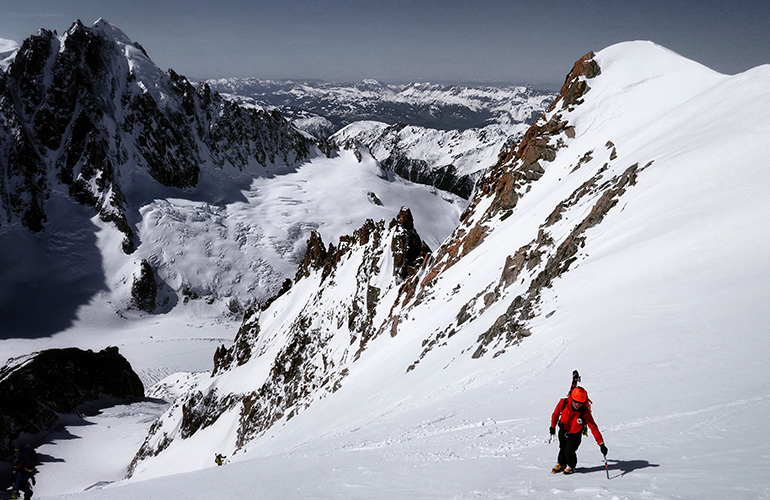 © Matthias Scherer
Stay fuelled
With an Ambit3, climbers can keep an eye on their calorie expenditure so they know when and how much to eat. "If you burned 500 calories on an approach, you know a bagel or bread roll will be enough to refuel," Matthias says.
Keep warm
Matthias recommends putting your Ambit outside on your gear or a rock for 10 to 15 minutes to get an accurate temperature reading. "You might have a feeling about the temperature, but feelings can be wrong because you get tired, you get hungry and you become more sensitive," he says. "It's helpful for knowing how much to layer too."
Click here to read about how to stay warm over winter!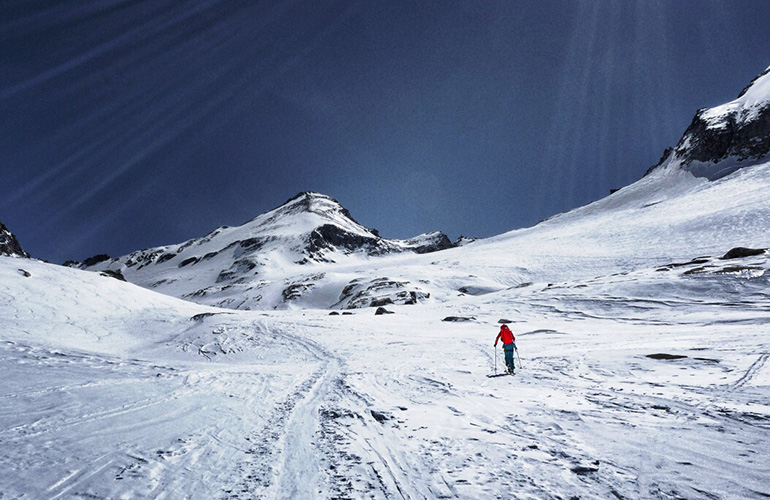 © Matthias Scherer
Watch the weather
The Ambit3 Peak has a built in storm alarm and weather trend indicator. Another way to watch for bad weather is by keeping track of any rapid altitude changes. "Check the altitude of your camp in the evening and then again in the morning and if the watch shows the altitude is 100 or 200 m higher in the morning it means the pressure is dropping and a storm is on its way," Matthias says. "If you see the altitude is going up quickly, you know a storm is coming."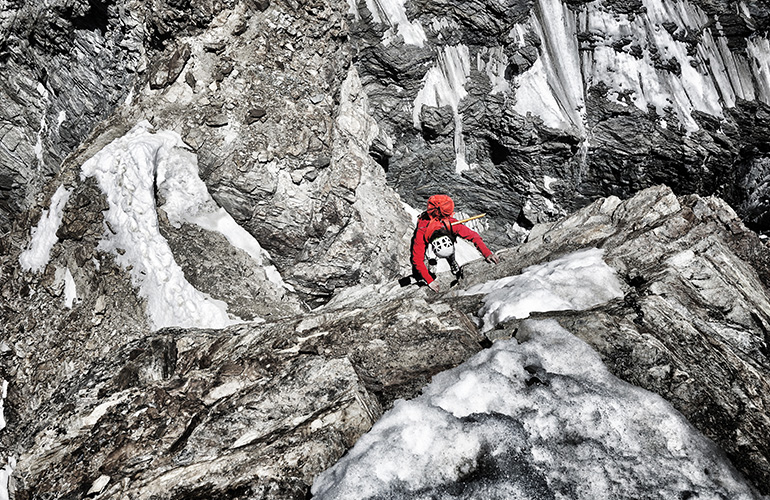 © Matthias Scherer
Maintain your pace
"The cadence function of the watch is very useful for advanced users," Matthias says. "Normally when you do a lot of climbing your legs become very slow. You always have to bring speed back into your system." To do this select cadence as one of your display screens and then use this to check and quicken your pace while training, or on an approach.
Know when you're acclimatized
An Ambit3 Peak can help you know how well you have acclimatised to a particular altitude. "Often when people go to 3000 m and sleep in a hut, the next morning they feel groggy," Matthias says. "Their heart rate might increase by 20BPM. The more acclimatized you are, the closer your heart rate will be to your normal rate. So you know you have acclimatized when upon waking at altitude your heart rate is the same as it is at sea level."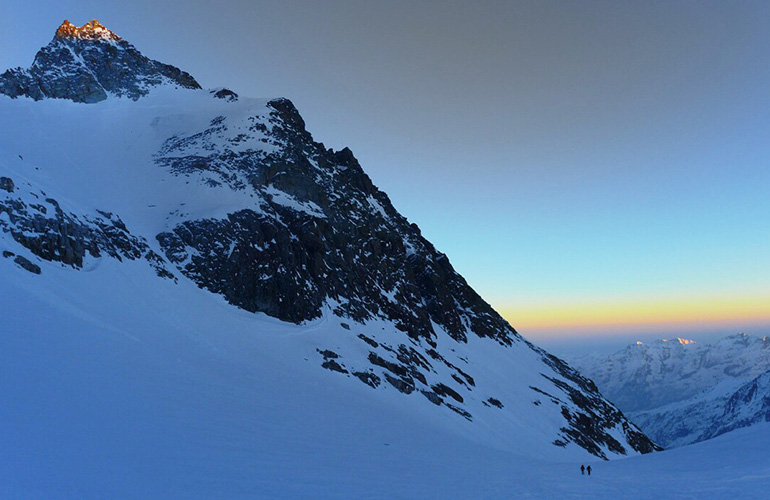 © Matthias Scherer
Extend your battery life
If you're going on a longer trip into the mountains and need to extend your Ambit's battery life, you can adjust the watch's GPS accuracy settings from BEST to GOOD to ensure the battery lasts longer.
Click here for three ways to extend your battery life!
Lead image: © Matthias Scherer