Ultra runner Ryan Sandes has traveled the world to run some of its sweetest single trail. Consider him, then, your go-to trail aficionado! Check out below the six trail running routes he picks as the cream of the crop!

Coming from Cape Town, South Africa, ultra runner and Suunto ambassador Ryan Sandes is at home running on coastal trails by the ocean.

But while his roots are in Cape Town's surf beaches and the trails above in its mountains, over time he has found more and more inspiration in alpine environments. This year, for example, he's been training in mountains in Californina and the French Alps.
Below, he shares his six favorite running routes from South Africa and the United States. Click through to the Movescount page for each trail running route to get a closer look at where it is and Ryan's stats from running it.
Click here to read Ryan's tips about how to go the (ultra) distance!
San Fran 50 miler, San Fransico, USA
Distance: 78.78 km
Time: 06h45m
Ascent: 3125 m
Decent: 3137 m
Highest point: 554 m
Why: The Marin Headland is really spectacular and the coastal running makes me feel like I am back at home in South Africa. The trails are really fast and runnable. The Headlands are always abuzz with runners, mountain bikers and dog walkers making for a great friendly atmosphere. There are some great coffee shops right next to the trail which is an added bonus. The Movescount route above is from the San Fran 50 miler which I really hope to run again!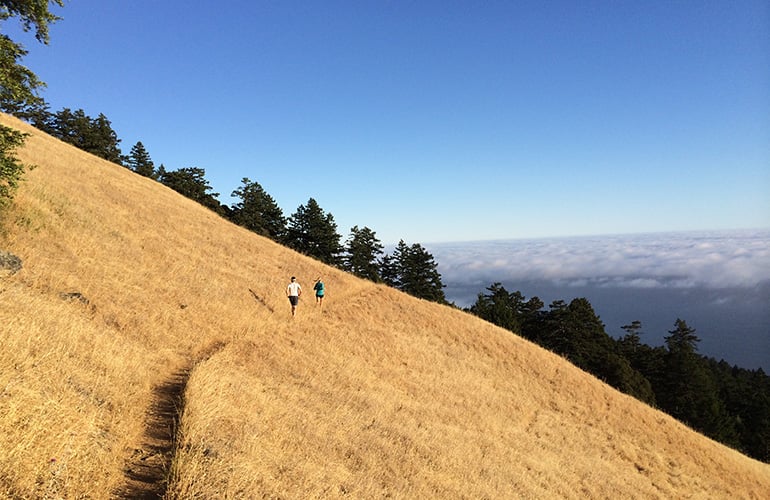 Big Bear Mountain, California, USA
Distance: 52.14 km
Time: 04h35m
Ascent: 1104 m
Decent: 1091 m
Highest point: 2394 m
Why: I spent six weeks in Big Bear earlier this year training for the Western States 100 miler. I really enjoyed my time there and developed a special bond with the mountains. The scenery is epic and there is a great variation of trails from open fire roads to really technical single track. This Move was one of my final long runs I did in preparation for the Western States.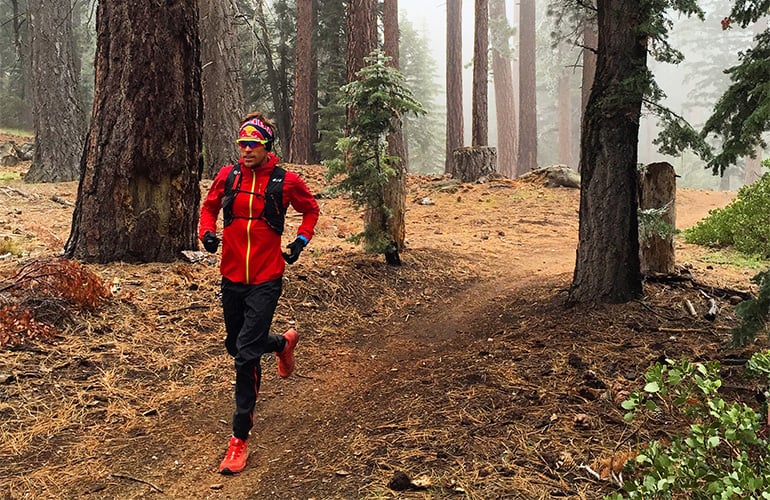 Click here for Ryan's tips on how to recover like a pro!
Glacier Point, Yosemite National Park, USA
Distance: 17.76 km
Time: 02h09m
Ascent: 1008 m
Decent: 1031 m
Highest point: 2195 m
Why: The Yosemite National Park is one of the most beautiful places I have been to. Ha! I get itchy feet everytime I get to the National Park and just can't stop running. The run up to Glacier Point is a nice gradual climb and the views from the top are absolutely breath taking. This is the perfect recovery run to take it easy and enjoy the scenery.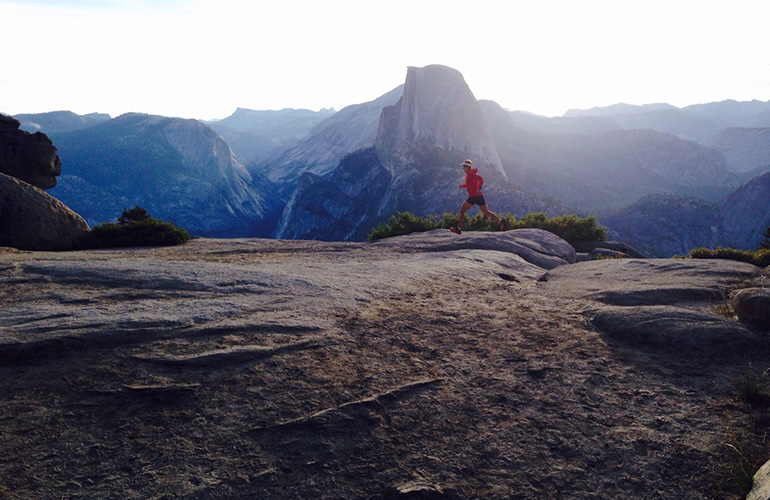 Skyrun Route, Drakensberg, South Africa
Distance: 96.05 km
Time: 12h36m
Ascent: 4760 m
Decent: 4579 m
Highest point: 2674 m
Why: The Skyrun is a 100 km self-navigational run across the Drakensberg Mountains. There are no proper trails to follow and you basically aim for the peaks and ridgelines ahead of you. It is a really remote area, at altitude and is the perfect place for me to train for big mountain races. Running in the Drakensberg Mountains makes me feel really small and it can be super humbling.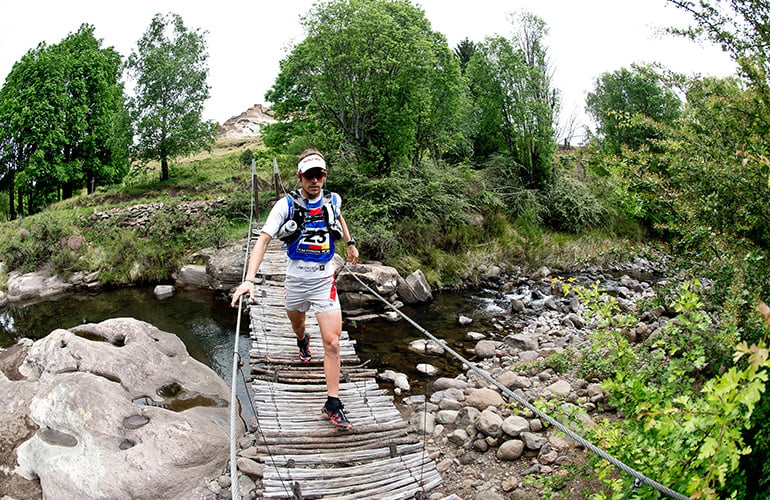 © Kolesky/ Nikon/ Red Bull Content Pool
Lion's Head, Table Mountain, South Africa
Distance: 04.05 km
Time: 0h29m
Ascent: 370 m
Decent: 372 m
Highest point: 654 m
Why: Lion's Head is an iconic mountain right next to Cape Town's city centre, with panoramic views of Cape Town and Table Mountain from the top. The trail starts off on an open fire road but as you climb up the mountain the trail gets more technical with ladders and chains towards the top. This is one of my shortest training sessions but I enjoy pushing myself on this run. It's a real lung buster!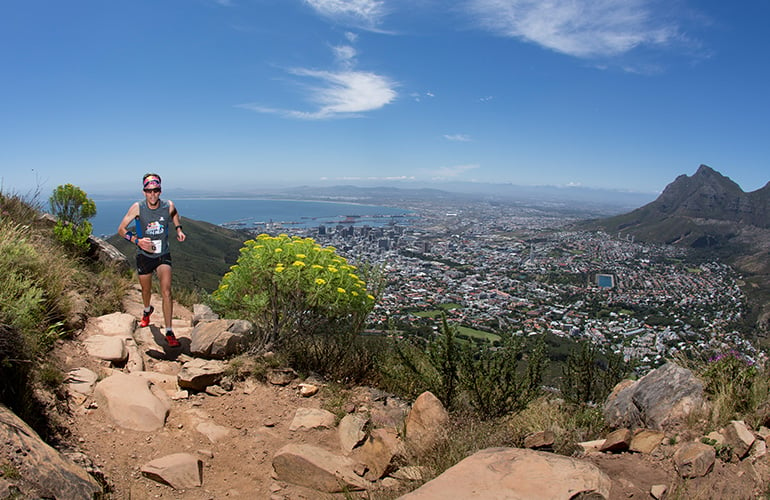 © Nick Muzik/Red Bull Content Pool
Table Mountain Crossing, South Africa
Distance: 15.08 km
Time: 02h02m
Ascent: 1070 m
Decent: 949 m
Highest point: 1045 m
Why: Table Mountain is an extension of my back garden and my favorite mountain to train on. I love being able to see the ocean from the summit and I feel really at home on this mountain. The Table Mountain Crossing trail is very technical with lots of scrambling and you have to keep an eye out for giant snakes in summer. The mountains inspire me to dream but the ocean is were my roots are.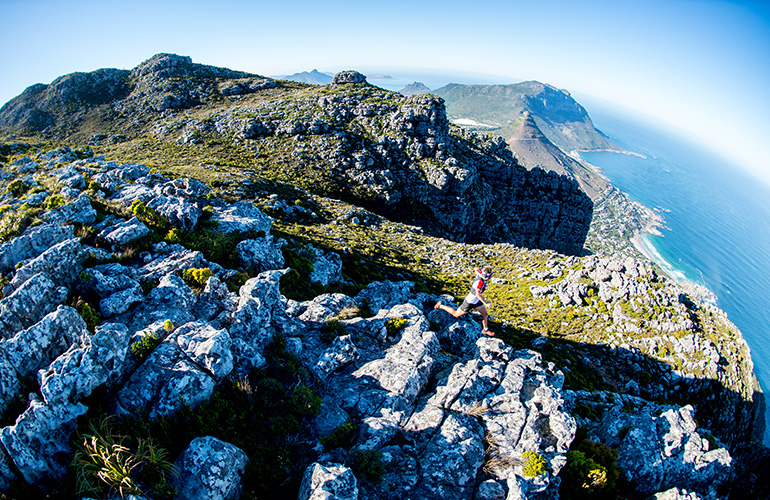 © Craig Kolesky/ Red Bull Content Pool