The GORE-TEX® TRANSALPINE-RUN is not for the faint hearted. Reaching the finish line of the eight-stage race across the Alps will take every scrap of your being. Get a taste of this epic adventure with the eight images below!
The 11th edition of the GORE-TEX® TRANSALPINE-RUN finished last week and Suunto was the official time sponsor.

The eight-stage, 268 km race across the Alps from Germany to Italy is a gruelling test of endurance. Because it crosses exposed and sometimes isolated alpine terrain, competitors must race in two man teams for their own safety.

Trail runner and ski mountaineer Philipp Reiter, along with teammate Iker Karrera, won the race in 2012. This year, due to an injury, the 24-year-old German could not compete so instead he photographed each stage of the race.

"Crossing the Alps from north to south is a kind of a dream," he says. "For eight days you're in your own world."
Click here to see this year's results.
Stage one: Oberstdorf, Germany to Lech, Austria
Distance: 34.60 km
Vertical ascent: 2083 m
Vertical descent: 1469 m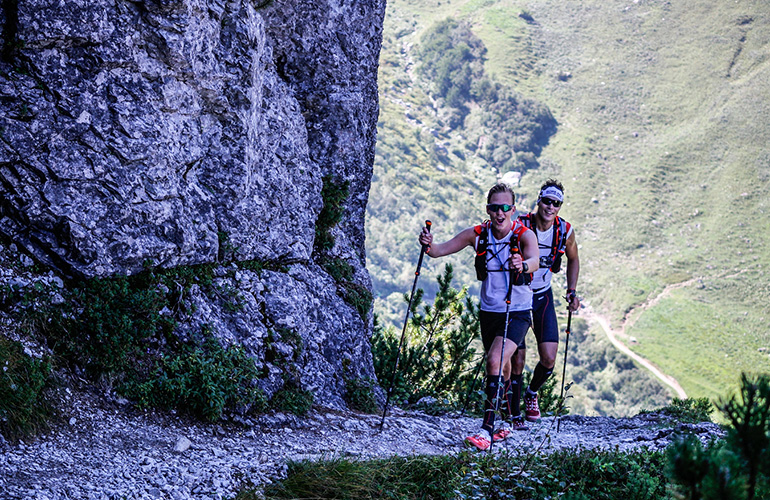 All good times and smiles on day one. © Philipp Reiter
"This year the first stages were really hot, 36° C, so a lot of people became dehydrated and some collapsed," Philipp says. "The race medical team had a lot of things to do."
Stage two: Lech, Austria to St. Anton am Arlberg
Distance: 24.70 km
Vertical ascent: 1899 m
Vertical descent: 2040 m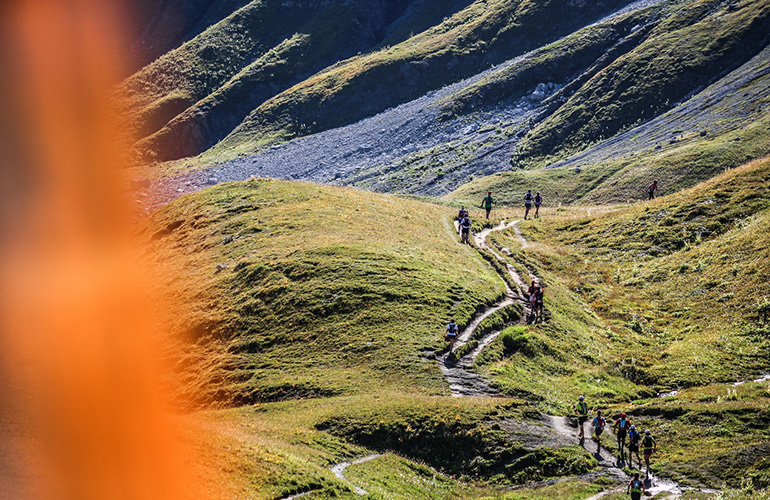 © Philipp Reiter
"People are used to running, but not everyday for that long," Philipp says. "You have to make sure your body is able to deal with the distance and vertical gain for eight days."
Stage three: St. Anton am Arlberg, Austria to Landeck, Austria
Distance: 39.60 km
Vertical ascent: 2658 m
Vertical descent: 3133 m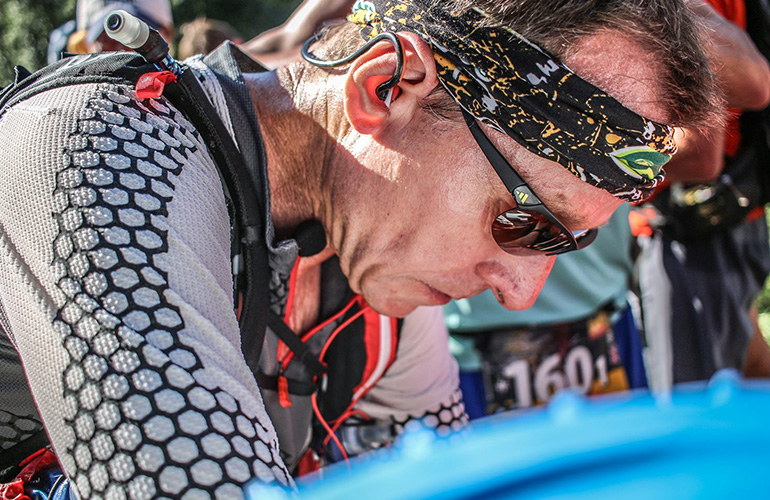 © Philipp Reiter
"In my experience, stage three is really tough because you are feeling exhausted from the first two days, but know there's another five days ahead of you," Philipp says.
Stage four: Landeck, Austria to Samnaun, Switzerland

Distance: 45.70 km
Vertical ascent: 2861 m
Vertical descent: 1829 m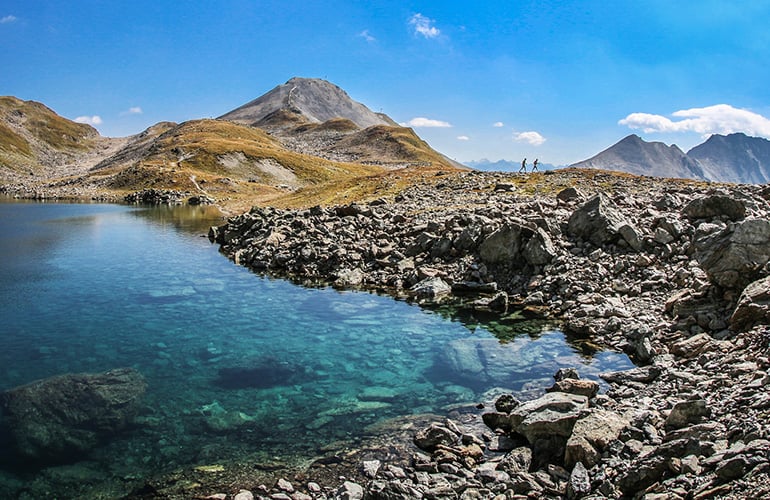 © Philipp Reiter
"It's funny, because each day when I get up in the morning I don't know how I can complete the stage because I'm so tired and sore, but once you start, you just keep going and it works," Philipp says. "It's interesting to see how much the body can achieve."
Stage five: Samnaun, Switzerland – vertical sprint

Distance: 06.23 km
Vertical ascent: 731 m
Vertical descent: 60 m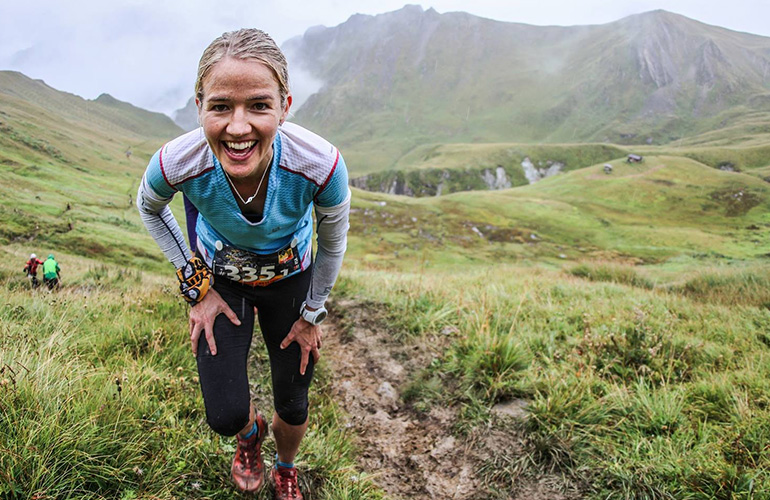 Landie Greyling (above) and husband Christiaan Greyling won second in the mixed category this year. © Philipp Reiter
Stage five is the so-called "rest day" of the Transalpine Run. However, to keep the muscles warm, it includes a 6 km uphill sprint!
"Sometimes you run in the snow and it's freezing cold," Philipp says. "Then the next day it might be 36° C. The weather can change quickly. Everyone has to carry mandatory safety gear."
Stage six: Samnaun, Switzerland to Scuol, Switzerland
Distance: 37.10 km
Vertical ascent: 2064 m
Vertical descent: 2698 m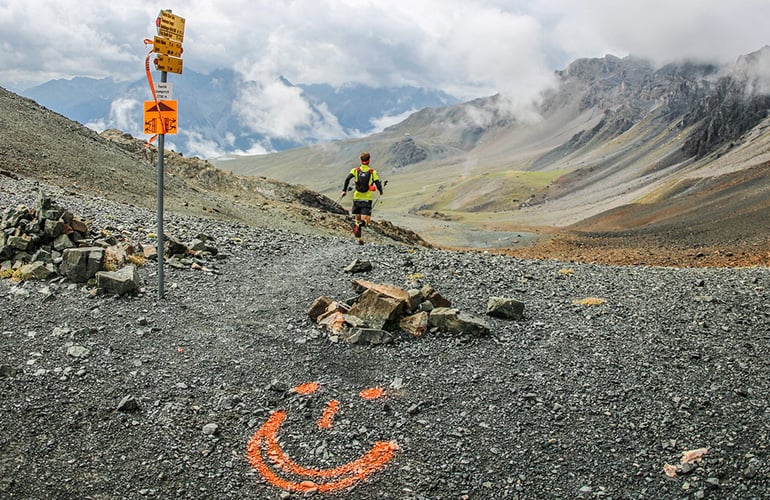 © Philipp Reiter
"It's crazy – competitors spend their holidays crossing the Alps," Philipp says. "These guys pay to run over the mountains and are out for about 10 hours a day and have no real recovery time."
Stage 7: Scuol, Switzerland to St. Valentin, Austria
Distance: 37.80 km
Vertical ascent: 1633 m
Vertical descent: 1369 m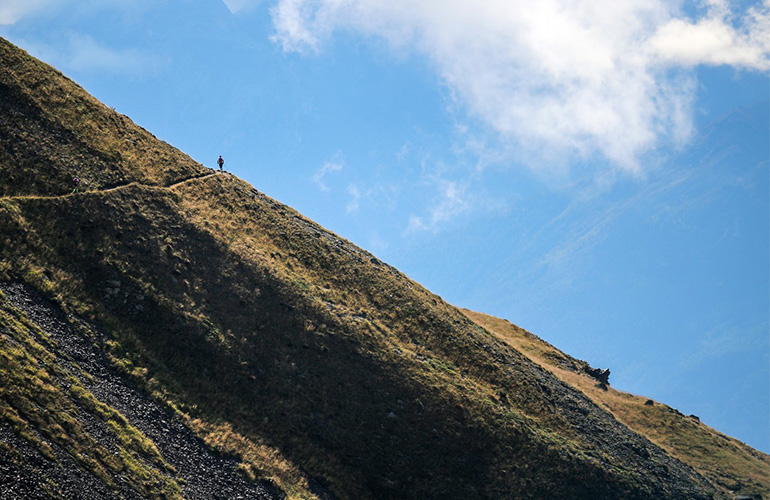 © Philipp Reiter
"To train for this race you have to keep training everyday for a longer period," Philipp says. "It's not just physical fitness but also mental preparation."
Stage eight: St. Valentin, Austria to Sulden, Italy
Distance: 42.60 km
Vertical ascent: 2381 m
Vertical descent: 1934 m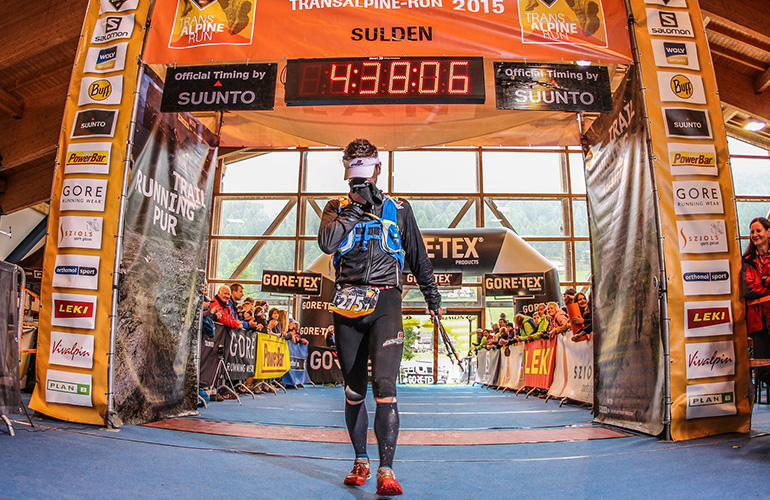 © Philipp Reiter
"There is a party at the end, but people are so tired and after two beers they're drunk," Philipp says. "What's unique, is only finishers get a finisher's t-shirt – the rest get destroyed."
Main image: © Philipp Reiter