Transvulcania was her first trail running race of the season and only one week after her last ski mountaineering race.
Before the gun fired, she wasn't even sure if she'd finish the 87 km, 8,500 vertical meter race across the volcanoes of La Palma, Canary Islands. But from the start to the finish, she had the lead, giving no quarter to her rivals. Emelie won the race in 2013 and again this time.
"I took this race as a first approach to the trail running season after a long winter, and couldn't have imagined this result," she says. "As always, running Transvulcania is magic, with all the ambiance and the people cheering you during the race."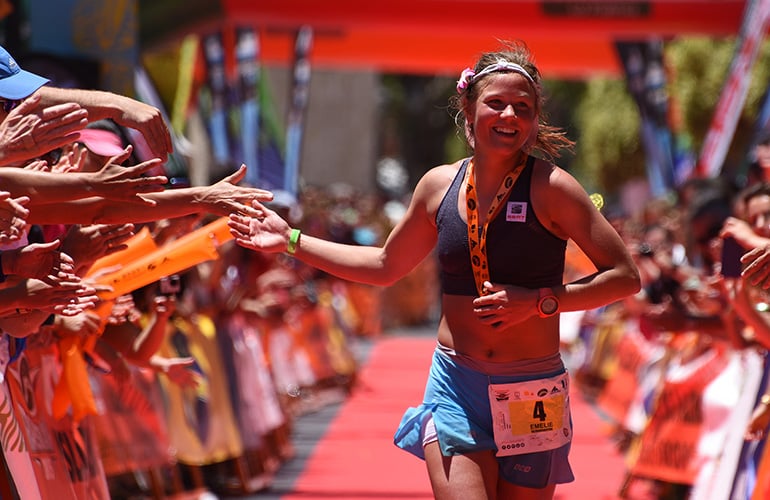 A great performance for her first race of the trail running season. © Selu Vega-Transvulcania
The race began in the dawn light at the Tazacorte Lighthouse from where runners must climb an iconic lantern lit path leading to Los Canarios village. Emelie severely injured her hand in this section during last year's race. She began cautiously, but this gave way to confidence, and she decided to seize the lead.
It was a good call as it gave her time to take it easy through the section from Pico del la Cruz to Roque de los Muchachos where many runners suffer from high temperatures.
"I haven't had much training on high temperatures, and I was just skiing last week, so I knew the climb to Roque de los Muchachos would be the worst part," Emelie says. "Fortunately my team told me I had a good advantage over the second girl so I was able to relax a bit and not get dehydrated."
The rest of the race went smoothly and she crossed the finish line in Los Llanos de Adriane with a time of 8h 34m.
Suunto ambassador Ryan Sandes was also taking part, but had to pull out of the race due to severe cramping. "I am disappointed but this is part of being an athlete," he posted online.