Ice-climber and alpinist Matthias Scherer, his wife and sister-in-law took on a different kind of challenge in the mountains of Italy's Gran Paradiso National Park this April. In less than 24 hours they completed an alpine ski tour that takes most mortals five days.
Matthias's first passion is climbing frozen waterfalls and since 1993 he's climbed more than 500 in Europe and North America. But after the end of each climbing season, he and his wife and climbing partner Tanja Schmitt ski tour in their local mountains in Italy and have clocked more than 300 ski days there.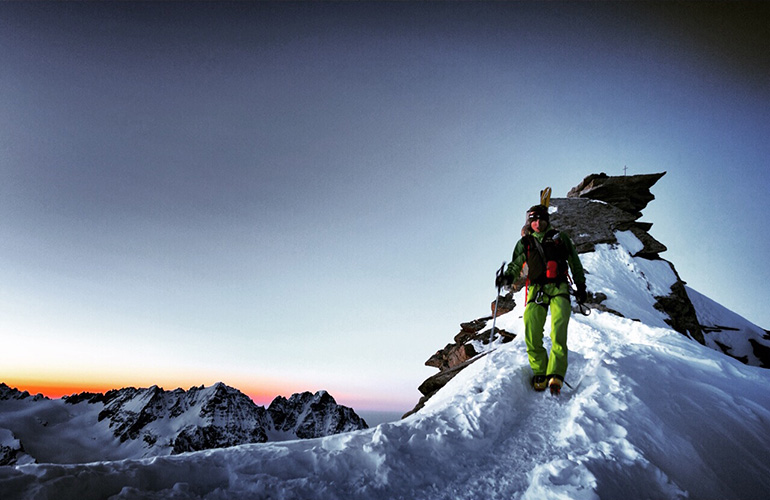 Matthias Scherer on the summit ridge of Gran Serz ©Tanja Schmitt
This season, together with Tanja's twin sister Heike, they decided the conditions were right to take on a long held adventure goal: doing the Tour del Gran Paradiso in 24 hours, including climbing the park's highest peak, Gran Paradiso (4061 m).
The Tour del Gran Paradiso is a classic ski traverse similar to the Haute Route from Chamonix to Zermatt, but is less well known and therefore less used and wilder.
"It's been done in the past, but to our knowledge always without summiting Gran Paradiso, which requires adding an additional 1000 meters of vertical, making a total of 5350 m instead of 4350 m," Matthias says.
On April 09 at 03:00, the trio set out from Valnontey village (1682 m), ascended 1870 m, arriving at the top of Gran Serz (3552 m) three and a half hours later at 06:30 to "a tremendous dawn". They skied down Timorion glacier to start the ascent to Grand Neyron Col (3401 m). After reaching the col they had a brief food stop and then traversed Montandayné glacier to reach the track ascending to Gran Paradiso.
"By keeping our rhythm we made the summit of Gran Paradiso at 11:00, eight hours and 3200 vertical meters after we set out," Matthias says.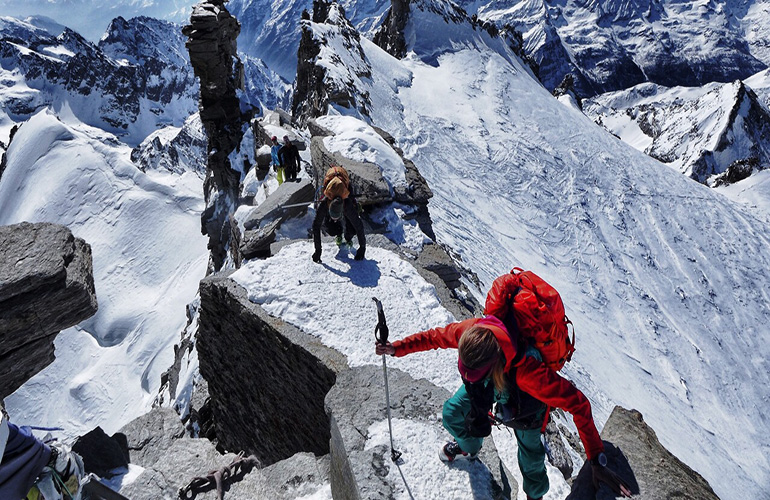 The Schmitt sisters arrive on the summit of Gran Paradiso ©Matthias Scherer
The next big challenge was reaching Gran Paradiso Col – not an easy undertaking after being on their skis for more than 10 hours. Feet problems were setting in so they had a short break on the col to massage them. They pushed on and reached Becchi Col (2990 m) at 15:50.
To save time, the group considered cutting out a part of the tour. They scouted a detour ridge, but the terrain was steep and unclear so they decided to go the longer and safer way. Due to a pair of bad fitting socks, Tanja was having extreme foot pain by then. "She clenched her teeth and carried on," Matthias says.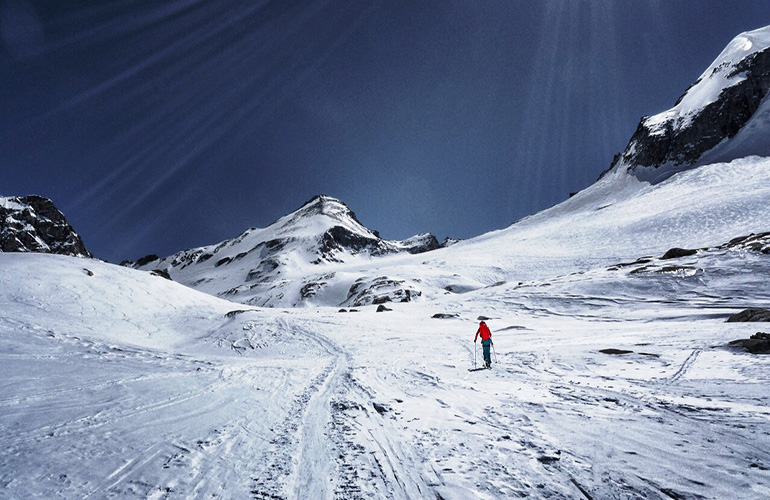 Tanja Schmitt ascending to Col Gran Paradiso ©Matthias Scherer
"In the beautiful light of the setting sun we reached the Teleccio Col, the last obstacle of the tour," he says. "Breathing in the magic of the moment we hugged each other in silence and saw the effort mirrored in one another's faces. My Suunto Ambit showed 20:30 and 5303 m of ascent."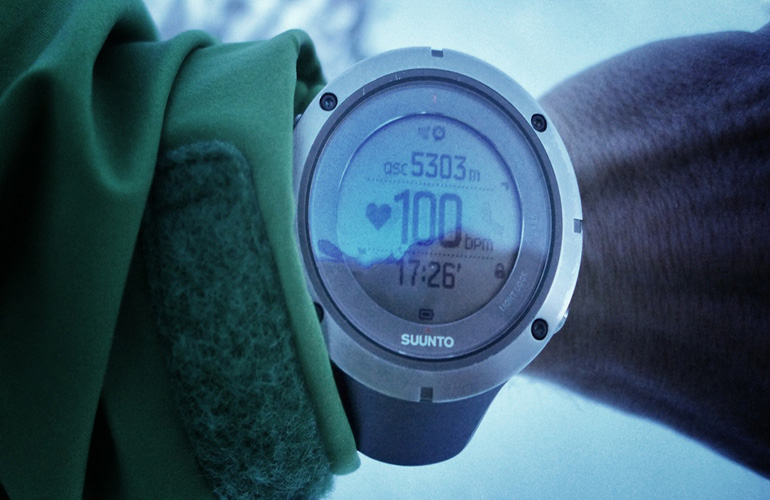 Scherer takes a reading from his Suunto Ambit on Col Teleccio ©Matthias Scherer
They began the familiar descent home in the light of their head torches. The descent had never taken them more than 90 minutes. However, Matthias says on big days in the mountains "nothing is sure" and on the way down Tanja made a hard turn and lost a ski to the night.
"It was 21.30, we were at 2700 m, had been in the mountains for over 18 hours and had tackled over 5300 m vertical. It was getting very cold. There was no way to find the missing ski in the dark. Tanja decided to finish by foot and we stayed with her. The team is more important to us than time."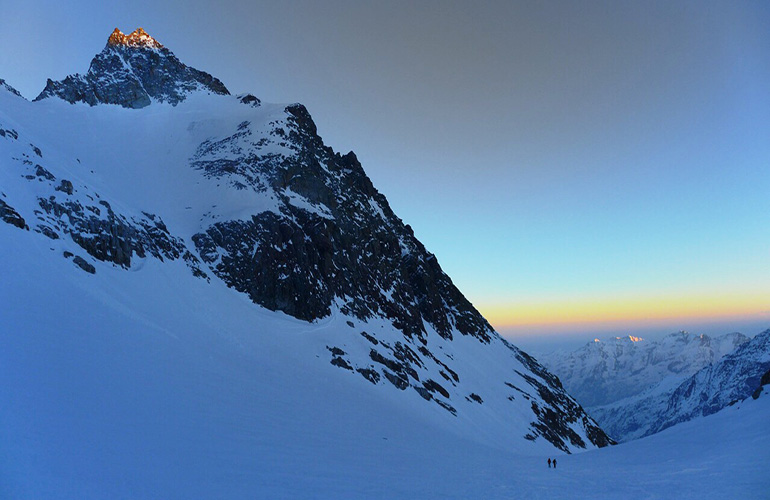 The Schmitt sisters arriving at Teleccio Col ©Matthias Scherer
The slow journey down was made more difficult because Tanja often sank up to her waist in snow. When they finally reached Arolla Bridge, they shed their skis and walked the last four kilometers back to Lillaz where they arrived together at 0:47.
"It had taken us 21h47 to do the whole tour, including the summit of Gran Paradiso," Matthias says. "A total of 5350 m in ascent, 5390 m in descent and 48km total distance. A big and awesome day in the mountains of Gran Paradiso National Park."
Check out the Suunto Movie of the amazing route below: