Scoring early season ice: it's always a challenge and a gamble – but one that paid off for Tanja Schmitt and Matthias Scherer, who ventured to Canada in search of cold November climbs. In their own words, they tell the story of their adventure below and scroll down to see the video: Reborn.

The search for early season ice is always a voyage into the unknown. It causes many questions: has the ice already build up, how are temperatures going to develop, how many snow has fallen and is it going to be already a threat regarding avalanche risks?
Whilst the winter in the Alps often doesn't come before December, it can often be found full-on in November in the canadian Rockies. And so both climbers heeded towards the Rockies in hope for early season ice. But this year the Rockies were also still dripping with water instead of solid ice.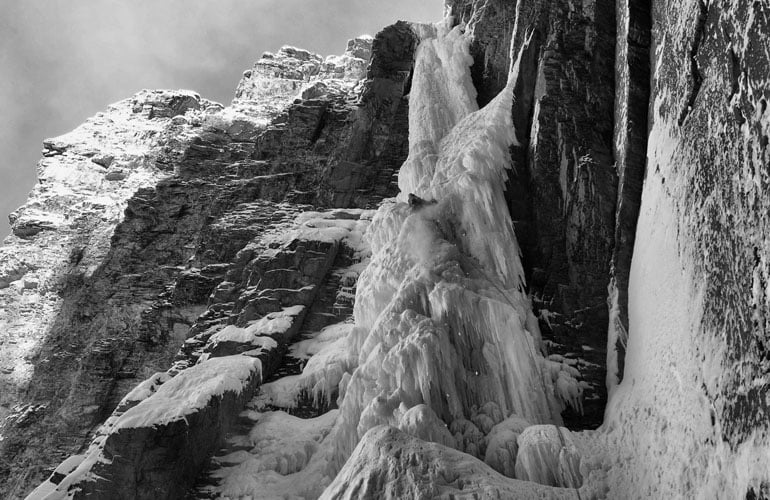 Matthias on Whiteman Falls ©Tanja Schmitt
And so Matthias and Tanja found themselves Drytooling under a warm clear sky instead of ice climbing in cold winter light. The positive fact about that resulted in an enhanced training, and by the end of their Drytool-cycle both climbed 10 times M9+ in an hour: a fact which gave them confidence for what laid ahead.
In the second week of November the cold finally arrived with icy temperatures around minus 25°C. The ice formed. On November 12th Matthias and Tanja could start their ice season together with Steve Swenson with the classic 'Murchison' on Icefields parkway.
The climbs were freshly formed, kind of 'shock-frozen' and still thin. No traces indicated a previous climb, arising the common questions: is it already possible to climb? Might it not be a better idea to still wait? Is protection generally possible? Is the climb worth the risk? It is these questions early season ice climbing is all about.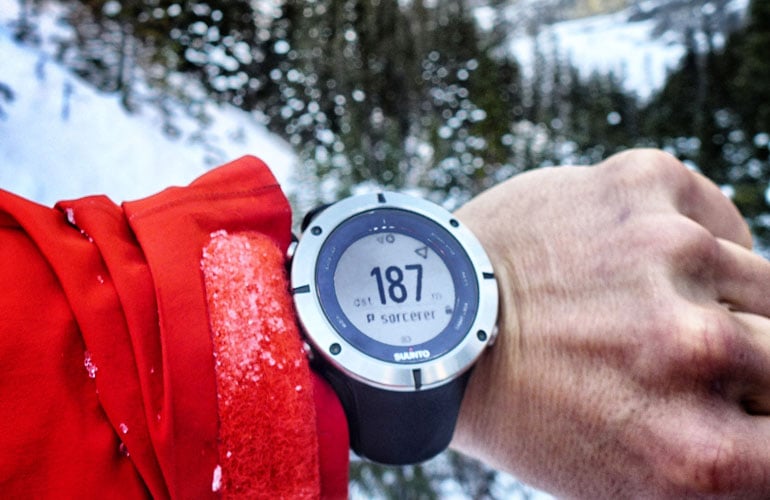 Pointing the way to the Sorcerer
In the course of the second November week temperatures dropped even deeper: On november 29th the team climbed 'Whiteman Falls' with temperatures around minus 27°C, making the climb very interesting. Next day they went together with Canadian ice climbing legend Raffael Slawinski to Field for a longer gully climb.
With temperatures around minus 30°C degrees thin icicles and pillars were no option and steady movement a clever choice. So they soloed the easier parts just to keep moving and not to wait too long. It is when ice screws start to stick on your mouth whilst cleaning and your complete movements start to get slower that a cold day indicates itself...a very cold day. The ice becomes difficult to climb. The air crystal cold. Days unforgettable!
But no Canadian trip is complete without the ghost valley. And so at the end of their trip Matthias and Tanja once again teamed up with Steve Swenson for an adventurous trip. Next to hours long bush-walks and river crossings, ice climbing in the Ghost valley is all about getting in there first place with your car: snow packed roads, slippery river crossings and route finding in general are the challenges of the car 'pilot'. And so the four pitches of awesome ice were well earned: the 'Sorcerer' is by many means a great climb on an outstanding place and gave our trip an unforgettable ending!
Main image: ©Tanja Schmitt