Canadian backcountry skiers Andy and Mike Traslin love skiing – whatever the conditions. As a result they have skied every single month for 104 months! We caught up with Andy to talk about their never-ending ski season.
How did your endless ski season get started?
Our original goal was to try to ski for 12 months in a row, one consecutive year. After that it just became part of my life. When we got to 85 I started thinking that it would be a good goal, a cool milestone, to hit 100.
How has it been possible to accomplish this? Have you travelled a lot?
What makes this possible is where we live in the Southwestern part of British Columbia. Here a deep snowpack typically tends to stick all year round in the high alpine. From our base it is two hours to Whistler and two hours to Mt. Baker.
I really enjoy traveling and seeing new areas. BC has endless terrain for backcountry skiing.
My favorite spot is Mt. Baker in Washington, USA. Mt Baker is a volcano that rises to 3,286 meters (10,770 feet), offers over 2,000 meters (7000 feet) of descent and glaciated terrain that has snow all year round. There's everything from short early winter powder laps to epic steep ski descents on the North Face in spring and summer.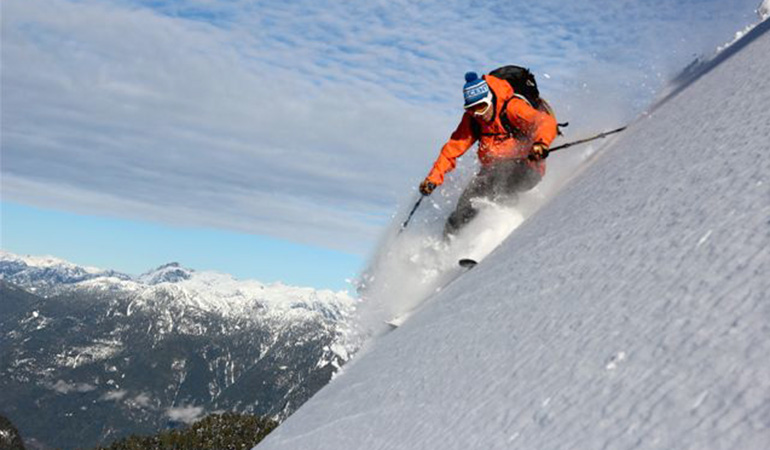 Andy Traslin enjoying the endless winter.
Has there been any nearly missed months along the way?
As in any sport injuries happen. Mike had a knee injury. I pulled my back. But we still managed to get out there. Lately we have made sure to go out at the beginning of the month to leave more time in case injuries or unforeseen circumstances.
Have you noticed any significant changes in the snow cover during these years?
The past two years has been significantly less snowfall. Especially this year has been one of the worst seasons I can remember. Hopefully this is not a sign of things to come. I have grown up in this area and there were seasons like this in the 80s.
Have you skied together every month?
We ski together most of the summer months. But in the main part of the season it's good to get out and ski with other people. I also like to ski solo once in a while as well.
How would you describe yourself as a skier and mountaineer?
First and foremost I'm a skier but I also enjoy mountaineering. But when I discovered that I can climb up a mountain and ski back down I knew that was for me.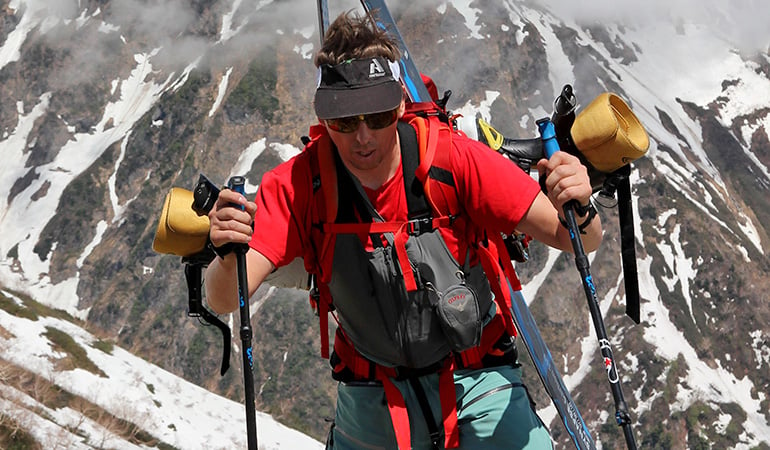 Andy Traslin hiking up last summer.
What motivates you to get out there and ski so much?
I just really like to be outside, especially in the mountains skiing. That is my passion. Turns all year have enabled me to be out there pushing myself to the limits and skiing all the time in all types of conditions.
I have a real passion for steep ski mountaineering. So sometimes you have take risks to reach your ultimate goal. The mountain has the last say. So you have to follow your intuition and rely on years of experience in the mountains and know when to turn around.
The moments that really stick with me are when the sun, stability and people conditions line up perfectly. All the planning and hard work line up for that moment. That feeling of being alive and one with nature and flowing with gravity in a natural way.

Watch "95 'Till Infinity – Traslin's Never Ending Shred"