Ueli Steck's idea of taking it easy and having a good time? Climb all 82 peaks in the Alps over 4,000 m over one summer. We checked in with the so-called Swiss Machine last week*, when he still had another 31 mountains to go, to find out how the project's going.

How's the adventure been so far?
It's just so much fun. The weather has been great so far and I'm doing something almost every day. Sometimes of course there are days you are a little tired but that's normal. I don't feel wasted. I am super motivated and I am super happy. I have to say even if I don't climb all 82 summits, by the end I would still be totally happy. I had just a great time so far. It's just very cool being in the mountains, meeting people, going climbing, running cycling etc. The supporter is my best friend Daniel Mader.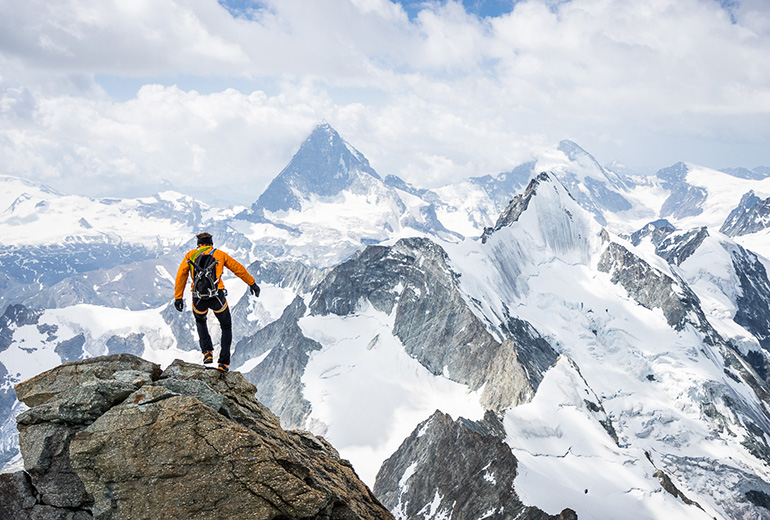 Peak 41 of Ueli Steck's 82 Summit project. The Zinalrothorn above Zermatt marks the halfway point of his goal to climb all 82 4000 meter peaks in the Alps, using human-powered transport alone. ©PatitucciPhoto

The hardest part?
I don't know. When we did the Monterosa traverse, which was 18 peaks in a day, Andreas Steindel and I did get a little tired at the end! He is a mountain guide and part of the Swiss ski-mountaineering team. He knows the area very well so we just linked all these peaks. It was a great day out. I also climbed later the Weisshorn Bishorn in very bad weather. It was icy and snowy. I was completely in the fog. That was not a great moment.

Has this project taught you anything new?
Yes you don't have to go far away to have a great time. Also in the Alps you can find still great challenges!

What inspired you to create and do this project?
It was the challenge of the whole journey. Being able to move so much and also the challenge with the weather and the conditions on the mountains!

How has your climbing philosophy evolved?
Before I was just focused on performance and pushing the limits in alpinism, recently in the Himalaya on the high peaks. But I am also not 20 anymore! I try to find the right balance in my life. I know I pushed myself to the edge, taking risk and pushing the limits on the 8000 m peaks. This is a one-way street. You will not survive this long-term. So of course I would like to go back to the Himalaya and climb 8,000 m peaks. But in the same style that I Annapurna? No, this I will not repeat. This game you survive only once in life.... But there are still great adventures to live!!!

*Note: This interview was made with Ueli before last Wednesday's accident in which Dutch climber Martijn Seuren died on the Rochefort Arete in the Mt Blanc massif. Contrary to some online reports, he was not part of Ueli's project, but Ueli was at the scene afterwards. You can read his statement here.