The new ice-climbing film of Matthias Scherer and Tanja Schmitt is out now! Watch here but don't miss our Q&A with Matthias and filmaker Franz Walter, who explain what the movie is all about.

Tell us about the film

MS: The idea was to make a film that shows ice climbing as a way of life in an artistic view. We did not just want to tell another story about hard lines being climbed. We tried to capture the moments that make the magic – and show the truth of ice climbing. Ice climbing is a true adventure. We love this aspect beside the fascination of the surreal beauty that frozen water creates.

FW: As a storyteller I wanted to get to know Tanja and Matthias and their passion for ice-climbing. Distilling these insights into a short-film was what I was aiming for.
Where was it shot?
MS: The full film was shot in Cogne in the Aosta valley on legendary lines like 'Repentance' or 'Lau Bij' to name just a few...



How challenging was it to film?

FW: Filming in winter and ice-climbing in particular is always a challenge. Avalanche danger, danger of falling ice, humidity all-over, snowfall, frozen fingers, you name it. Yet coming home at the end of the day with some beautiful shots makes it all worth it.
Were there any really difficult moments?


FW: Yes there were, although it was not during the filming itself. The first hurdle to take with every project is to find the first supporter who says, "That's a great idea and I will help you make it happen." The second hurdle came when we actually had driven to Cogne and had way too much snow and avalanche danger to be able to stick to our initial concept.

So, over the course of a night we had to make the decision to either cancel the project or re-align things according to the given conditions, which is what we did. The third hurdle was to get the narration right. Although it might seem simple and straight-forward it took a lot of time to get there.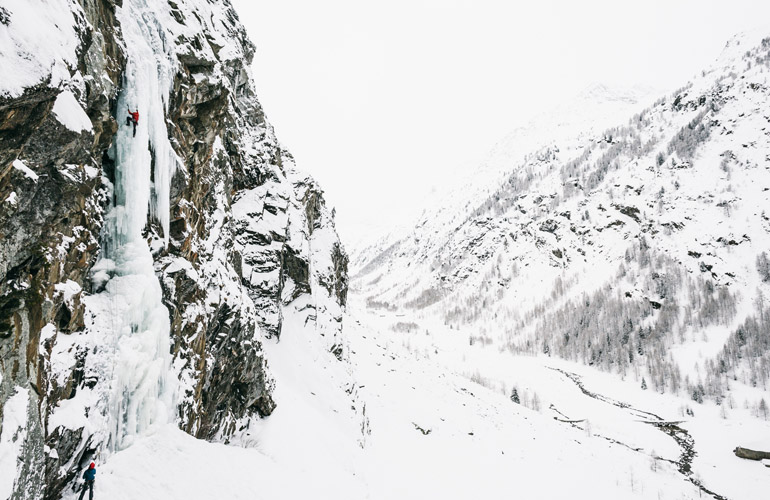 Photo: ©Franz Walter

What's next?

MS: We have a trip to Canada coming from October until the beginning of December where we will hit the early ice like the last seasons. Then back in Cogne we have a challenging project coming up. It will be a full day, a long day with lots of ice to be climbed! But most exciting are our plans for Norway. We can not say more – but when it happens, it will be big and full on!

FW: As I am writing this I am sitting in my van, heading north to Scandinavia for a three-week road trip, fully loaded with whitewater kayaks, climbing gear and hiking boots. We will continue doing our very best producing small, beautiful, thoughtful stories from the outdoors.


Follow more of Matthias and Tanja's adventures on their Movescount page here.