Have you ever thought of BASE jumping? With a wingsuit? In full winter conditions? In the dark? With two burning torches? Neither have we. But Patrick Kerber and his friends did – and the result, a photo by Christian Meier, looks amazing.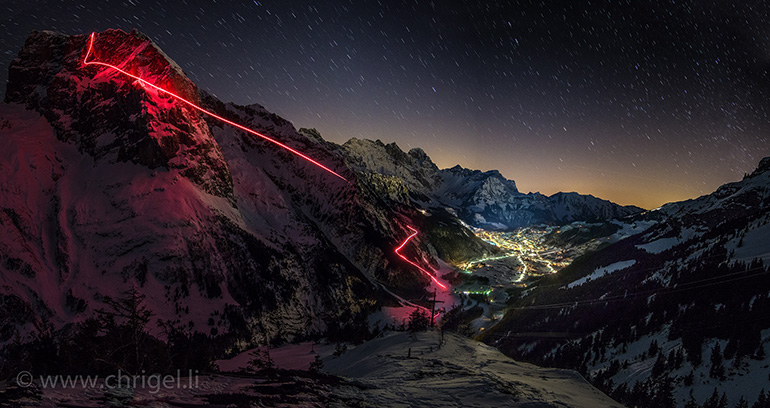 © Christian Meier / www.chrigel.li
"My friend Simon Wandeler and I have wanted to do a wingsuit BASE flight at night during winter for a very long time. But somehow we never really managed to do it," the Swiss wingsuit flyer says.
The idea picked up momentum after Kerber's friend, photographer Fabian Wyss approached him with an idea of attaching some kind of light to the jumper.
"When he told me his idea, I instantly understood what he wanted to do and could envision how this picture could turn out."
FLYING WITH A TORCH
The first problem they faced was how to attach a light to the jumper that would be bright enough to be seen from a distance of about two kilometers. And of course it is not easy to attach a light to a wingsuit without changing the flying characteristics of the suit.
"Then I had the idea of attaching flares to myself, exactly like the ones used for rescue missions or emergencies. But flares burn very, very hot and my biggest fear was burning holes or melting the suit. That would have been super dangerous."
Another challenge was finding a proper location that could be accessed in winter conditions at night and also photographed. After some research and tests they chose one of Kerber's regular jumping spots, the east face of Titlis in Engelberg in Switzerland. The two photographers, Fabian Wyss and Christian Meier, stood on the other side of the valley on the Fürrenalp.
"There definitely was a lot of pressure – even though we did intense testing before, I did not know for sure how it would turn out. Having fire really close to you on a wingsuit BASE flight leaves no margin for error. Everything has to work out."
EVERY SECOND COUNTS
The big challenge for the image was timing. One single torch would burn for exactly one minute.
"I definitely did not want to open up my parachute with fire still around me, as this could be very dangerous. I only have one single parachute attached to me. If this one burns or melts, it's over!"
Kerber decided to use two torches. The first one he ignited before he took off and held in his right hand so it would be visible to the photographer. When the torch burned out, he quickly opened up his parachute and ignited a second torch attached to his foot. (That's the break in the red line in the image.)
"I only had 20 seconds to ignite the second one as it also burned for one minute and I only had 1 minute and 15 seconds to the landing area. I did not want to land with a flare still on fire, as this could be very dangerous for my gear and for myself. Even though there was snow where I landed, those torches burn so hot that they even burn underwater!"
Patrick Kerber has jumped at night before, but not in winter and only at full moon.
"The feeling was very intense and amazing. It is much harder to orientate yourself, as you can't see as well. It feels much more intense because you fly with more feeling and awareness of your body and movements."
For Kerber wingsuit flying is about freedom.
"For me freedom is a moment of pure perfection and pure happiness, a moment where all that matters is now."


Watch a behind the scenes video of Patrick Kerber's flight.