"I am a dreamer, of that there is no doubt. Yet there is so much power in a dream. Without dreaming of adventures, ski lines, new challenges I would never progress in my life. Really it's where it all starts," writes ski mountaineer Greg Hill. Read on to learn more about the power of dreams.
I wonder if I could...? Fill in the… with any sort of challenge and that is the beginning of something great. I am not saying that every dream I have ever had I have accomplished. Not even close. But the dreams I have realized, mean so much to me. They are the ones that have made me who I am, and helped direct me to where I am going.
My dreams in the mountains are endless. There are lines that I have dream skied so many times I sometimes wonder if I have actually skied them. Seriously. Occasionally when I get deeply into a dream about skiing a line, I can get all adrenalized and excited, just knowing what the feelings would be dropping into such a line. These dreams sustain me for hours while I skin up mountain sides, often I flip between the realization of the dream I am on and wondering about future lines I could ski.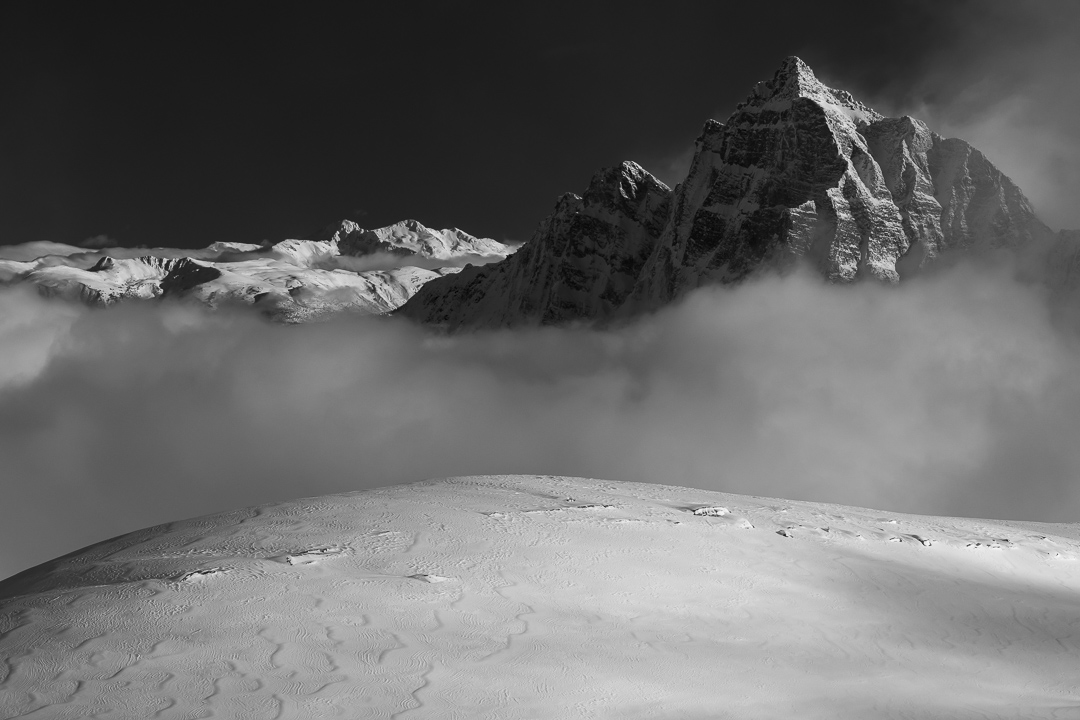 The West face of Mount Macdonald, one of Greg's dream lines. A possible ski descent? (Image by Bruno Long)
There are dream lines that are realistic and then those that are not…well maybe not… and that is the fun, as our skills progress, what was once an unattainable line suddenly becomes possible. And then the other dream lines can also become reality.
I distinctly remember when my first dream ski line became reality, and how fulfilling it was. In 1998 I was learning to backcountry ski when someone pointed up at Aymers Couloir on Mount Temple in the Canadian Rockies. They mentioned that people had just skied that line. I looked, up and up, and saw this crazy looking couloir that started from a ridge off the biggest mountain I had ever seen. It seemed almost impossible that such a line was skiable.
And my dream began. For years I progressed my ski mountaineering skills, always with this nagging memory of a dream line in the Rockies. Then in the spring of 2005, my skills were good enough, my knowledge solid enough, and my partners ready. We ventured towards this impressive couloir and the second I got to the fan of the line I knew I would set the boot pack the whole way up. I had so much energy from years of dreaming about visiting this place that nothing could stop me.
The 900 m couloir could not stop my endless drive, the thigh deep snow was not enough to convince me to turn around, I was living my dream. Standing on top I was able to reflect on all the progression that had allowed me to grow from a fledgling backcountry skier who couldn't believe this line was possible, to someone who had the skills and strengths to get to the top and with those great thoughts in my mind I tipped the balance and shredded down.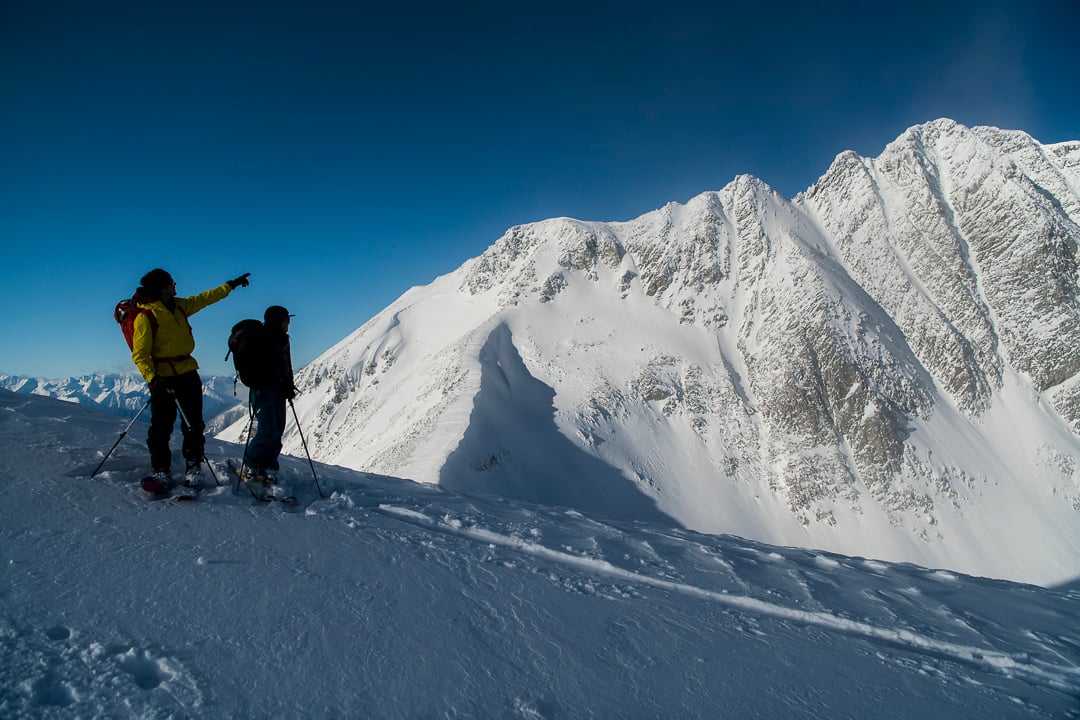 Checking out some a potential descent at the Stiftons in British Columbia, Canada. (Image by Bruno Long)
Every day that I tour around I am always looking and wondering. For sure many of the lines I will never ski, but if even 10% of them become reality then I am happy. Rogers Pass has been my stomping grounds for 19 years, and I never walk anywhere without looking up at the potential places I have yet to visit. I love skiing the "Ramp" but what about that line above that ends in cliffs? It's so similar to the Ramp, it just requires a little rope work at the end. Or what about the West Line off Mount Macdonald, will it ever fill in enough for us to venture down?
Or really what about that line on the Siftons, should we go there tomorrow? Dreams are the seeds of adventure. Never stop dreaming.
All images by Bruno Long