Login to Movescount
Create an account in Movescount.com and install Moveslink2 on your computer. Movescount is not only the place to plan routes, check out your moves, analyze your data and see what others are getting up to – it's where you go to manage the settings on your watch. Regularly pairing your Ambit3 via Moveslink2 also ensures it has the latest satellite orbit data, which means it's quicker to get a GPS signal. Take a tour of Movescount here.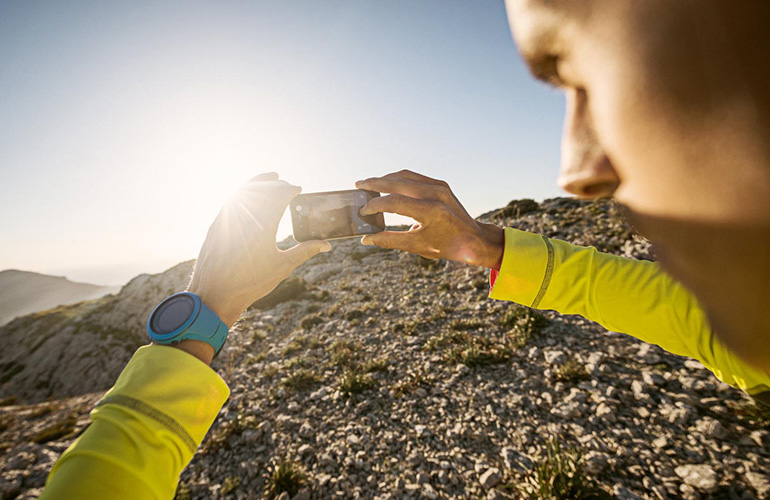 © zooom.at/bergermarkus.com
Input your body metrics
In order for the Ambit3 to give accurate recovery analysis, peak training effect and estimate calories burnt, it needs your data. Add your age, weight and height and other data via settings on movescount.com. And no lying! Pair your devices to pair your Suunto Ambit3 with a heart rate monitor or POD press and hold the 'Next' button on the watch until settings come up, scroll down and select pair. Make sure your pairing device is already switched on. Follow the on-screen instructions.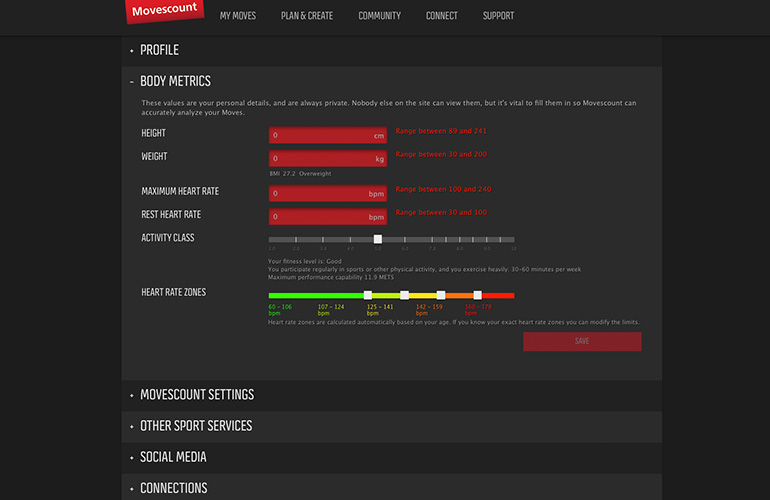 No cheating on your body metrics!
Customize your display
Every sport mode comes with a default display but you can customize that to see only what you want, whether that's chronometer, HR, distance, pace, cadence, average heart rate besides a many other readings. Select your watch from the top of movescount.com, click on the sport mode and hit 'edit'. Choose from eight different screens, each with four different layout options. But if you like things simple, you can of course just keep to one display.

Select your sport and then what to display on the watch face.
Add apps
The Movescount App Zone is unique to Suunto. It's home to thousands of user generated apps that you can download to your watch to display information differently – and sometimes in novel ways. Want to see your estimated marathon or 10k finish time, while you run? How about see the calories you burned displayed in number of beers, or see your HR zone as a value from 1-5? Check out this guide on how to get started or watch the video below.
Get THE App
Yes, there is also the Movescount App for iPhone and Android. It lets you sync your move wirelessly after an effort. But even better than that, if you hit the 'Suunto Movie' button it will turn your move into a playable 3D movie which is then instantly shareable. The results work as well whether you're running at night through a city or hiking in the mountains. Read more about how to make a Suunto Movie here. Check out this epic one from Kilian Jornet's record breaking climb of Denali.
Don't miss your calls
Worried you might miss an important call while out on the trail? Turn your push notifications on and you can be alerted when someone calls or texts. Watch the video below and learn how to configure your push notification settings.
Plot and navigate
The Suunto Ambit3 can also be used like a regular GPS navigation device. Head over to movescount.com and under 'plan & create' you can plot a route on the map. You can also find existing routes from other users and import those as well. Learn how to draw a route in the tutorial video below. Don't forget to sync the watch afterwards. To find the route on your watch, press the start/stop button, scroll up to navigation and then select routes. Have fun…




Still hungry for more ways to get more out of Suunto Ambit3? Check out these previous articles:
Main image: © zooom.at/bergermarkus.com