Ski mountaineers Max Kroneck and Jochen Mesle cycled from Greece to Germany and skied seven spots along the way. Watch the full film here!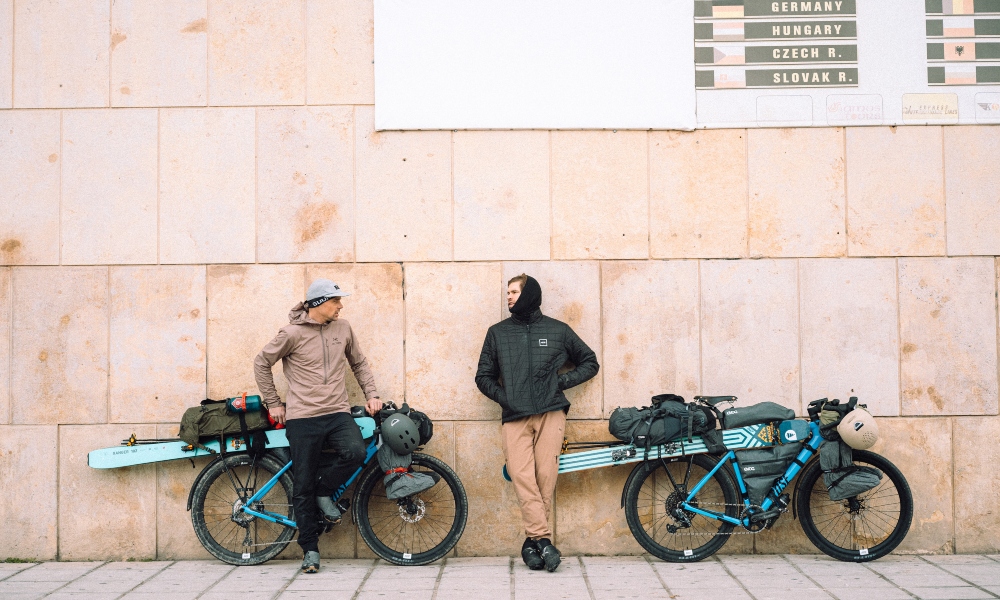 All we need sometimes is one special moment to make hardship worthwhile. When long-time adventure buddies Max Kroneck and Jochen Mesle gazed out across Valbona valley in Albania, blanketed in virgin POW, and with it all to themselves, it made the trials of their Balkan Express adventure project worthwhile.
Cycling in temperatures that dropped to -15c, flats, a minor crash, intimidating street dogs, exhaustion, and the kindness of strangers - they experienced all this and more while cycling from the coastal city Thessaloniki in northern Greece through the Balkan region to Munich, Germany during late winter 2022. All up, they cycled 2500 km and skied seven spots in seven countries
Their minds were blown by the mountains and slopes they discovered along the way. Their minds were even more blown by the fact they had them all to themselves. It turns out, freeriding hasn't really caught on throughout the Balkan nations. Neither have bike lanes. They met some inspiring locals who enriched their journey. And that was the point; it was an adventure as much about connecting with the local cultures as it was about cycling and freeriding.
We caught up with Max and Jochen and asked about their experience. Read on below and click here to find out where you can watch the adventure documentary that's been picked up by the BANFF Mountain Film and Book Festival.
Watch the full film below!
How and why did you come up with the idea for the project?
Max: We really wanted to experience some mountains, cultures, people we didn't know. We looked at a map of Europe and saw that the Balkans are pretty interesting. We'd never been there and wanted to learn about the people living in the mountains there. The sport side wasn't the main focus of the project. It was about getting to know the culture and people.
How did you connect to local people?
Jochen: Before we left, we tried to get in contact with local mountain guides and local artists. We connected with four people and met them along the way. And of course we met a lot of people on the road. Those people gave us a good insight into life there.
What was your route?
Max: We started in Thessaloniki. We went skiing at Mount Olympus in Greece, then we cycled through Macedonia, Albania, Kosovo, Montenegro, Bosnia and Herzgovina, Croatia, Slovenia, Austria and back to Germany.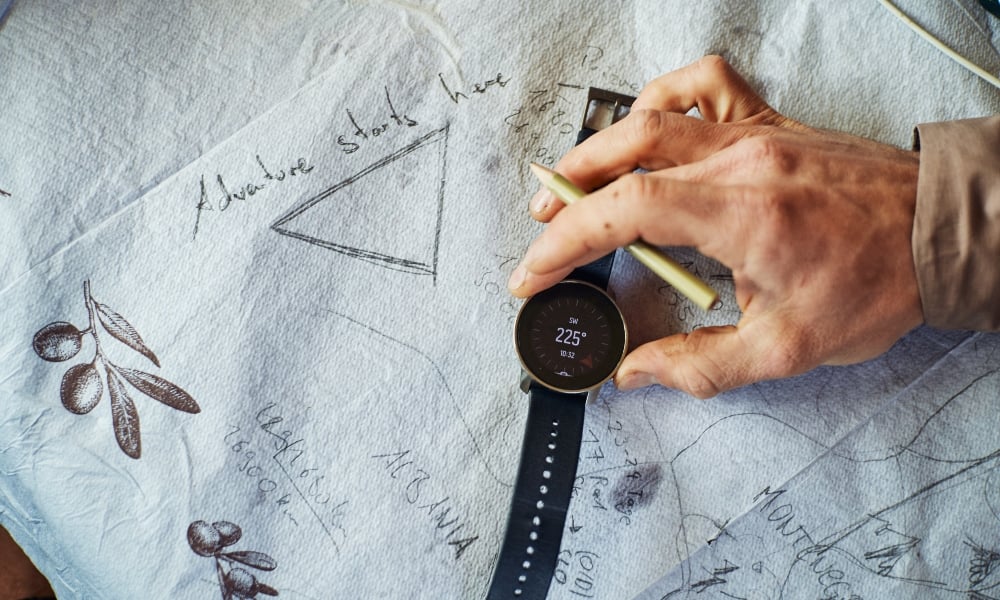 How did your Suunto watches help you?
Jochen: In combination with Komoot it was so good to be able to plan and also be spontaneous along the way. We didn't need to think about navigation. We spent some time in the morning planning and then just followed our watches. We didn't get lost once! It was cold in the beginning and it was interesting to see the temperature on our watches. I'm a statistics nerd so I I enjoyed getting all the numbers. We also used the heatmaps in Suunto app sometimes, especially in Albania and Greece where there are more mountaineers, and it seems like they use Suunto too! So we could use the heatmap to hike up.
What was something that surprised you as you traveled through?
Max: We met a mountain guide in Kosovo, Uta, who is trying to make mountaineering more popular in Kosovo especially amongst women, since there are so few. She also talked about their home mountains; they are so beautiful, yet very few of the locals use them. They're mostly empty. It's crazy this region is so close to ours, but almost nobody there is into mountaineering. We were pretty much always alone. We met some Italian ski mountaineers in Kosovo once. Then we saw them again later in Albania. But that's it. Most western Europeans don't know about all the incredible spots.
Also surprising was learning that it was not so long ago that the first freeriding equipment became available there. A mountain guide from Kosovo told us he could only buy freeriding skis and touring bindings there 10 years ago. The market is just not there. These sports haven't taken root in the culture. Maybe amongst the richer people.
We also didn't see any cyclists along the way or cycling tracks. Cars play a big role in the Balkan countries.


Did you find many beautiful ski runs you'd like to go back and ride again?
Max: For sure. We had seven days of skiing in seven different countries, starting with Greece. It was a bummer that we had to keep moving forward and weren't able to spend more time in each place, especially in the countries further south. We saw beautiful mountains in Montenegro, but we couldn't go skiing there. We really want to go back. But at the same time, it was also nice to keep moving forward. We had really good snow conditions in the southern countries, but the further north we went, when we expected better conditions, it actually got worse.
You guys are backcountry skiers and mountaineers - do you have a background in cycling, too?
Jochen: Max and I met at local ski parks. We both made our way to the backcountry and went to freeriding comps together. A few years later I invited Max to a film project — that's how we got to know one another better.
Back in 2018 we did a similar project and made a film about it: Ice and Palms. We started from our doorstep in Germany and cycled to the Mediterranean and skied the mountains we know and love along the way. That's when we started to enjoy riding bikes.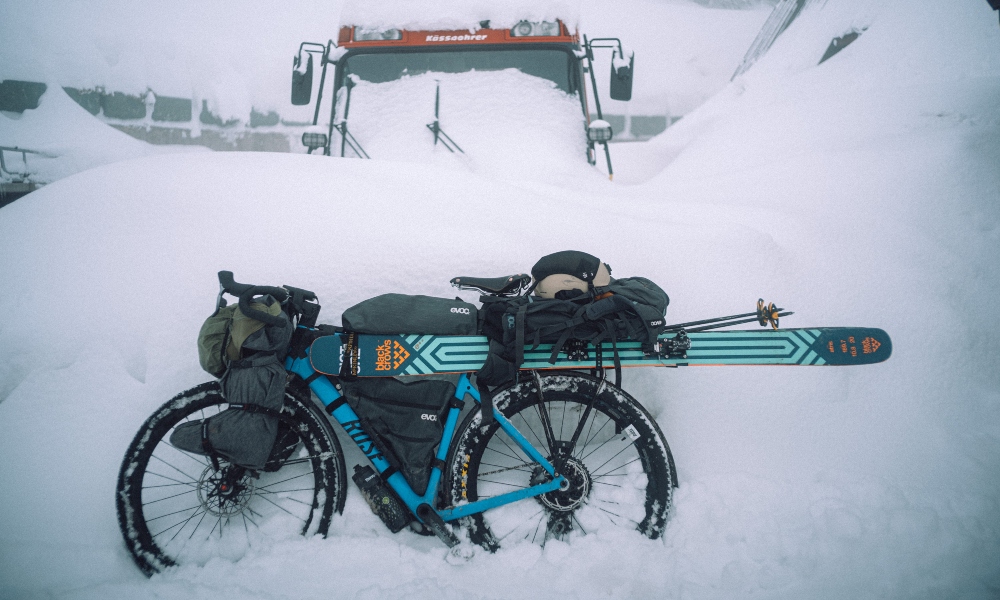 Where can people see Balkan Express?
Jochen: There're lots of screenings coming up, and we'll be doing live talks, presenting our book about the project. Then, in the middle of winter, people will be able to watch the film online. It's so cool to see such a wide range of people are getting inspired by it. 


Images by @maxkroneck / @jochen_mesle / @elflamingofilms